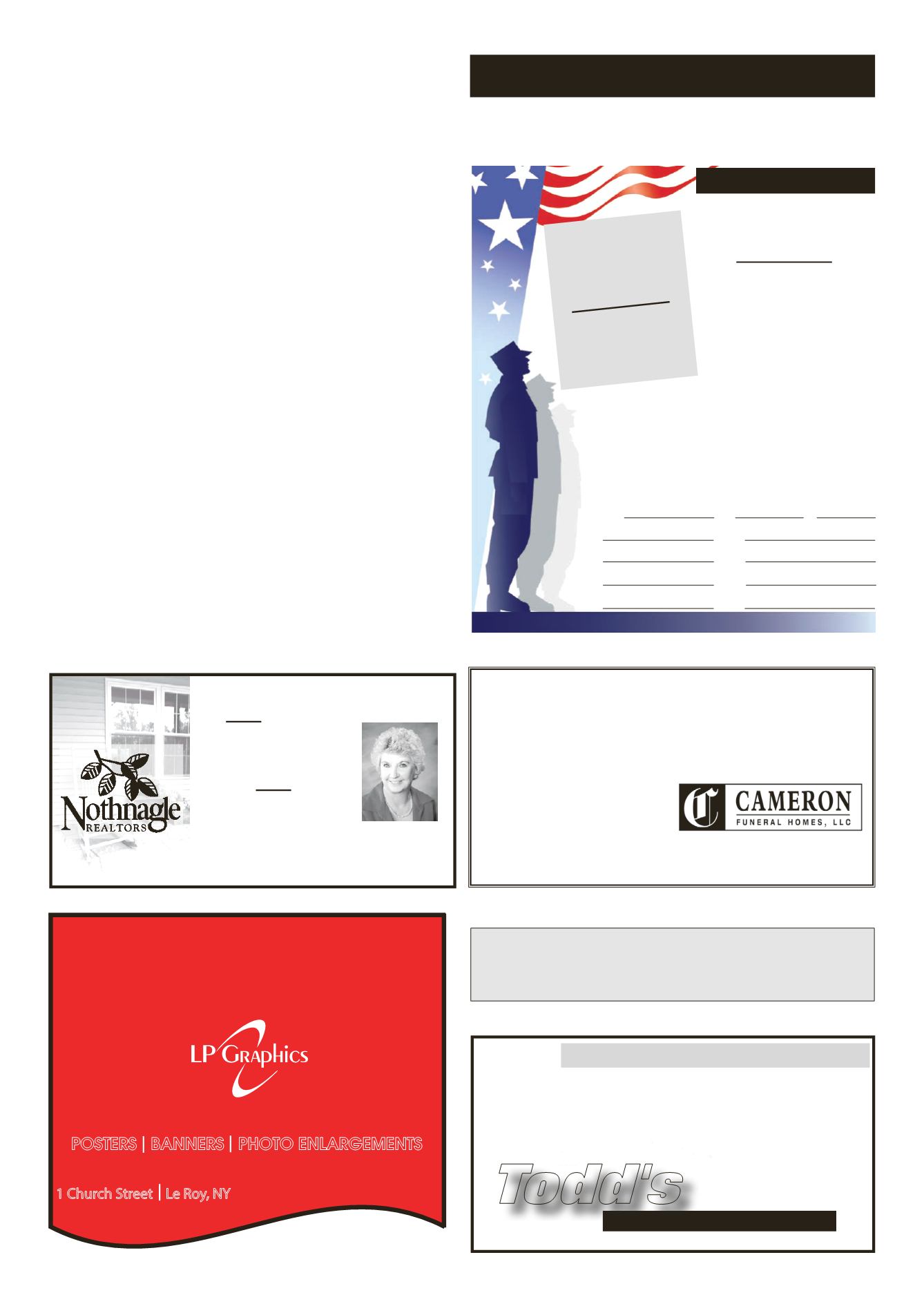 LEROYPENNYSAVER&NEWS - JANUARY 18, 2015
HelpingFamiliesCelebrateaLifeLived
"Our FamilyServingYours Since 1907"
Trusted•Honest •Proven
Cameron, Brady&Steuber
FuneralHome
111Wolcott Street
LeRoy,NY14482
(585) 768-6800 •
Likeus onFacebook
SUPPORTYOUR LOCALADVERTISERS!
They help sponsor the local news section of the Le Roy Pennysaver.
THANKS FORYOUR SUPPORT!
NewHomes •Additions •Garages •PoleBarns
ToddCarli • Phone 703-0964
Todd's
Decks •Windows •Doors
Kitchens •Baths
CeramicTile
Basement Finishing
CustomShelves/Built-Ins
Siding •Remodeling
Roofing • SnowPlowing
FULLY INSURED
Batavia
585-343-6750
NOW is theBEST time
toBUYwith the interest rates
at their lowest!
Don't wait
toBUY -
call
LindaBeaumont
for all your real
estateneeds.
LindaBeaumont
Home (585) 768-6315
LicensedReal Estate
Salesperson
Multi-MillionDollar Producer
Help-R-Hero's
4PersonNo-TapTournament
Proceeds toBenefit
WoundedSoldiersReturningHome
ChineseRaffle
&50/50
&
CashRaffle
Spaghetti
Dinner
SaturdayNight!
1st Place$1,000
Friday, Jan. 23rd
Sat., Jan. 24th
Sun., Jan. 25th
ENTRYFEE: $100PERTEAM
• Open tomen,womenormixed teams
• All Prizes basedon 40 teams
• CashRatio 1out of 6 entries
• Must use last year's average, no average:men use 190;
• Handicapbasedon team average 80%of 840
• May re-enter but cashonlyonce unless changeof twobowlers
Tournament Director: ScottO'Neill, 585.409.0459
PresidentBobBennett called themeeting toorderat
5:34pm at TheMoose in LeRoy. After a brief review
of theMinutes amotionwas made by JimNeilson to
approve, seconded by Randy Vink, motion passed.
President Bennett then reviewed theTreasuresReport,
and a motion was made by Randy Vink to approve,
secondedbyTomTurnbull,motion passed.
Therewas no correspondence.
TheMoose announced the date for their upcoming
SpringRaffle onApril 26th. This is one of theirmajor
fund-raisers, and it helps support all the great things
the Moose does in the community. The Women of
the Moose announced they are seeking families to
participate inagamenight entitled"Minute toWin It".
Other announcements included: Martha Bailey
indicated The Rotary Club will hosting a Valentine's
Day Tea/Dance Social at The American Legion on
Valentine'sDay, and shewill havemore details soon.
The Rotary is also raffling of a 55 inch Smart TV;
tickets are available from any Rotarian. TheMasonic
Lodge is raffling off a smoker, and the drawing will
MarthaBaileywill be evaluatingour current "Wel-
come Wagon Program" and come back with some
possible new ideas for our organization to welcome
new businesses to the community.
PresidentBennett thendiscussed thesuccessofFirst
Night inLeRoy. Healsoasked ifanyonewas interested
in being on the committee for next year, as he would
like to start the planning process earlier.
He also thanked S&SLimo, LBGrand, and all the
local businesses that helped support FirstNight.
TheVillage,Town,&LeRoyBusinessWebsite isup
and running. There is still a lot more information that
will be accessible on thewebsite forthcoming. Laura
Brodie can be contacted at The Town at 768-6910 at
ext228, and letherknowofevents forTheCommunity
Calendar so she can post them on thewebsite.
TheWomen of theMoose reported all the success
ofWinterfest.They thankedall vendors, sponsors, and
peoplewhohelpedcontribute to thesuccess.TheMoose
was able tomake significant donations to several local
charitieswith themoney raised atWinterfest.
TheLeRoyBusinessCouncilwillbehostingacom-
munityeducational forumonTheLeRoyAmbulanceon
March7th at theMasonicCommunityCenter at 9 am.
Allmembersof theLeRoycommunityareencouraged
to attend. The topics will include the current status of
The LeRoy Ambulance, alternative options to The
LeRoy Ambulance, The Town of LeRoy's current
contribution, andwhat all of thismeans tomembersof
our community. More details to follow.
The LeRoy Business Council will be hosting the
AnnualEasterEggHuntonApril4thatHartwoodPark.
We are looking for volunteers tohelp stuff the eggs on
Officer Emily McNamara represented the LeRoy
Police Department this evening. She reported that we
have3newpart timeofficers thatwill hopefully swear
SteveBarbeaurepresented theTownofLeRoy. Steve
reported that the Town has received and accepted an
offer to purchase the land that currently operated the
former Towndump. The land is onNeidRd., andwas
purchased by a conservation organization that owns
surroundingproperty. ResidentsonWestBergenRoad
met to discuss optionswithRochester Gas&Electric.
Progress is currently at a standstill.
Therewas a questiononwhat becomes of the orna-
ments on the Town Christmas Tree, and it is believed
that theyare storedwith the tree.DunkinDonuts is still
on track to break ground in the spring.
Bill Kettle reported on TheVillage. He echoed the
report of Officer McNamara and discussed the hiring
of 3 new officers. He also reported the newwebsite.
Tom Turnbull reported from the Genesee Chamber
ofCommerce. He reported that theirHomeShowwill
beMarch27-29. He reported that last year over 3,000
peopleattended thisevent,andvendorboothswill likely
be full soon. The 2015 Genesee County Chamber of
CommerceTouristGuidewill be ready for distribution
in early February. This is a great tool for tourism in
Genesee County, and over 90,000 copies will be dis-
tributed throughout the State. The Chamber's Annual
Awardsaregoing tobeatTheClariononFebruary28th.
Finally, Tom discussed small businessworkshops that
the Chamber is offering throughout the year. Please
contact theChamber formore information.
ShellySteinsubmitteda report regarding theCounty
regarding the 2015 goals for our county legislators.
They include: Complete the sale of the Nursing
Home, complete E911 transition of County radio
system, focuson roadandbridge infrastructure, initiate
construction of airport terminal, focus on unfunded
mandatecostsat theCounty level, support shovel ready
park inLeRoy,updateCountyAgricultureandFarmland
ProtectionPlan, replaceCounty telephone system, and
engage each County department to perform at a high
level of efficiency and return high level of service to
OurnextmeetingwillbeatTheAmericanLegionon
February2,2015at5:30pm. JimNeilsonmadeamotion
to adjourn, andRandyVink seconded,motion passed.
LBCMinutes
POSTERS BANNERS PHOTO ENLARGEMENTS
lpgraphics.net