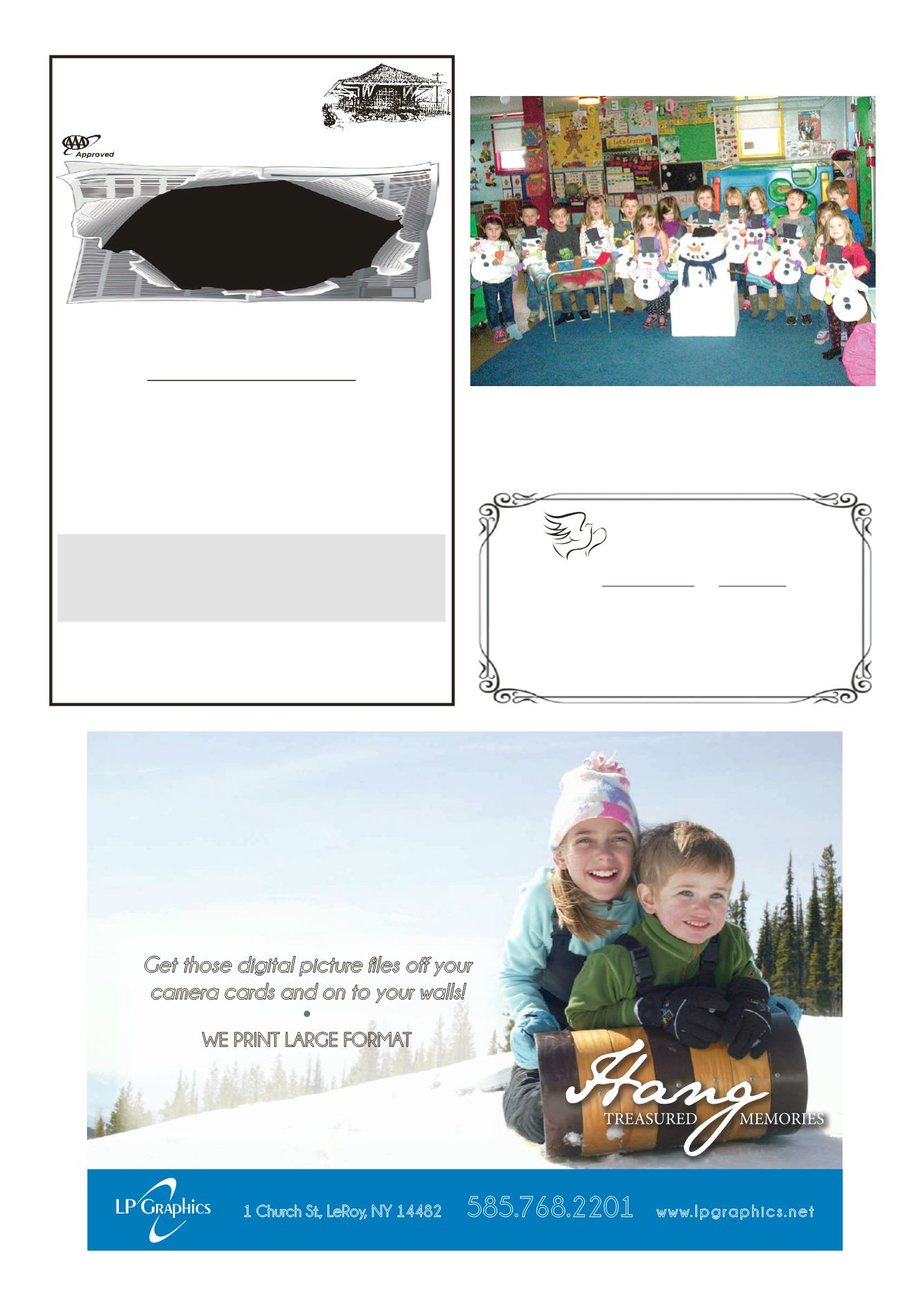 LEROYPENNYSAVER&NEWS - JANUARY 18, 2015
D&RDepot
63LakeSt. (Rt. 19), LeRoy• 768-6270
Let'sMeetAt The ...
OpenForBreakfast, Lunch&Dinner - 7DaysAWeek 7am-9pm
Director /Owner
FuneralDirector
F
ALCONE
F
AMILY
Funeral&Cremation Service, Inc.
Director/Owner
"ALOCALFAMILY
CARINGFORLOCALFAMILIES"
OnSUNDAY, JANUARY 18th
come for something special –SHEPHERD'SPIE
toppedwith homemademashed potatoes, including soupor salad,
and a raspberry trifle for just one easy payment of ...
SUNDAY, JANUARY 25th
the cookswill be preparing our
ROASTTURKEYdinner
with dressing, gravy, cranberry
sauce, soup or salad, andAmy's pumpkin pie for dessert,
all for only
And at 5 pmwewill have thefirst appearance of the year of our
ol' timemusicians – JerryCurry,AlMastrolio,
DaveSantaMaria, andNancyDrum.
(Reservations necessary - $5 cover charge for the benefit of themusicians.)
Remember touse yourPuzzlePieceWinnings thismonth!
If you live inLeRoy, keep inmind theD&RDepot delivers.
CallNancy for the schedule. Not fromLeRoy?
We offer take out service of our entiremenu.
HowmanyChristmas Stockingswere there in our holiday decorations??
The correct numberwas 383. 5 people guessed thewinningnumber.
We had a drawing to pick onewinner - LizaPeet fromLeRoy. Lizawins
$500.00 in cash. Consolation gift certificates are being sent to the other 4.
They're Baaaack!
OurAll - Inclusive SundayDinners
start againJanuary 4th!
All of our SundayDinners include soupor
salad, entrée, dessert&
bakery basket.
LeRoyNursery School had funmaking snowmen. They have a
big box snowman in their room andmade paper snowmen for
their project.Theyplayed in thewater tablewith snowmaking
snowballsandsnowmen.Wintercanbe funeven inside!Pictured
here is the 3DayClass.
MakingSnowmen
As crispas theday
they weremade.
1ChurchSt., LeRoy, NY14482
585.768.2201
raphics.net
Get thosedigital picture files off your
cameracards andon to your walls!
WE PRINT LARGE FORMAT
Our state-of-the-art wide format color
printer allows prints up to42" wide
by any length youdesire!