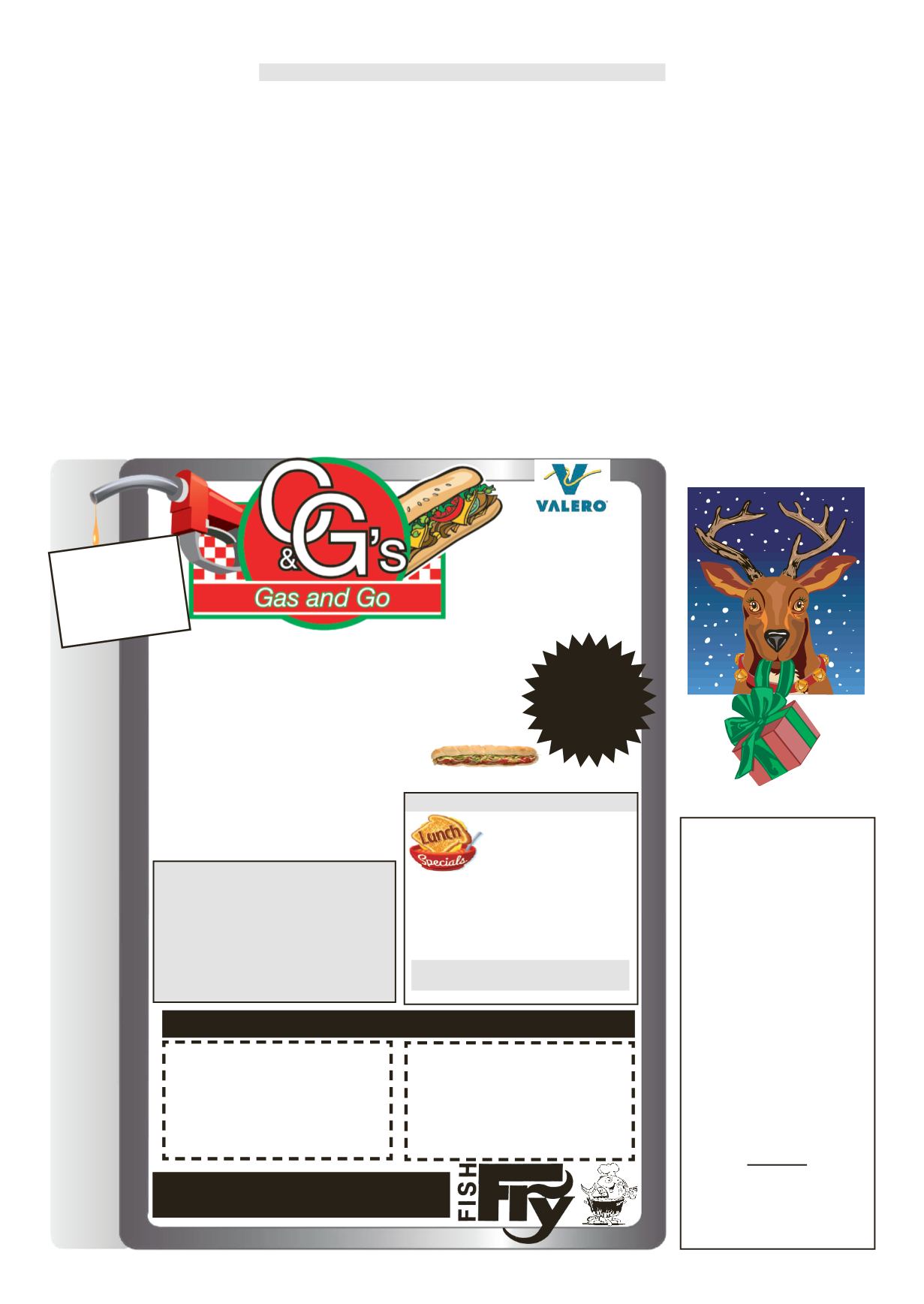 LEROYPENNYSAVER&NEWS -DECEMBER 21, 2014
AROUNDTOWN
byStephenR. Barbeau
Supervisor,Town ofLeRoy
(585)768-6910 x 231
A few miscellaneous items
to finish the year with for your
First, a great Christmas Le-
Roy-Stafford Senior Citizen
dinner to end the year. Many
thanks to Catherine Stone and
Judy Ridley for their organiza-
tion and to the Town of Stafford
for their joined support with the
Town of LeRoy in support of
as he becomes the newest Town
employee, joining our highway
crew. Many thanks and sincere
congratulations to Mr. John
Mancuso on his retirement and
38years of exemplary service to
theTown.Wealsohaveextended
our snow/ice removal contract
with NYS for Routes 5 and 19.
The Town will receive $30,000
for this. Please contact Highway
Superintendent John Arneth if
you have any detailed questions
A public hearing was held
and, after resident participation
(previous contactwasmadewith
affected residents as well), the
Board unanimously approved
the rezoning of the old Empire
Trucking property inLimeRock
toC-1 (this shouldhavebeen the
case many years ago). The new
owner, Mr. Shane Snell, also
received a special use permit to
operate an internet-based used
car sales location.Becauseof the
special use permit process, both
residential concernsandbusiness
interests were melded together
that proved to be a winner for
Speakingofwinning, Ihopewe
canscoreanotherfor theresidents
of theWest Bergen/Quinlan/Ha-
vens Road area. RGE presented
theirproposal forextendingnatu-
ralgasserviceatapublicmeeting
this past week. While the Town
was able to facilitate the sharing
of this information, it is now in
the hands of the residents (and
RG&E) in this area. Those who
werenot able to attend themeet-
ing but desire more information
should contact area residentMr.
Finally, the Board will have a
final brief meeting (just to pass
bills and semi-annual budget
transfers)onDecember29 (4pm)
andour reorganizationalmeeting
will be at 6:30 pm on January
8, 2015. Thank you for all your
support this past year. On behalf
of the entire Town Board and
Town Staff, have a very Merry
Christmas and see you Around
Town at First Night to bring in a
Available
February 1st, 2015.
Phone
(585) 343-1460
(716) 474-1093 (c)
Buy 1LargeCheesePizza
..................................$8.99
Get SecondLargeCheesePizza
.....................$5.00
Extra toppings $1.50.
NoCouponsPlease.
EARLY BIRDPIZZA SPECIAL!!
Sun. •Mon. •Tues. -LargeCheese - 16"
FRESHMADE TOORDER SUBS
ColdSub
......................$7.99
Hot Sub
.............................$8.99
MEAL DEAL
NoCouponsPlease
LargeCheesePizza&
12BuffaloWingsBone-in
CheckOut
Our GAS PRICE
5¢OFF
Every SUNDAY
ExpiresDecember 31st
ExpiresDecember 31st
NotGoodWith Specials
NoCouponsPlease
Saturday& Sunday ONLY
SUPERSUBSPECIAL
(ColdSub)
Monday-Friday
$5.00
IncludesFountainDrink
Homemade Chili Available
ComingSoon ... Friday
s
Monday- 1/2HamSubwithChips
Tuesday- 1/2TurkeySubwithChips
Wednesday- 2Slices of Pizzas&3Wings
All LunchesComeWith
16 oz. FountainDrink!
*Subject to change