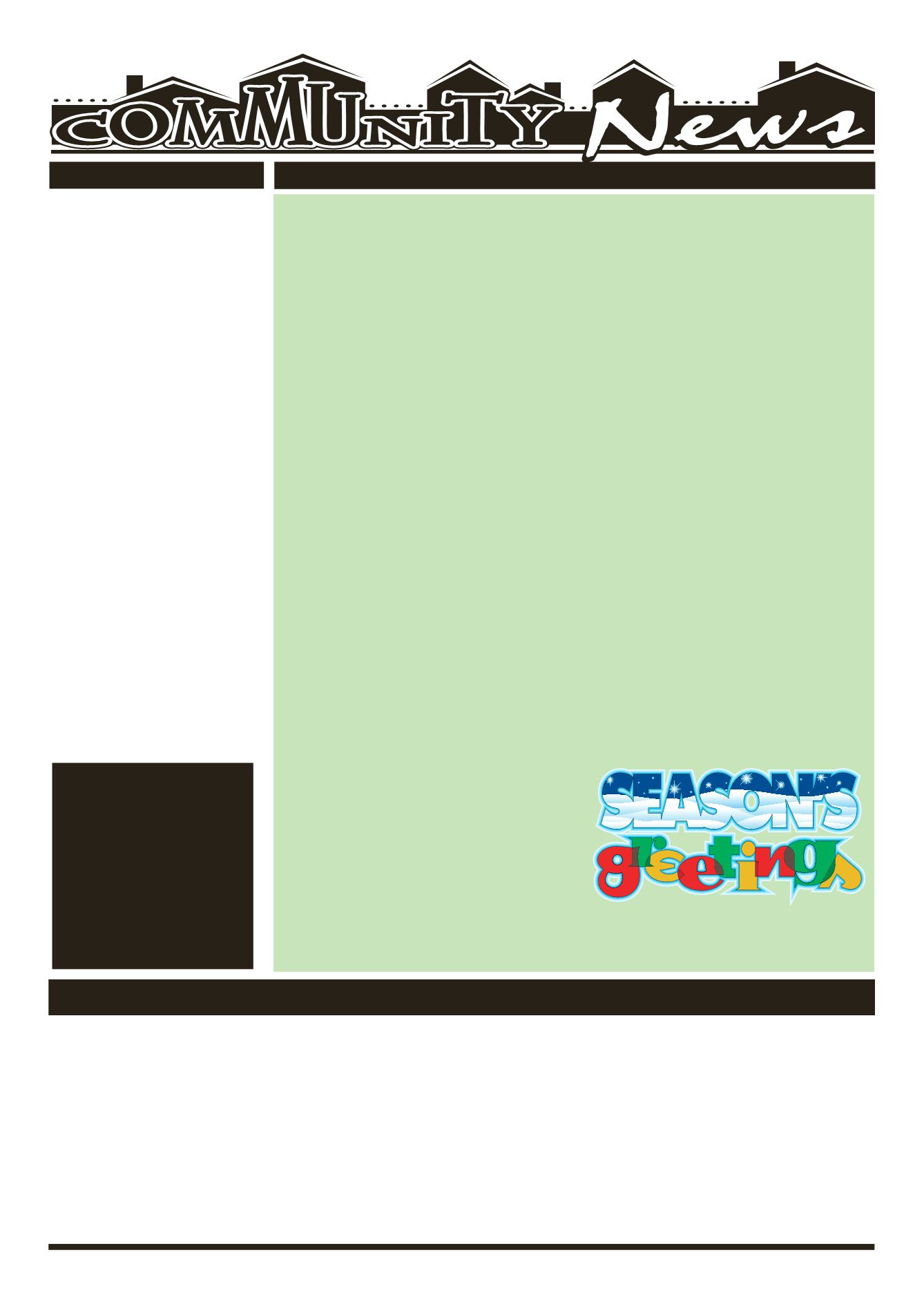 LEROYPENNYSAVER&NEWS -DECEMBER 21, 2014
Le Roy
Pennysaver
All GeneseeCounty residents, 60andolder, can takepart in thisweek'sactivitiesat theBataviaSenior Center, 2BankSt., Batavia. Formore information, call 343-1611.
(December 22 -December 26)
WEEKLYEVENTS
OBITUARIES
ArthritisExercise
is scheduled tobeginat 9:30a.m.;
Bridge
is set tobeginat 11:30a.m.
Cribbage
is scheduled tobeginat 1:00p.m.
Quilters
are scheduled tomeet at 9:00a.m.;
Euchregame
is scheduled tobeginat 1:00p.m.
ChristmasHoliday -SeniorCenterClosed.
ArtClassandLineDancing
is set tobeginat 10:00a.m.;
Euchre
is set tobeginat 12:00p.m.
SUNDAY,DECEMBER21
AWANA Program at Penuel Christian Fellowship.
Street. Sundays12:15 to1:45pm. Ages5-17broken intogroups.
Developing friendships. Having fun. Learning about God. Safe
Konnect Youth Group at LivingWaters Church,
LeRoy. Sundays from6:30 to8:30pm forages12-18. "BringDown
all theWalls! Connect with God and Connect with others." For
more information, check us out online at: livingwatersleroy.org/
MONDAY,DECEMBER22
TOPS (Take Off Pounds Sensibly)
the LeRoy Presbyterian Church, corner of Clay & Main Streets.
Doorsopenat6:00pmandmeeting is from6:30-7:15pm.Visitors
arealwayswelcome. Call 585-768-7103 formore information.
TUESDAY,DECEMBER23
Preschool Storytime:
EveryTuesdayat 11am featuring stories,
craftandsongsatPavilionPublicLibrary,5WoodrowDr.,Pavilion.
LCCP'sGRACE'SKITCHEN:
(willbeCLOSEDonTues.,Dec.23rd
andwillre-openthefollowingweek,Dec.30th)
everyTuesdayevening, 5-6:30pmat theLeRoyUnitedMethodist
Church, 10TrigonPark.ParkingavailableonTrigonPark& the lots
to the left and back of the Church. Handicapped Entrance in the
backof theChurch.Takeout&deliveryareavailable.Formore info.
contact SelbyDavisat585-738-8882or
LeRoyZoningBoardofAppealsMeeting
pm at theTownHall, 48Main St. For further info. call 768-6910,
WEDNESDAY,DECEMBER24
Pavilion Baptist Church
youth programs
for thewinter everyWednesdayevening. All community children
arewelcome toattend.AWANA isaprogram for younger children
Preschool (4 year old) through6thgrade. It is a fun timeof Bible
Stories, games Bible memory and even refreshments. Word of
Life program is for teens 7th through 12th grade.We are easily
located at 10956 S LakeRoad inPavilion. Call 585-584-3179 ext.
THURSDAY,DECEMBER25
GeneseeVeteransSupportNetwork
velopment ofVeterans focusedAAmeetings everyThursday, 6-7
pmat theFirstBaptistChurch, 306E.MainSt.,Batavia.Meetings
ledbyMikeW.&areopen tonon-veterans aswell. Handicapac-
cessible. For additional information call 585-302-0825.
GRACE'S CLOSET:
(will be CLOSEDDec. 25th& Jan. 1st)
A
clothing giveaway program
sponsored by Le Roy United
Methodist Church, 10 Trigon Park, Le Roy, 9:30 am to 11:30 am
every Thursday.We have clothing for all ages. FALL &WINTER
clothingnowbeingput inplace.Weare inneedofWARMERclothing
especially coats, jackets boots, pajamas. We needbedding of all
kinds especiallyblankets.We accept donations bedroppedoff at
thehousenexttothechurch.Pleaseputallbags INSIDEontheback
porch. NOELECTRONICS, COMPUTERS,DISHES,etc. Anyquestions
FRIDAY,DECEMBER26
Penuel ChristianFellowship,
OneStep toFreedomaddictions
ministry,aChristCenteredAddictionsprogram,aweeklymeeting
every Friday at 7 pm. Call the Church for more information at
SATURDAY,DECEMBER27
UPCOMINGEVENTS
LCCP'sMommy&MePlaygroup:Every2nd&4thFriday,
12:00-1:30, Le Roy Physical Therapy (in the back gym). Any
moms and their birth-kindergarten children are welcome to
come enjoy socialization, lunch, coffee, structured games &
CommunityCalendar Submissions shouldbe sent to:
LEROY— Jane L. Roth Butler Howard, 94, of LeRoy,
formerly of Stafford, died Thursday (Dec. 11, 2014) at
LeRoyVillageGreenNursingHome inLeRoy. In lieuof
flowers,memorialsmaybemade to theSunshineFund
at LeRoyVillageGreenNursingHome, 10MunsonSt.,
LeRoy,NY14482; or toacharityof thedonor'schoice.
LE ROY — Richard L. Tiede, 81, of Le Roy died
Saturday (Dec. 13, 2014) at StrongMemorial Hospital
in Rochester. Memorials may bemade to Crossroads
House, POBox 403, Batavia, NY14021.
WYOMING— Edwin K. ''Kay'' Johannes, 67, of Wy-
oming, died Friday (Dec. 12, 2014) at the Wyoming
County Community Hospital in Warsaw. In lieu of
flowers, memorialsmay bemade to the family.
BYRON — Thomas R. Hartwig, 63, of Byron died
Monday (Dec. 15, 2014) at Strong Memorial Hospital
in Rochester. Memorials may be made to the South
Byron UnitedMethodist Church, P.O. Box 135, Route
#237, South Byron, NY 14557, Gideons International
Genesee Camp, P.O. Box 50, Batavia, NY 14021 or
Roanoke Community Church, in care of Josie King,
9840 LakeRoad, Pavilion, NY14525.
CONESUS/LE ROY — Ann M. Bachorski, 80, of
East Lake Road, formerly of Le Roy, passed away
Tuesday afternoon (Dec. 16, 2014) at Rochester
General Hospital. Memorials are suggested to St.
Matthew Church, 6591 Richmond Mills Rd. P.O. Box
BERGEN—AugustusC. "Gus"Warren,87,ofGodfrey's
Pond, a supervisor atGTESylvania inBatavia, prior to
his retirement, diedunexpectedlyonWednesday (Dec.
17,2014)athishome. In lieuof flowers,memorialsmay
bemade toGeneseeCountyFishandGameProtective
Association Inc., P.O. Box 217, Batavia, NY14021.
N.C./LEROY—Neal I. Kilian, 89, passedawaypeace-
fully on Dec. 3, 2014, at the Brunswick Cove Living
Center inLeland,N.C. In lieuof flowers,pleaseconsider
acontribution to theWoundedWarriorsFoundation, the
AmericanCancer Society or a charity of your choice.