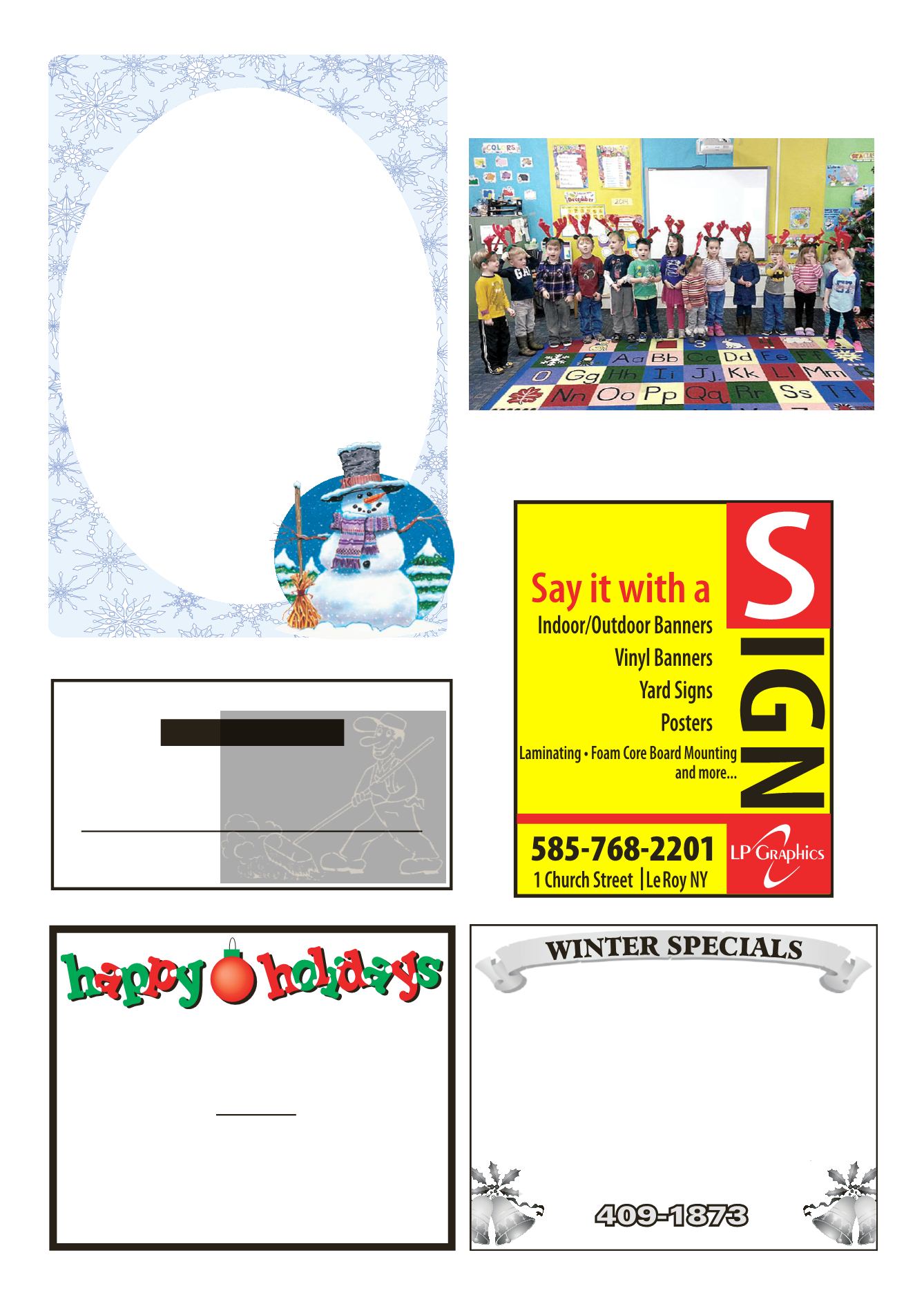 LEROYPENNYSAVER&NEWS -DECEMBER 21, 2014
CleaningService
•Carpet &UpholsteryCleaning
•Spot Cleaning&Odor Removal
•Tile&WoodFloor Cleaning&Waxing
•Complete Janitorial Services
ROBLEE
Plumbing&Heating, LLC
10991LakeRd., Pavilion • (585) 584-3841
Full Insured
LUXAIRE
GOULD
NYSCertifiedBackflowTester
All TypesOf Plumbing&Heating Jobs
Water Treatment&ConditioningSystems
To our customers and friends, we extend ourBestWishes
for a joyous holiday season and prosperousNewYear!
Doyouenjoy
teaching?
Doyouhavea skill
to share?
LeRoy Central School District
is looking for instructors for
CommunityEducationClasses
for the winter.
If interested, please contact
The3dayPre-K friends fromLoveBugsPreschoolarepracticing
a fewChristmascarols. Thechildrenhavehadawonderful time
making presents, reading stories and learning about the true
meaning ofChristmas thismonth.
MerryChristmas
FromLoveBugs
Center of AttentionHair Studio
Located in theMasonic Temple at
3141State Street, Caledonia
Tues. 10-5;Wed. & Thurs. 10-7; Fri. 10-6; Sat. 9-2
Partial Highlightw/Cut &Style
$60
$50
Wash, Cut &Style andBrowWax
$25
Specialsgood 12-1 thru 1-31
Don't forget tocomeand register for ourHolidayGift
Basket full ofmy favoriteproducts. Thatmeansmenas
well! I didn't forget about you! I haveabasketmade
withall hair care&beardneeds.
Gift Certificates Available
lpgraphics.net