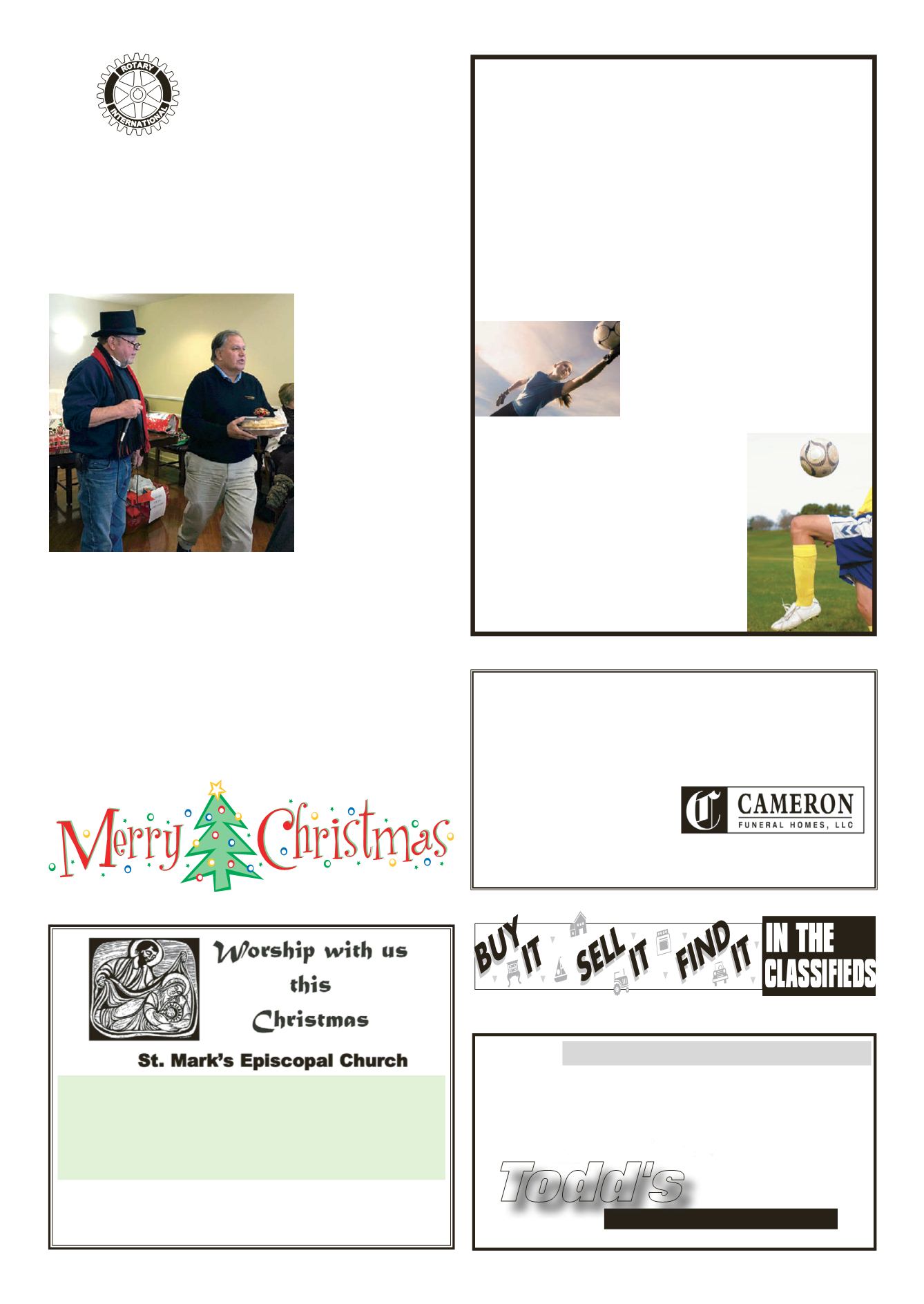 LEROYPENNYSAVER&NEWS -DECEMBER 21, 2014
St. Mark'sEpiscopal Church
Stafford, NY: Lessons&Carols
6:00pmat St. Mark's: Family
featuring theChildren'sChoir
ChildCareprovidedat this service)
Eucharist (CommunionMass)
December 29th 10:30am: Lessons&Carols
St.Mark's: A communitycentered inChrist;
Loving and servingone another throughChrist;
Reachingout into theworldbyopeningdoors,
minds, hands andheartswithChrist
HelpingFamiliesCelebrateaLifeLived
"Our FamilyServingYours Since 1907"
Trusted•Honest •Proven
Cameron, Brady&Steuber
FuneralHome
111Wolcott Street
LeRoy,NY 14482
(585) 768-6800 •
Likeus onFacebook
NewHomes •Additions •Garages •PoleBarns
ToddCarli • Phone 703-0964
Todd's
Decks •Windows •Doors
Kitchens •Baths
CeramicTile
Basement Finishing
CustomShelves/Built-Ins
Siding •Remodeling
Roofing • SnowPlowing
FULLY INSURED
LeRoyYouthSoccerAssociation "LYSA"
Summer2015Registration Information
2ndYear Running ...
(space is limited)
FORDETAILED INFORMATIONREGARDING
REGISTRATION andLYSA'S 2015
SOCCERPROGRAM, GOTOOURWEBSITEAT:
ONLINEREGISTRATION ISOPEN
WALK-INREGISTRATION:
Wed., Jan. 14, 2015
(to be confirmed)
WHERE: LeRoyJr./Sr.
HighSchool Cafeteria
TIME: 6p.m. to 8p.m.
You can register and/or pay online or in
person. Regardless of how you plan to
register, please go to our website and
read the registration informationcarefully
and thoroughlybeforeentering theonline
registrationsystemorcoming toourwalk-
in registration. Thank you!!!
QUESTIONS?
ContactAmyRichardson at:
5:00 pm at St. Paul's, Stafford, NY: Lessons&Carols
Wednesday, ChristmasEve, December 24th
7:00 pm at St. Mark's: FamilyService of HolyEucharist
(CommunionMass) featuring the hildren'sChoir
(ChildCare provided at this service)
What a wonderful turnout for
our Annual Rotary "Cookie"
Auction! Many guests were in
attendance and the mood was
festive as we took turns survey-
ing the fabulous arrayof mostly
homemade cookies, pies, cakes
and other assorted delights.
Before the bidding begins,
there were several announce-
ments. Rotarians were remind-
ed that Salvation Army Bell
Ringing at Tops on Friday and
Christmas Caroling on Sunday.
Therewill be a Board of Direc-
tors meeting on the 17th at 11
am. 1st Night in LeRoy Raffle
ticketsarestill availablewith the
drawing takingplaceonMonday
Cindy Bishop, Tom Cox and
TomMcGinnis were called out
for missed meetings. Cindy of-
fered up green cards while Tom
and Tom were prepared with
which called for his first
the table full of creative
localcharitableorganizationswill
be the beneficiaries. Stay tuned.
Abig thanks toallourRotarians
for the wonderful treats and to
those same Rotarians and guests
that bought sounselfishly to sup-
portourcommunity.Don't forget
to "Like" us on Facebook. To
LeRotary
Notes