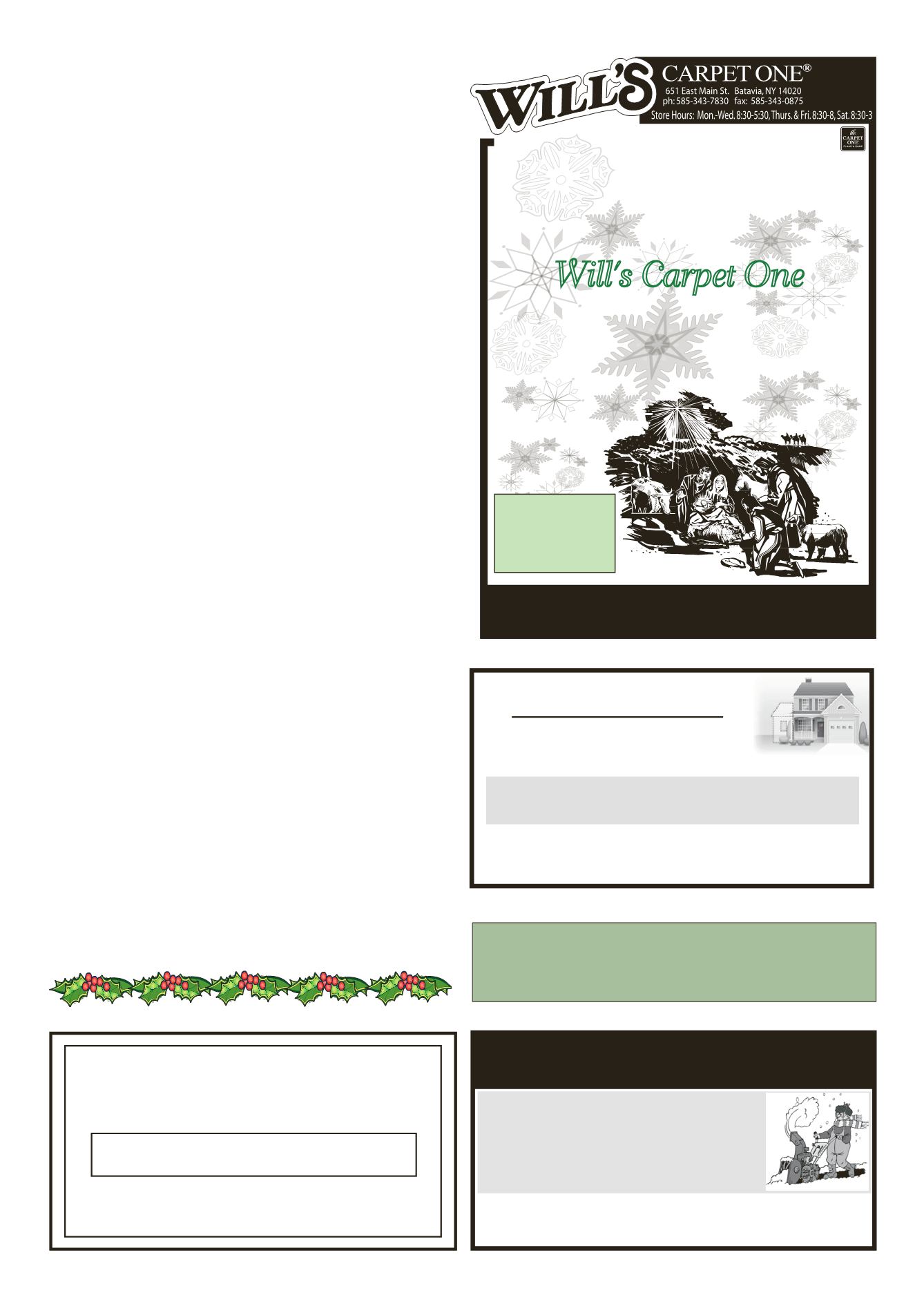 LEROYPENNYSAVER&NEWS -DECEMBER 21, 2014
FLOOR
&HOME
TheONE store for your perfect floor.
"CompleteCarpentry Service"
M
ILLER
B
ROTHERS
B
UILDERS
CustomHomes •Remodeling•Additions
Roofing• Siding
DANIEL
MICHAEL
SUPPORTYOUR LOCALADVERTISERS!
They help sponsor the local news section of the Le Roy Pennysaver.
THANKS FORYOUR SUPPORT!
• Engine andTransmissionRebuilds
• Lawn andGardenEquipment
•ATV's, Dirt Bikes • Light Equipment
• PickUp andDeliveryAvailable
• Snowblowers • Snowmobiles •Generators
Hours: Tues.-Fri. 10 am to 4 pm, Sat. 10 am to 2 pm
8525Rt. 237, Stafford, NY
Plumbing • Heating
Installation&Repair Service
For All Residential &Commercial Work
bySenatorRanzenhofer
December 2014
It was truly an honor to be
re-elected last month to another
termasyourNewYorkStateSen-
ator. To each and every resident
of the61stSenateDistrict:Thank
you for your continued support
and confidence in my ability to
represent you in the State Cap-
itol. I am excited to continue to
represent you, your family and
Working together, we have
made some progress in Albany.
TheStateBudgethasbeenpassed
on timenow for four consecutive
years. Eachone of these budgets
has controlled spending, closing
a$15billionbudget deficit. Asa
result, 49 different tax cuts have
been enacted so that $5.6 billion
could be returned to taxpayers.
$5.6billion ismore than just a
number; it represents real relief
for Western NewYorkers. Mid-
dle-class families pay the lowest
income tax rate inover 60years.
For manufacturers, tax rates are
at their lowest sincebeforeWorld
War I. For small businesses, it
means the lowest corporate tax
Despiteallof thesepositiveac-
tions, there isstillwork tobedone
in an effort to keep our State and
our economy on the right track.
Creating jobs in theprivatesector,
ensuring our children receive a
first-rate education and repealing
burdensomebusiness regulations
will be just someofmy topprior-
Iameager tocontinueworking
on so many of these important
issues. While it may feel like
ElectionDaywas yesterday, the
2015LegislativeSession is right
Even though the next session
hasn'tevenstartedyet, therecon-
tinues tobespeculationsurround-
ing two controversial issues, a
possible pay raise for legislators
First, somehave suggested the
StateLegislature couldbe called
back for a special session by
year-end to vote to increase pay
for State lawmakers. As I have
said in the past, I would not be
supportive of an increase in pay
for members of the Senate and
Assembly. Simply put, it would
not be appropriate at this time.
Second, I am very concerned
that the ThruwayAuthoritywill
resort to toll hikes to pay for the
TappanZeeBridge.TheThruway
Authority released its proposed
budget lastweek, and thebudget
plan is projecting shortfalls over
the next few years due to the
multi-billion dollar downstate
project. Western New Yorkers
should not be socked with the
cost of having to build that new
bridge. I will fight very hard to
make sure that doesn't happen.
Whether it is stopping a toll
increase or keeping an eye on
your hard-earned tax dollars,
youcancount onme to represent
your interests in theStateCapitol.
Thank you again for giving me
the chance to continue to work
for you. I want to wish you and
your familyaHappyHolidayand
ahealthy, prosperousNewYear!
Focus:WorkingForYou,Your
Family,OurCommunity
Closing
Re-Open
Wewishyouhealthandhappiness