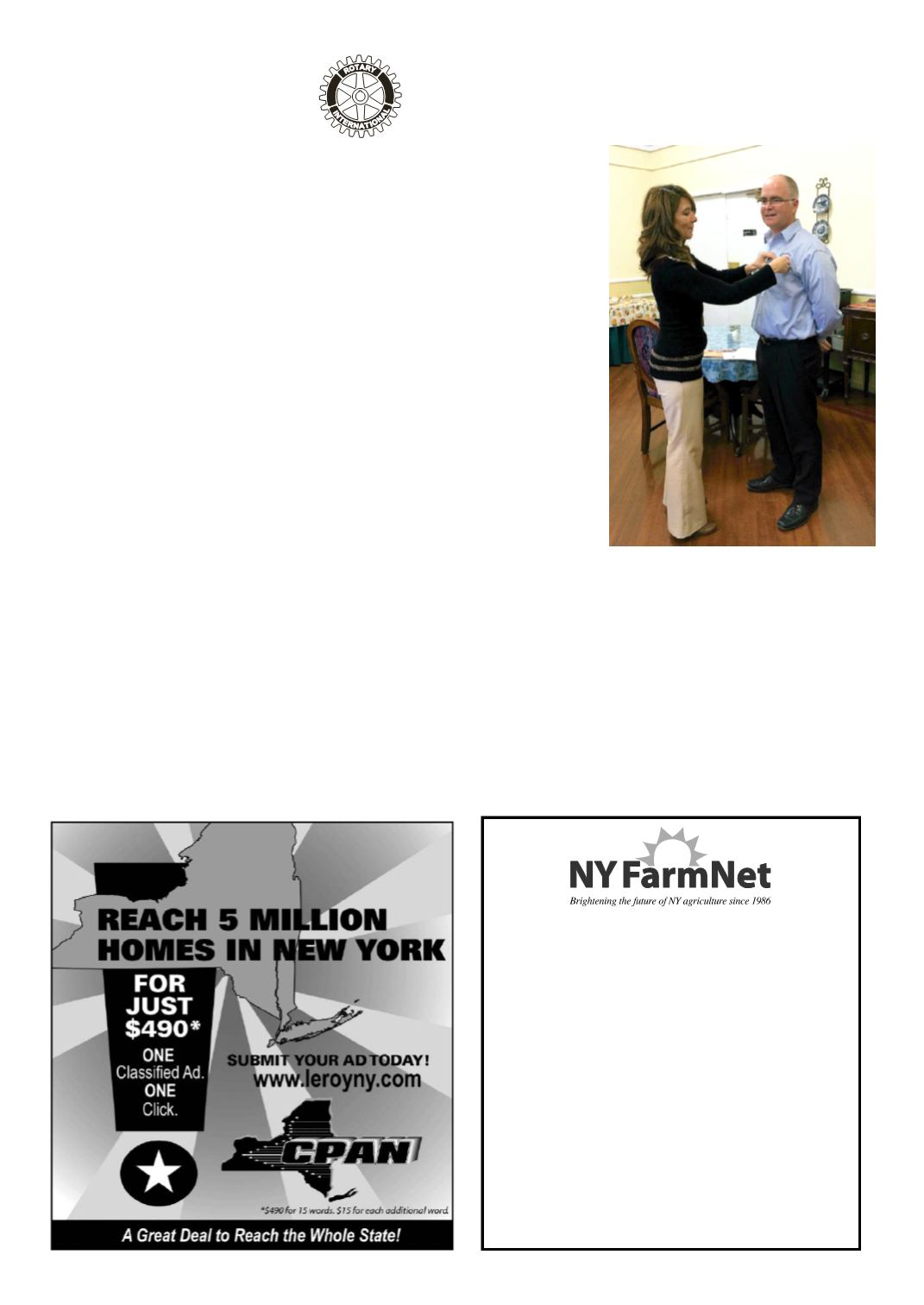 LEROYPENNYSAVER&NEWS -DECEMBER 14, 2014
LeRotary
Notes
ATwoDaySeminaronFarmBusinessTransfers
WhoWillManage
YourFarmTomorrow?
KeynoteSpeaker: DannyKlinefelter,Ph.D
PlatinumSponsors:
FarmCreditEast&NYAgandMarkets
January13-14,2015
DoubletreeHotel,EastSyracuse,NY
RegisterToday!
$85
Includesallmaterialsandmeals
Sponsorshipsareavailable!
Notes forDecember 3rd, 2014
Itwasa tadgloomyasPresident
RandyVink opened themeeting
at about 12:15 pm last Wednes-
day! However, we followed
Randy's lead in "Lighting up
Rotary" over a hearty lunch, an
interestingpresentationandsome
PledgeofAllegiance
Grace and the Four-Way Test,
President Randy welcomedMs.
LaurieMastin from the Batavia
ClubasourguestalongwithAm-
ber Johnson fromCDSMonarch.
Additionally, theClubwelcomed
LeRoyHighSchool seniorsDa-
vid Hahn, Randy Henning and
Dylon Gribble. We serenaded
TracyFord (down to$)andCarol
Wolfe (up to&) who celebrated
Today was a "special day" as
we inductedRobert "Rob"Mur-
ray as our newest Rotarian. Rob
owns theLeRoyDryCleanerand
CRDN (CertifiedRestorationand
Drycleaning Network) of Roch-
ester and theFinger Lakes.
Announcements included our
annual Cookie Auction on De-
cember 10th, Bell Ringing for
theSalvationArmyonDecember
12th, Caroling and Nogging on
December 14th and our Santa
visitonDecember17th. Children
are welcome to come Caroling
and the party thereafter and a
"definitemust" for theSantavisit.
Don't miss it! Additionally, see
Rotarians performwith theGen-
eseeChoraleatSt. JamesEpisco-
palChurchBataviaonDecember
12at 7pm. Also, it'snot too late
to make your Every Rotarian
EveryYear donation – go online
Finally, the annual Super Bowl
Raffle will take place January
31st, 2015atSpirits.Ticketswill
beavailableverysoon fromTracy
Ford for $5@ or $10 for 3.
"Miscues" and "Missed Op-
portunities": President Randy
"lightened" the wallets today of
various members. Many excus-
es were offered, duly consid-
ered and thrown to the wind as
Joe Gianettino and Carol Wolfe
were fined for missed meetings.
These members paid up: Sully
for celebrating sevenyears in the
RotaryClubofLeRoy,Christine
Gephart for posingwith her sev-
en-foot Christmas Tree, Lauren
Humphreyforposting"20Reason
WhyYouShouldJoinRotary"on
Facebook, and June Dusen for
hostingThanksgiving for20peo-
ple. MaryMargaret Ripley, Bob
Bennett,BobBoyce,MaryYoung
and Sammie Vagg were covered
ing family support services,
employment training, Veteran
support services, andseniorand/
or disabled residential services.
You can learn more and donate
Le Roy Rotary asks you to
consider becoming part of an
organization that is about to
eradicate polio from the earth,
contributes to numerous assis-
tanceprojects inover100 foreign
countries, and offers a chance
for everyone to give back to
their community. Locally, we
provide over 30 scholarships to
local studentsannually, cleaning
up theWestMain trestle,provide
engagingApplianceRaffles and
Graze to Raise events as well
as many other fun events. Why
don'tyouhelpusmakeourcom-
munity a better place? Remem-
ber to "Like" us on Facebook at