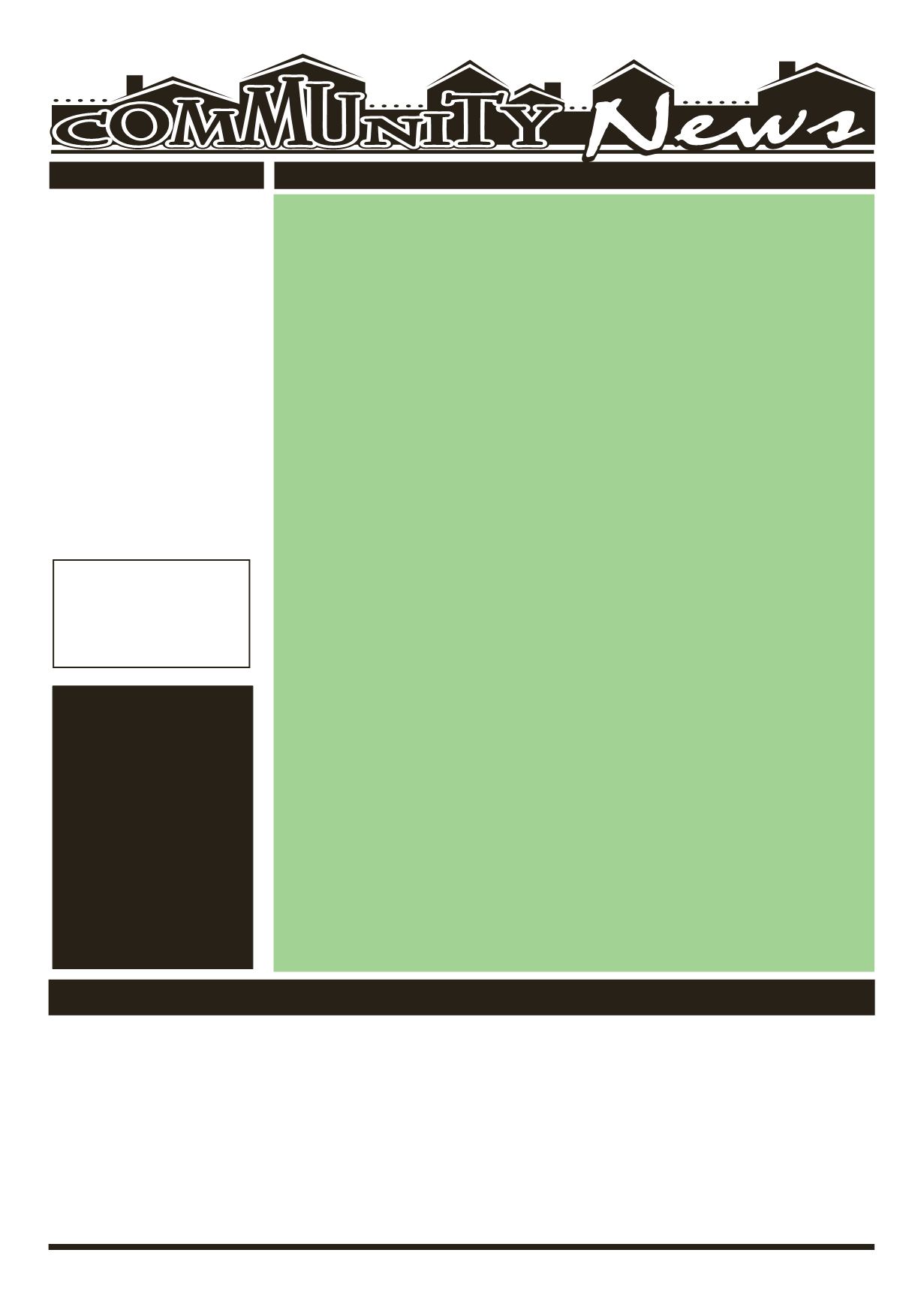 LEROYPENNYSAVER&NEWS -DECEMBER 14, 2014
Le Roy
Pennysaver
All GeneseeCounty residents, 60andolder, can takepart in thisweek'sactivitiesat theBataviaSenior Center, 2BankSt., Batavia. Formore information, call 343-1611.
(December 15 -December 19)
WEEKLYEVENTS
OBITUARIES
ArthritisExercise
is scheduled tobeginat 9:30a.m.;
Bridge
is set tobeginat 11:30a.m.
Alzheimer'sAssociationMeeting
is scheduled to takeplaceat8:30a.m.;
Cribbage
is scheduled tobeginat1:00p.m.
OmbudsmanMeeting
is scheduled tomeetat9:00a.m.;
Quilters
are scheduled tomeetat9:00a.m.;
Euchregame
scheduled tobeginat 1:00p.m.
Tai Chi is
scheduled to take place at 9:30 a.m. followed by
Gentle Fitness
to take place at 10:30 a.m.;
Cribbage and
Bridge
areset tobeginat1:00p.m.;
GeneseeSeniorFoundationMeeting
isset to takeplaceat1:00p.m.;
MusicalKey-
boardingLesson
LegalAppointments
are scheduled to takeplaceallday
BYAPPOINTMENTONLY;ArtClassandLineDancing
Euchre
is set tobeginat 12:00p.m.
SUNDAY,DECEMBER14
AWANA Program at Penuel Christian Fellowship.
Street. Sundays12:15 to1:45pm. Ages5-17broken intogroups.
Developing friendships. Having fun. Learning about God. Safe
Konnect Youth Group at LivingWaters Church,
LeRoy. Sundays from6:30 to8:30pm forages12-18. "BringDown
all theWalls! Connect with God and Connect with others." For
more information, check us out online at: livingwatersleroy.org/
MONDAY,DECEMBER15
TOPS (Take Off Pounds Sensibly)
the LeRoy Presbyterian Church, corner of Clay & Main Streets.
Doorsopenat6:00pmandmeeting is from6:30-7:15pm.Visitors
arealwayswelcome. Call 585-768-7103 formore information.
Makea3Dgingerbreadhouseand listen toholiday stories
at theWoodwardMemorial Library
from 3:15 – 4:15 p.m. Call 768-8300 or register online at
TUESDAY,DECEMBER16
Preschool Storytime:
EveryTuesdayat 11am featuring stories,
craftandsongsatPavilionPublicLibrary,5WoodrowDr.,Pavilion.
LCCP'sGRACE'SKITCHEN:
AFREEdinner everyTuesdayevening,
5-6:30pmat theLeRoyUnitedMethodist Church, 10TrigonPark.
Parking available on Trigon Park & the lots to the left and back
of the Church. Handicapped Entrance in the back of the Church.
Takeout&deliveryareavailable.Formore info.contactSelbyDavis
Townof LeRoyPlanningBoardMeeting
pm at theTownHall, 48Main St. For further info. call 768-6910,
Makea3D reindeer stableand listen toholiday storiesat
theWoodwardMemorial Library
for children in grades 3-6,
from 3:15– 4:15 p.m. Call 768-8300 or register online at
WEDNESDAY,DECEMBER17
Pavilion Baptist Church
youth programs
for thewinter everyWednesdayevening. All community children
arewelcome toattend.AWANA isaprogram for younger children
Preschool (4 year old) through6thgrade. It is a fun timeof Bible
Stories, games Bible memory and even refreshments. Word of
Life program is for teens 7th through 12th grade.We are easily
located at 10956 S LakeRoad inPavilion. Call 585-584-3179 ext.
Village of LeRoyBoardMeeting,
7 pm at theVillage Hall, 3
LEGO&GameClubat theWoodwardMemorial Library
children ingradesK-6, from3:15-4:15p.m.BuildwithLegos,play
boardgameswithyour friends,or jamoutonGuitarHero.There is
something for everyone. Registration isNOT required.
THURSDAY,DECEMBER18
GeneseeVeteransSupportNetwork
velopment ofVeterans focusedAAmeetings everyThursday, 6-7
pmat theFirstBaptistChurch, 306E.MainSt.,Batavia.Meetings
ledbyMikeW.&areopen tonon-veterans aswell. Handicapac-
cessible. For additional information call 585-302-0825.
GRACE'SCLOSET:
Aclothinggiveawayprogram
LeRoyUnitedMethodist Church, 10TrigonPark, LeRoy, 9:30 am
to11:30ameveryThursday.Wehaveclothing forall ages. FALL&
WINTERclothingnowbeingput inplace.Weare inneedofWARMER
clothingespeciallycoats, jacketsboots,pajamas.Weneedbedding
of all kinds especially blankets.We accept donations be dropped
offat thehousenext to the church. Pleaseput all bags INSIDEon
thebackporch. NOELECTRONICS, COMPUTERS,DISHES, etc. Any
questions call theoffice768-8980.
FRIDAY,DECEMBER19
Penuel ChristianFellowship,
OneStep toFreedomaddictions
ministry,aChristCenteredAddictionsprogram,aweeklymeeting
every Friday at 7 pm. Call the Church for more information at
Classical guitarist DonBouchardwill present "Christmas
Reflections,"
a freeconcertat7:00pmat58onMain, LeRoy. Sit
back and relax during this hectic holiday seasonwith one hour
of traditional instrumental music, including a special rendition
of"Silent Night." All welcome. Information at 768-2402 orww-
SATURDAY,DECEMBER20
UPCOMINGEVENTS
LCCP'sMommy&MePlaygroup:Every2nd&4thFriday,
12:00-1:30, Le Roy Physical Therapy (in the back gym). Any
moms and their birth-kindergarten children are welcome to
come enjoy socialization, lunch, coffee, structured games &
CommunityCalendar Submissions shouldbe sent to:
LEROY—GraceB. Ingalls, 82, of Summit
Street Road, passed away unexpectedly
Saturday evening (Dec. 6, 2014) at United
Memorial Medical Center in Batavia. Me-
morialsaresuggested toLeRoyAmbulance
Service, Inc., POBox 56, LeRoy, NY.
PAVILION — Rose J. Barber, 73, passed
away unexpectedly on Saturday afternoon
(Dec. 6, 2014) at United Memorial Medical
Center inBatavia.Thecourtesyofno flowers
is requested with memorials suggested to
Lake Plains Dialysis, 587 East Main St.,
BATAVIA—ElizabethA. ''Betty''Welsh, 95,
of Oak Street, passed away early Monday
morning (Dec. 8, 2014) at theLeRoyVillage
Green Nursing Home. She was a warm
and loving owner and hostess of many
businesses in the Le Roy area. Memorials
are suggested toNotreDameHighSchool,
Don't waste precious time