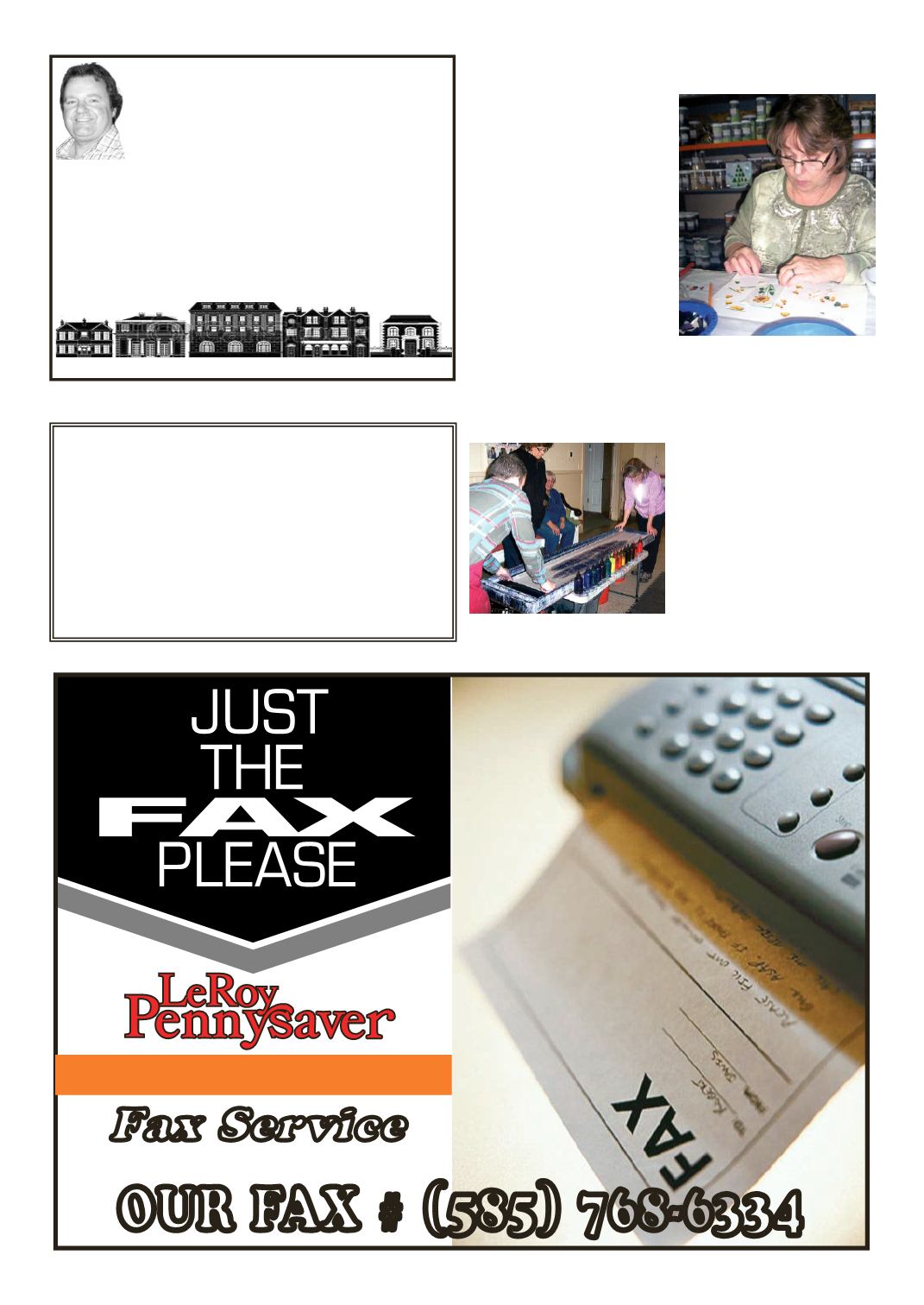 LEROYPENNYSAVER&NEWS -DECEMBER 14, 2014
Rider Real Estate
"Not TheBiggest, Just TheBest"
Howard E. Hotze, Jr.
Sales Associate
20YearsOf Appraisal&MortgageFinancing
Experience
My lastHome sold in 12 days!!
Iwould appreciate the opportunity to assist you
in the selling of your home!
Cell Phone: 690-7811
"PeopleYouKnow&Trust"
The gardening season is over!
But the members of the LeRoy
Town & Country Garden Club
have kept busy the last couple
of months expanding their ar-
tistic talents. On October 8th,
the members went to the Oatka
School of Glass on Harvester
Avenue inBatavia. Amandaand
Lance Taylor helped the mem-
bersmake glass pocket vases. It
was challenging and great fun.
Shown isGardenClubmember,
LindaSmithbusyatworkonher
held on November 12th at First
Presbyterian Church in LeRoy.
David Deibler of "Scarves To
guests how to design and dye
Groundfloor, no stairs, designated parking close to the apartment.
Screened porch, in apartment, washer/dryer,
nice electric stove& refrigerator. Lots of cupboards in kitchen.
Large bedroom, with lots of closet space.
Large bathroomwith tub& shower, large bathroom closet.
Very reasonable rent includeswater/sewer/heat for entire
Looking for long term tenant!
Call 356-0296
silk scarves. In the second pic-
ture, David is helping Lee Ann
Patterson with her scarf while
Ann Walters and Charlene Ray
offerencouragement. Abusiness
meetingwasalsoheldanda slate
of officers was tentatively put
together for next year.Members
brought non-perishable items for
Plans are underway for our
annual Christmas Party on De-
cember 10th. In lieu of a gift
exchange, an optional monetary
donation will be taken for the
LeRoyGardenClubMeetings
1ChurchSt., LeRoy, NY • (585) 768-2201