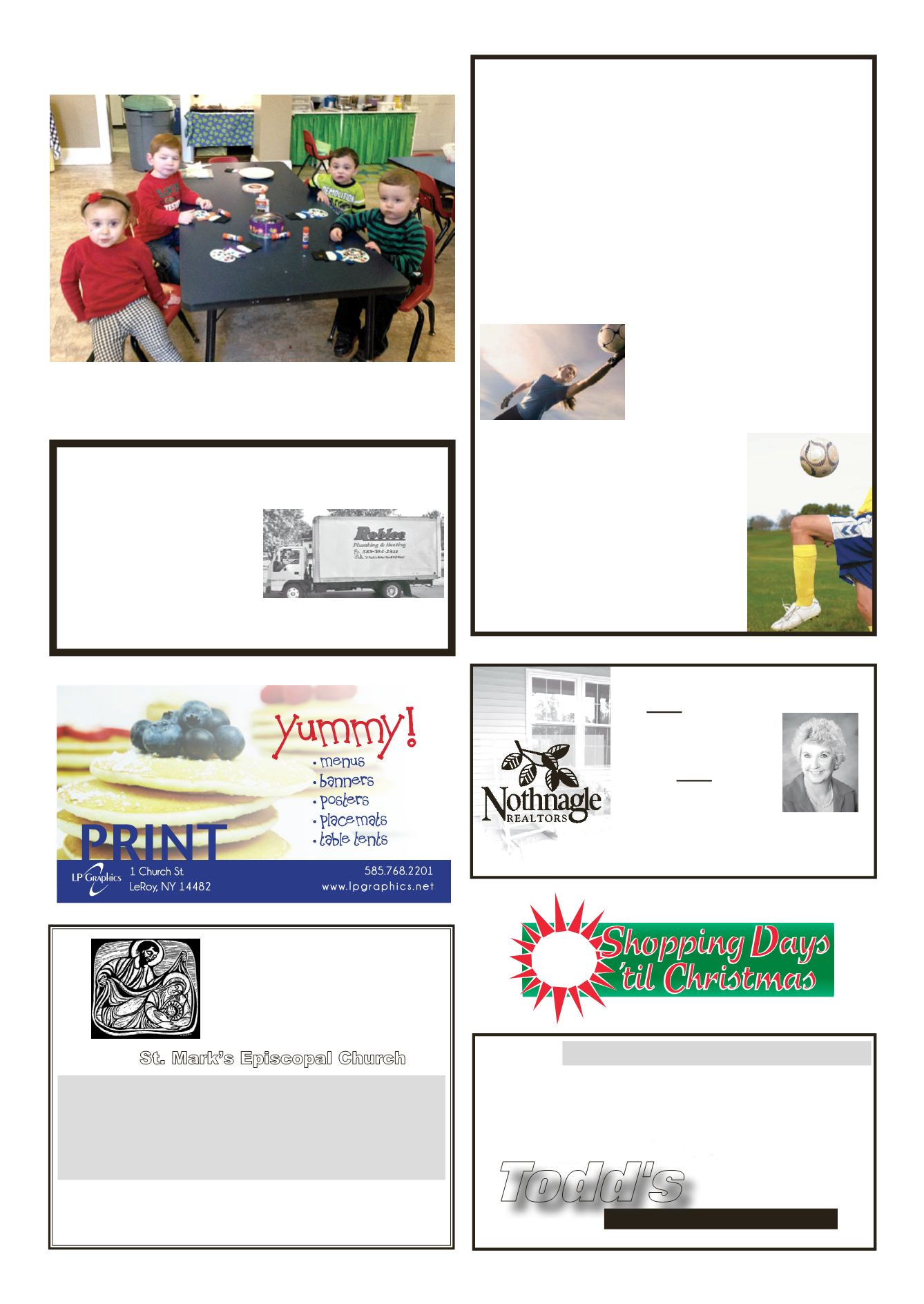 LEROYPENNYSAVER&NEWS -DECEMBER 14, 2014
St. Mark'sEpiscopal Church
Stafford, NY: Lessons&Carols
6:00pmat St. Mark's: Family
featuring theChildren'sChoir
ChildCareprovidedat this service)
Eucharist (CommunionMass)
December 29th 10:30am: Lessons&Carols
St.Mark's: A communitycentered inChrist;
Loving and servingone another throughChrist;
Reachingout into theworldbyopeningdoors,
minds, hands andheartswithChrist
NewHomes •Additions •Garages •PoleBarns
ToddCarli • Phone 703-0964
Todd's
Decks •Windows •Doors
Kitchens •Baths
CeramicTile
Basement Finishing
CustomShelves/Built-Ins
Siding •Remodeling
Roofing • SnowPlowing
FULLY INSURED
Batavia
585-343-6750
NOW is theBEST time
toBUYwith the interest rates
at their lowest!
Don't wait
toBUY -
call
LindaBeaumont
for all your real
estateneeds.
LindaBeaumont
Home (585) 768-6315
LicensedReal Estate
Salesperson
Multi-MillionDollar Producer
ROBLEE
Plumbing&Heating, LLC
10991LakeRd., Pavilion • (585) 584-3841
Full Insured
LUXAIRE
GOULD
NYSCertifiedBackflowTester
Water&Sewer Lines •Water Treatment&ConditioningSystems
LeRoyYouthSoccerAssociation "LYSA"
Summer2015Registration Information
2ndYear Running ...
(space is limited)
FORDETAILED INFORMATIONREGARDING
REGISTRATION andLYSA'S 2015
SOCCERPROGRAM, GOTOOURWEBSITEAT:
ONLINEREGISTRATION ISOPEN
WALK-INREGISTRATION:
Wed., Jan. 14, 2015
(to be confirmed)
WHERE: LeRoyJr./Sr.
HighSchool Cafeteria
TIME: 6p.m. to 8p.m.
You can register and/or pay online or in
person. Regardless of how you plan to
register, please go to our website and
read the registration informationcarefully
and thoroughlybeforeentering theonline
registrationsystemorcoming toourwalk-
in registration. Thank you!!!
QUESTIONS?
ContactAmyRichardson at:
Sunshine Nursery School's students are busy little elves this
time of year! Pictured here are the playgroup children happily
working onholiday crafts.
St. Mark'sEpiscopal Church
Stafford, NY: Lessons&Carols
6:00p at St. Mark's: Family
featuring theChildren'sChoir
ChildCareprovidedat this service)
Eucharist (CommunionMass)
5:00 pm at St. Paul's, Stafford, NY: Lessons&Carols
Wednesday, ChristmasEve, December 24th
at St. Mark's: FamilyService of HolyEucharist
(CommunionMass) featuring theChildren'sChoir
(ChildCare providedat this service)
HolidayCheerAt SNS
11