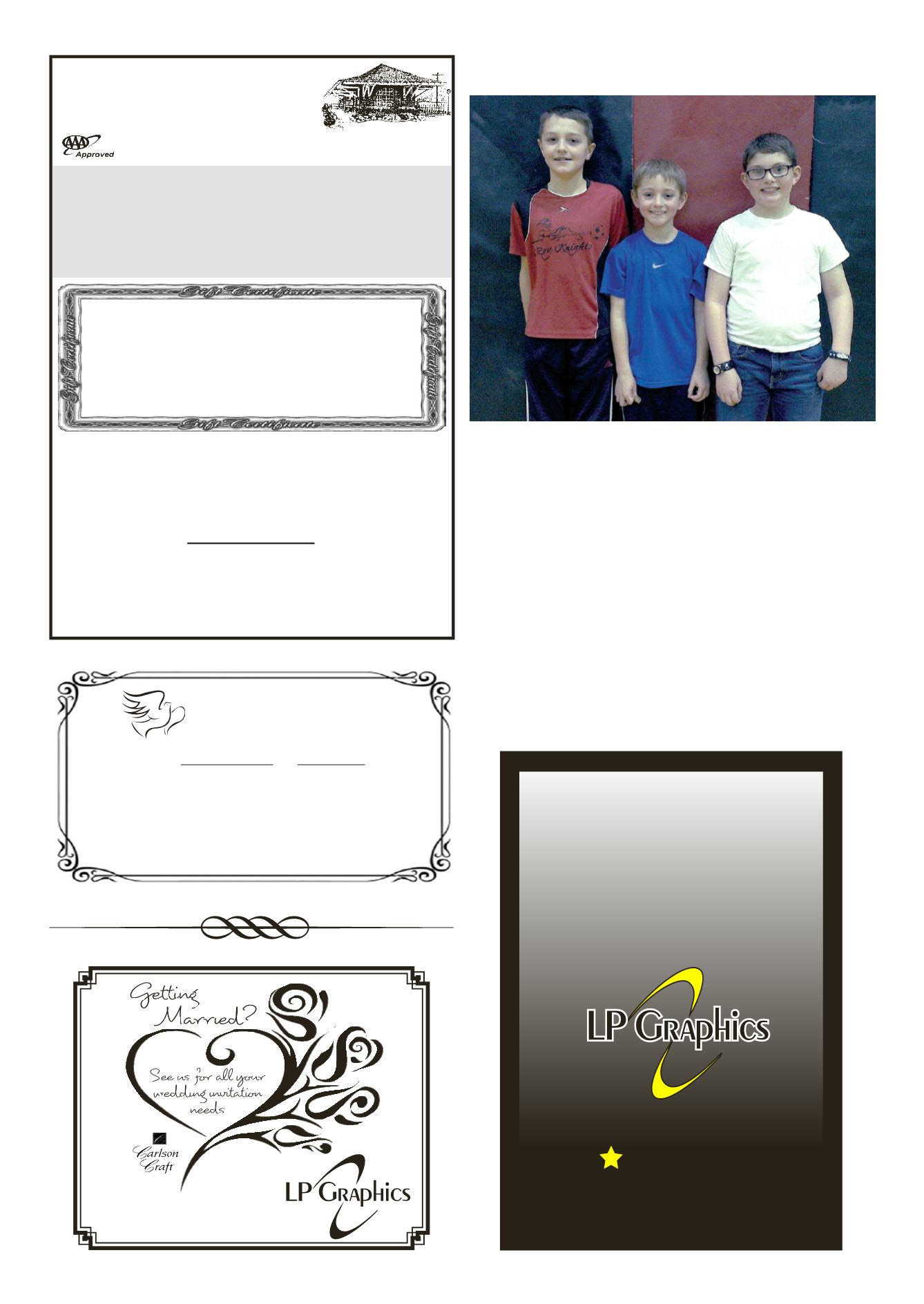 LEROYPENNYSAVER&NEWS -DECEMBER 14, 2014
D&RDepot
63LakeSt. (Rt. 19), LeRoy• 768-6270
Let'sMeetAt The ...
OpenForBreakfast, Lunch&Dinner - 7DaysAWeek 7am-9pm
Director /Owner
FuneralDirector
F
ALCONE
F
AMILY
Funeral&Cremation Service, Inc.
Director/Owner
"ALOCALFAMILY
CARINGFORLOCALFAMILIES"
Sunday, December 14th –Argentina,HereWeCome!
Beef is the national dish. With huge cattle ranches;
a gaucho is a known symbol of individualism.
Startwith aRoastedBeet Salad, then enjoy
Churrasco conChimichurri (grilled skirt steak) and dulce de batata
(a jammade from sweet potatoes) for dessert - $17.99
Sunday, December 21st –France is ournext stop.
TheFrench have always been proud of their sophisticated
Blanquette deVeau (a thick veal stew)with homemade French
Onion soup and a delicious cream puff for dessert - $17.99
We'reOpen for theHolidays
ReservationsAreStronglyRecommended
ChristmasEve
–Breakfast (till 11am), Lunch&Dinner – 7am-8pm
CHRISTMASDAY - CLOSED
NewYear'sEve
- Breakfast (till 11am), Lunch&Dinner – 7am-9pm
NewYear'sDay
–Breakfast (9 am till noon), Lunch&Dinner – 9am-7pm
D&RDepotGift Certificates
make a perfect gift!
They're one sizefits all, always the right color
andnever go out of style.
Order them on line atDandRDepot.com or stop by theDepot!
Wolcott Street School Students
recently participated in GCC's
"Play to Get Fit". This is an an-
nual event that is coordinated by
Genesee Community College's
Health and Physical Education
The "Play to Get Fit" event
attempts to raise awareness that
getting fit can be accomplished
throughplay. Inaddition, thisevent
recognizes, as it hopes participat-
ing physical educations programs
do as well, that physical activity
has the ability to battle childhood
obesity, increase self-esteem,
increase confidence and increase
PlayToGet Fit
This event is promoted to all
schools in the GLOW area. This
year,10schools tookadvantageof
thegreatopportunity that isGCC's
"Play to Get Fit", including:
LeRoy, Byron-Bergen, Pavilion,
Oakfield-Alabama,Elba,York,Pi-
oneer,Perry,BataviaandWarsaw.
The challenge for each school:
grades 3rd, 4th, and 5th only, is
to accumulate asmanyminutes as
possibleofactivity timeoutsideof
school hours for the entiremonth
of October. Pictured above are
1CHURCHST, • LEROY, NY • lpgraphics.net
WEHANDLEALLASPECTSOFPRINTING...
PROGRAMS
LETTERHEADS
BILLHEADS
FLYERS
BROCHURES
POSTERS
CARBONLESSFORMS
ENVELOPES
RAFFLETICKETS
NEWSLETTERS
RESUMES
TYPESETTING
RUBBERSTAMPS
ENGRAVEDSIGNS
NAMETAGS
COPIES
LAMINATION
COMMUNITYFAX
NEWSANDPICTURES
ADVERTISING
BUSINESSCARDS
HOURS: Monday thruFriday 8:00 to 5:00