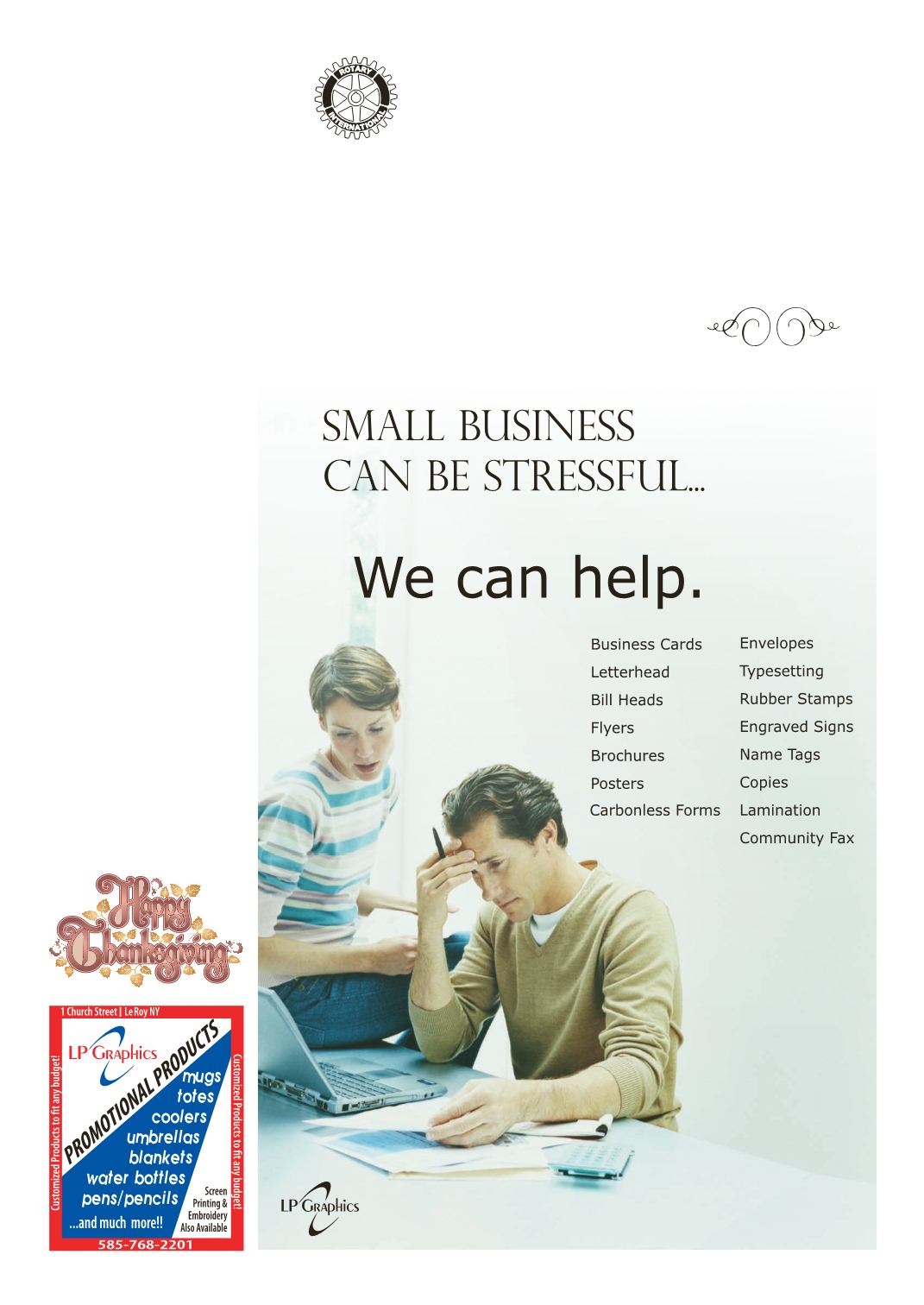 LEROYPENNYSAVER&NEWS -NOVEMBER 23, 2014
1ChurchSt., LeRoy, NY14482
585.768.2201
raphics.net
RotaryNotes 11-19-14
The travel ban was lifted just
in time for our weeklymeeting.
Although, we were lightly at-
tended,wewereglad thesunwas
There were many announce-
ments today.December10thwill
be our Annual Cookie Auction.
Rotariansareencouraged tobring
family& friends to attend. Scott
McCumiskey is coordinating
a bell ringing for the Salvation
Army for December 12th. Ro-
tarians are encouraged to bring
family& friends to attend.
Ginnis will prepare a lit wagon
for our Annual Rotary Caroling
Outing. Jim Ellison will have
more details next week. Decem-
ber 17th, Santa will be visiting
Rotary. Our Area 14 Christmas
Partywill be held at TerryHills,
and you can sign upwithRandy
Vink. Kim& Tom Cox will be
hosting our Club Holiday Party
on January 17th. Anil Sawhney
andDavidGrayson reminded us
that is time to give our annual
contributions to The Rotary
Foundation. Marcia McKenzie
is looking for 6-9 panel window
frames for a project on Main
Street. Mary Young asked us to
take a few minutes to fill out a
surveyon theWoodardLibrary.
Jerry McCullough, Kim Cox,
Larry Boylan, Bruce Baker, and
CindyBishopwere called on for
LeRotary
Notes
missed meetings. Everyone had
make ups or excusedmisses.
President Randy started off
the fining session by calling on
LarryBoylan for a cross country
trip. JuneDusen&BruceBaker
werealsocalledon for recentgal-
livanting. JimEllisonpaidup for
a freenight inPhiladelphiacour-
teously of United Airlines for a
recentflightcancellation. Lauren
Humphrey received some new
literature on Public Relations,
and graciously compensated
President Randy. Martha Bailey
paidup formemories of aBocce
Ball Tournament, last year.
Our original program had to
cancel due to the weather, but
not to fear, Jim Ellsion stepped
upwith a leadership trivia game
for ourRotarians. Thegamewas
entitled, "Self-Test of Overcon-
fidence". To no one's surprise,
most Rotarians tested overcon-
fident. After our raffle, the bell
rang, and President Randy ad-
Please like us on Facebook at