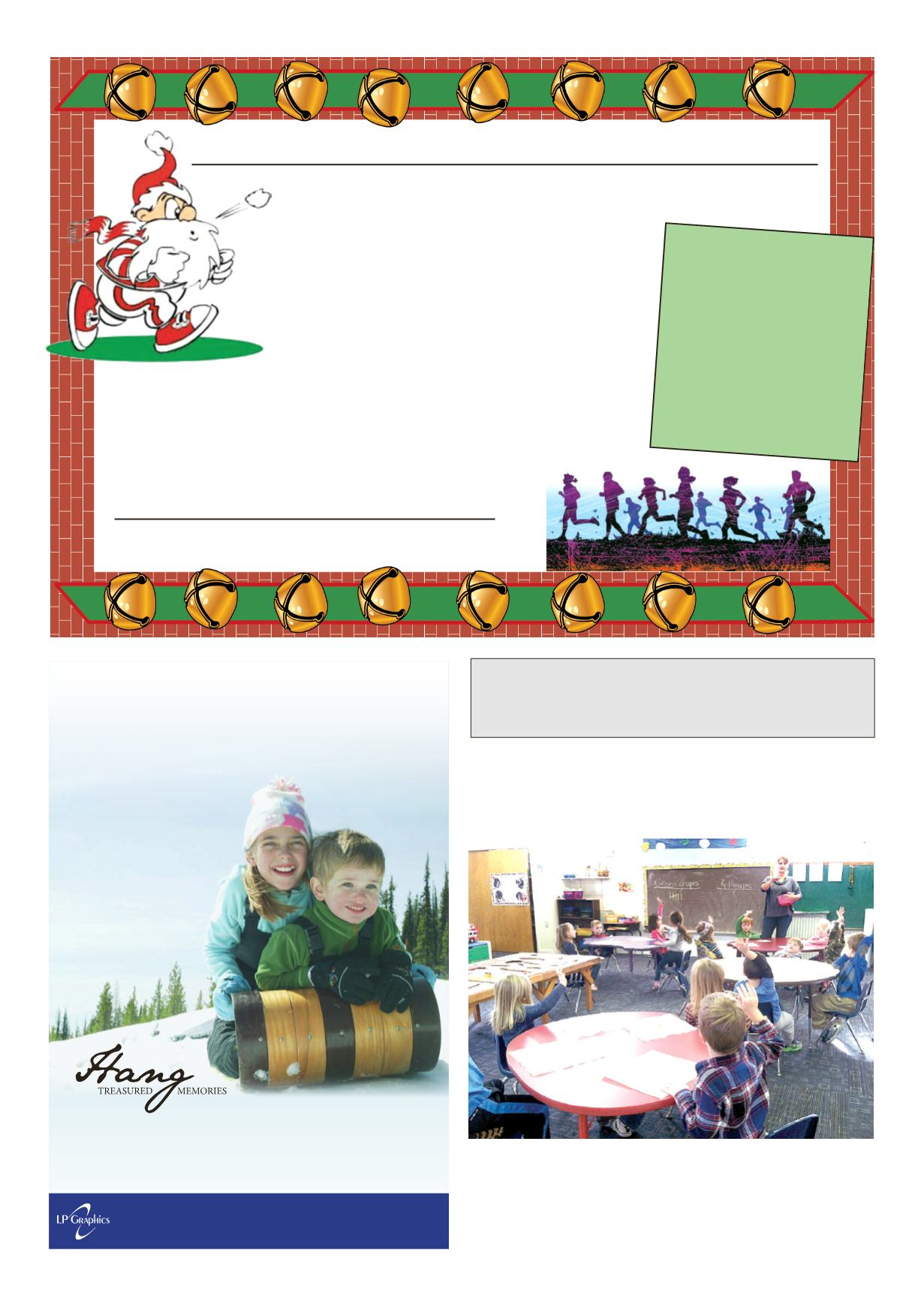 LEROYPENNYSAVER&NEWS -NOVEMBER 23, 2014
Packet pickup andSAME day registration
will begin at 1:00 pm
at theMasonicLodge, 12BankSt., LeRoy.
Registration is $15PLUS anunwrapped toy!
For every non -perishable food item you bring,
Themore you bring, themore tickets you get!
We are giving away aGREATprize! Last yearwe gave awayaflat screenTV!!
ITEMSNEEDED:
Shampoo, conditioner, body soap, lotion, toothpaste,
hair items, deodorant etc. ...
mac and cheese and other items that can be heated
Register at
visit ourwebsite at
2nd "JinglinAll theWay" 5k AND10kRun/Walk
Saturday, December 6th
Racebegins at 3pm
TOY ITEMSNEEDED
When choosing a toy item,
Gift Cards for $15 are a great item
MUCHNEEDED
BoardGames
McDonald'sGift cards
ShoppingGiftCards
CASHDonations
(wewill purchase gift cards)
ThePre-KchildrenatLoveBugsPreschool havebeenbusycon-
centratingonanew letter from thealphabeteachweek. Recently
theyenjoyedaweekfilledwithmany letter"G"activities. Oneof
theirfavoriteswastastingredandgreengrapesandthengraphing
which they likedbetter. Greengrapeshad themost likes ... how
perfect for "G"week!
GraphingGrapes
AtLoveBugs
SUPPORTYOUR LOCALADVERTISERS!
They help sponsor the local news section of the Le Roy Pennysaver.
THANKS FORYOUR SUPPORT!
As crispas theday they weremade.
WE PRINT LARGE FORMAT
Our state-of-the-artwide format color printer allows
prints up to 42"widebyany length youdesire!
Get thosedigital
picture files off your
cameracards and
on to your walls!
1ChurchSt., LeRoy, NY14482
585.768.2201