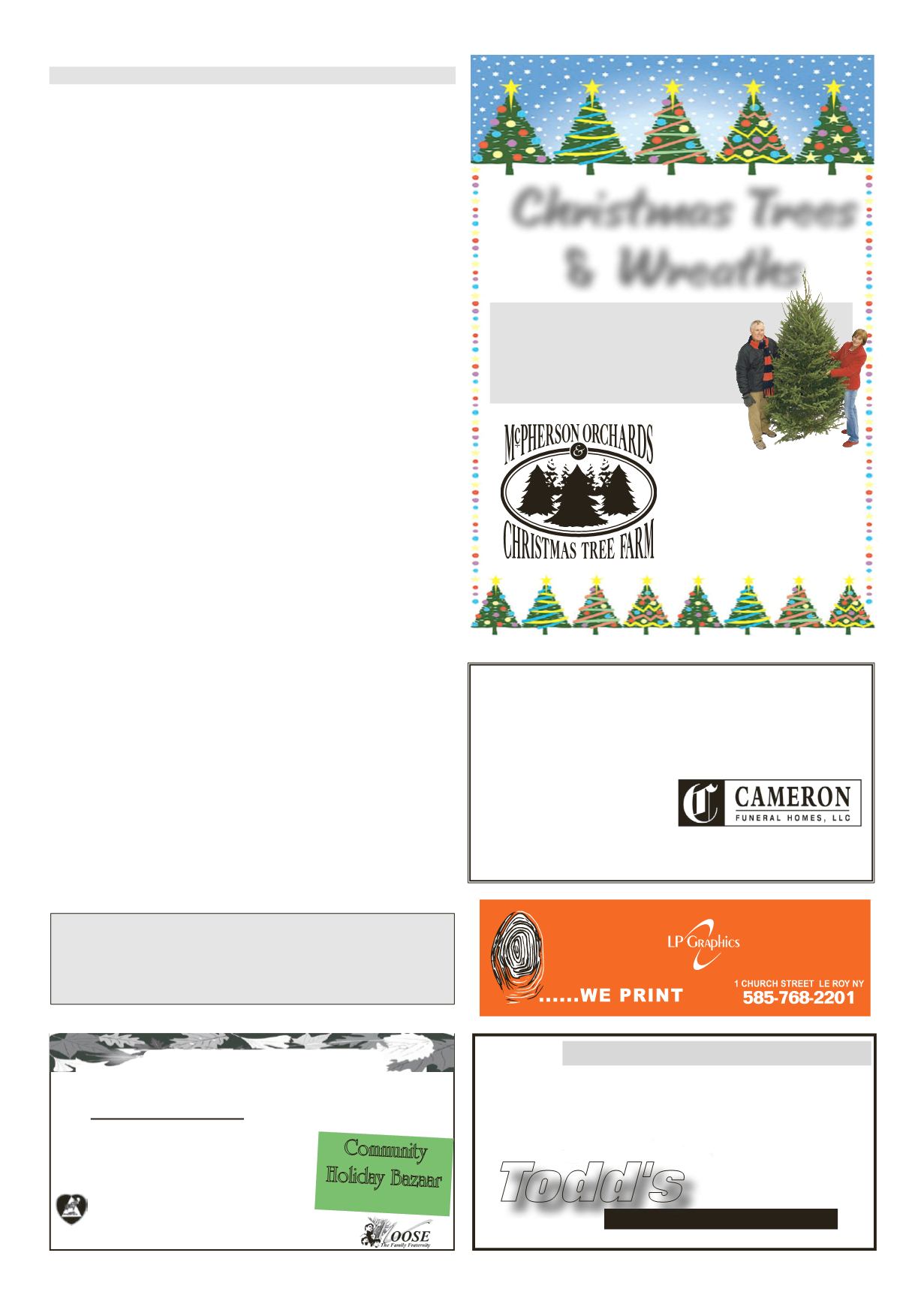 LEROYPENNYSAVER&NEWS -NOVEMBER 23, 2014
SUPPORTYOUR LOCALADVERTISERS!
They help sponsor the local news section of the Le Roy Pennysaver.
THANKS FORYOUR SUPPORT!
HelpingFamiliesCelebrateaLifeLived
"Our FamilyServingYours Since 1907"
Trusted•Honest •Proven
Cameron, Brady&Steuber
FuneralHome
111Wolcott Street
LeRoy,NY14482
(585) 768-6800 •
Likeus onFacebook
LeRoyWomenOf TheMoose, Chapter 370
21BankSt., LeRoy •768-6170
NewMenu Items&Weekly Specials!
ForMembers andQualifyingGuests
Dine InOr Take Out, Full Menu
FISH FRY
5:30pm - 8:00pm
Starting
November 22nd
OatkaTrail
LeRoy,NY
Phone768-7094
OpenDaily 9-6
NewHomes •Additions •Garages •PoleBarns
ToddCarli • Phone 703-0964
Todd's
Decks •Windows •Doors
Kitchens •Baths
CeramicTile
Basement Finishing
CustomShelves/Built-Ins
Siding •Remodeling
Roofing • SnowPlowing
FULLY INSURED
The temperature is taking a
downturn and there are flakes
in the air. At this time of year
I often receive questions from
parents and students regarding
theprocessused inmakingdeter-
minations about school closings.
Schools are dismissed early or
closeddue to inclementweather,
or other emergencies, onlywhen
absolutely necessary for the
safety and welfare of students
The Le Roy Central School
District resides inasnow-beltand
most storms can bemanaged ef-
fectively. For this reason, please
assume school will be open and
encouragestudents tobeprepared
for their next day's studies. An-
ticipate thepossibility thatbusses
may be delayed during rainy or
snowyconditions anddress chil-
dren appropriately for weather
We understand that a decision
to open or close school in bad
weather will have an impact on
our families. We consider many
factorswhilemaking these deci-
• Currentandprojectedweath-
• Road patrols by the Village,
Town and District. Reports in-
clude the condition of local
roads, sidewalks and parking
lots, taking into account snow
and ice, aswell as other hazards
such as downed trees or power
lines. These reports alsoprovide
an assessment of the progress of
• Director of Transportation
reportaftergathering information
about roadconditions in localand
• Temperature and wind chill
factors. The County Health De-
partment recommends that we
consider closing schools if the
wind chill is expected to fall to
When it isnecessary tocloseor
dismissschools foranyemergen-
cy, including inclementweather,
every effort is made to have an-
nouncements on local radio and
televisionbroadcastsby6:30a.m.
TheDistrictwillalsopostano-
tice on theDistrictwebsite, send
anemail/text/phonecallmessage
When the decision has been
made to close schools or dismiss
early,alleveningschoolactivities
will be cancelled, including ath-
letic practices and contests, club
meetings, and any other student
It is the responsibility of par-
entsorguardians tomake thefinal
decision regarding school atten-
dance. Ifparents feel theweather
is too severe, they have the right
to keep their child(ren) home. In
this instance, it is essential that
the parent contact the school to
alert themof theirchild(ren)'sab-
sence and tomake arrangements
Please speakwithyour school
principal if you have any ques-
tions about these procedures.
lpgraphics.net