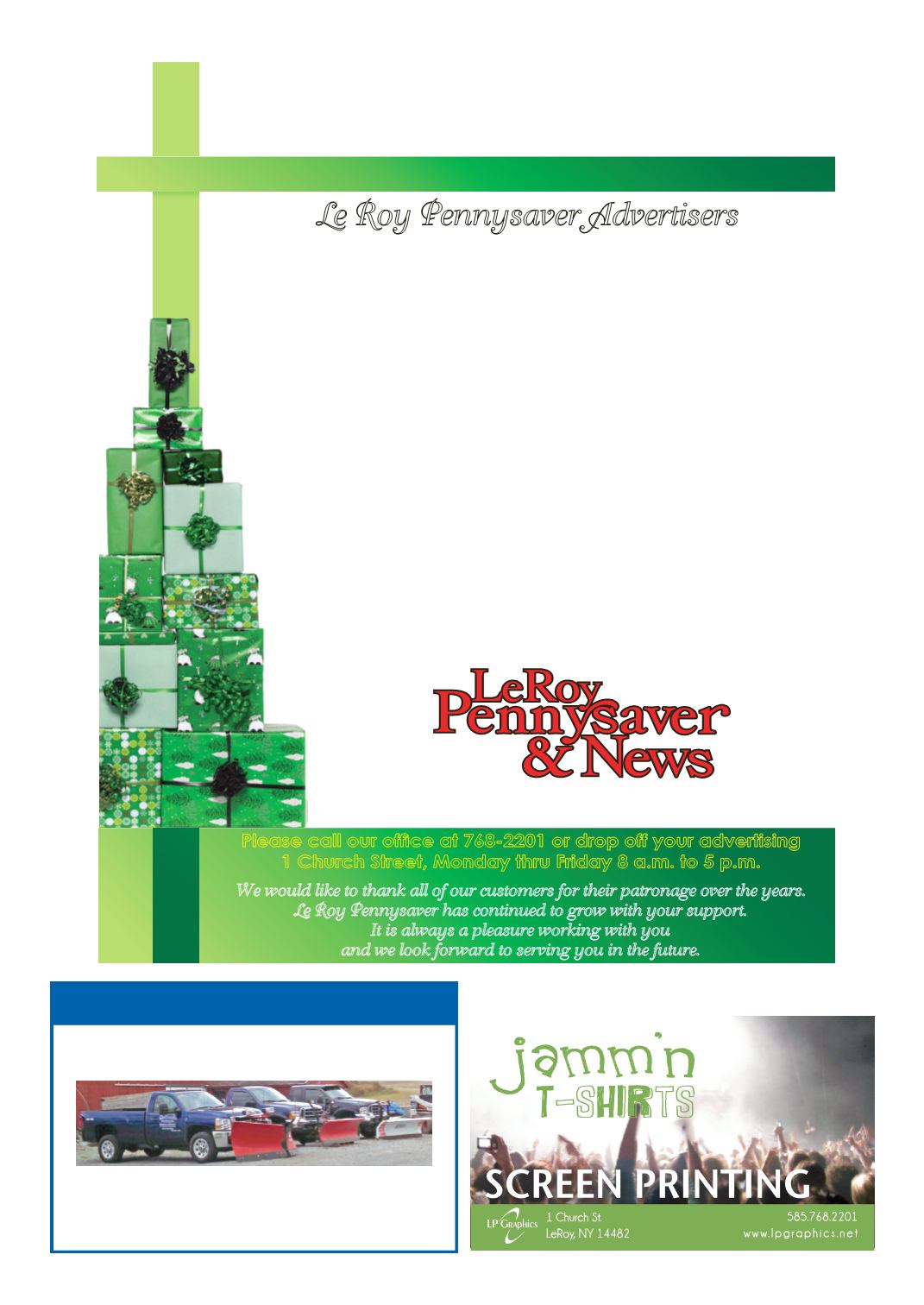 LEROYPENNYSAVER&NEWS -NOVEMBER 23, 2014
Winter is Coming!
Residential/Commercial • Fall Cleanups StillAvailable
FREEQuotes • Fully Insured -
585-455-5275
Wewould like to thankall of our customers for their patronage over theyears.
LeRoyPennysaver has continued togrowwithyour support.
It is always apleasureworkingwithyou
andwe look forward to servingyou in the future.
LeRoyPennysaverAdvertisers
This is theheight of your salesyear, andof course, the timewhenyouradvertisingdollars reallypay
off. It ismore important than ever toget your ads inas earlyaspossible. The earlierwehaveyour ads,
themore timewe can spendon them.
Toaidus inplanningyour advertising campaign, please consult the following schedule:
POBOX190 • LEROY, NEWYORK 14482
Pleasecall our officeat 768-2201or dropoff your advertising
1Church Street,Monday thru Friday 8a.m. to 5p.m.
ISSUE
COMMENT
These next three issues are filledwithadvertising for yourChristmas
Dec. 7th&14th Sales&GiftGiving Ideas! Last chance for those lastminute shoppers.
Help out those peoplewho are still undecidedaboutwhat to buy.
Include your holiday hours!
Christmas Issue - 'Tis the season to thank your patrons.
Deadline for the Christmas issue is
Wednesday, December 17th.
When you place your Holiday Ad in both issues,
theNew Year's Holiday adwill be 15%Off!
(minimum size 2 col. x 3 inches)
This issue is great forAfterChristmas andClearanceSales.
Deadline for theNew Year's issue is
Monday, December 22nd.
HappyNew Year's Ads!