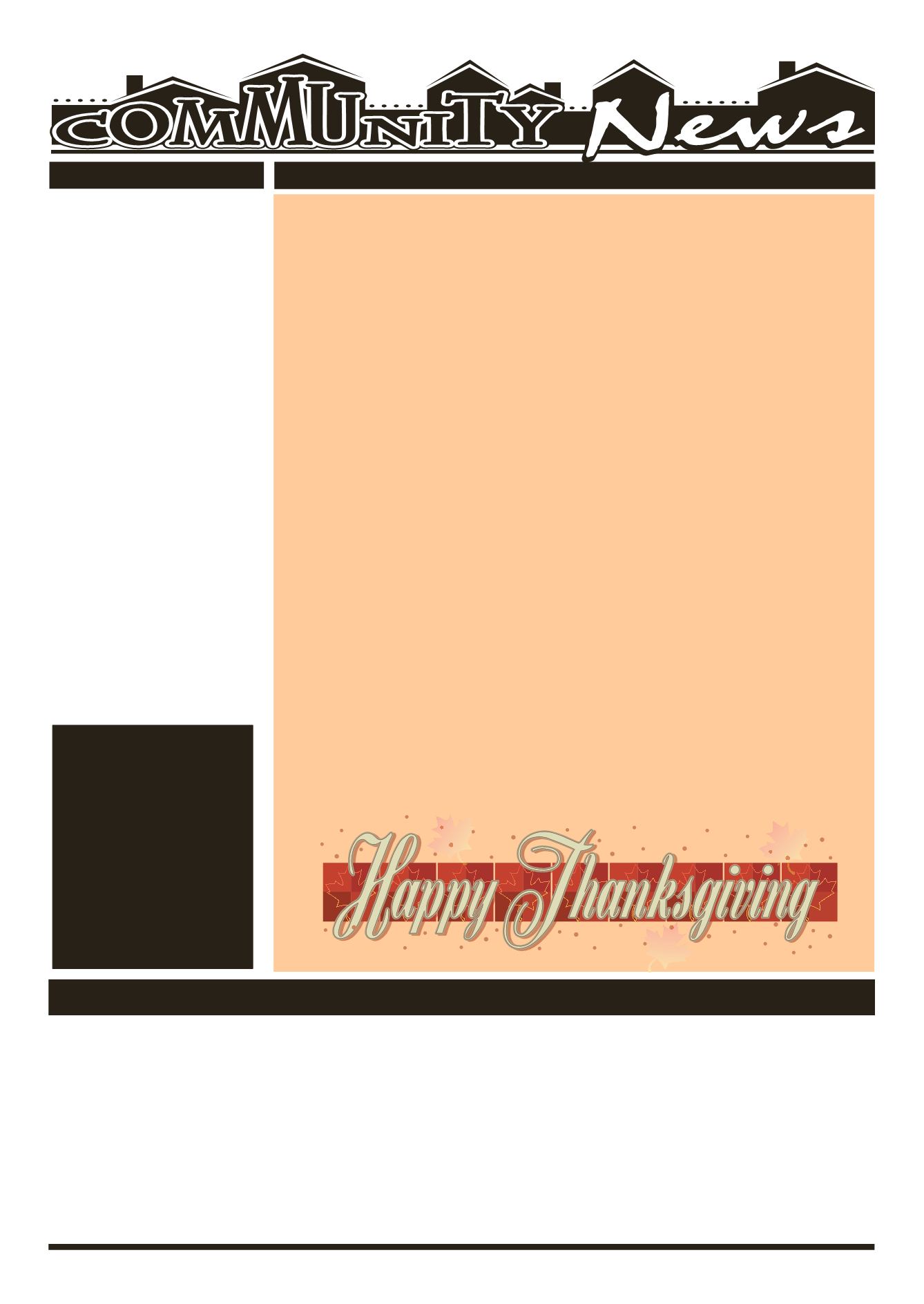 LEROYPENNYSAVER&NEWS -NOVEMBER 23, 2014
Le Roy
Pennysaver
All GeneseeCounty residents, 60andolder, can takepart in thisweek'sactivitiesat theBataviaSenior Center, 2BankSt., Batavia. Formore information, call 343-1611.
(November 24 -November 28)
WEEKLYEVENTS
OBITUARIES
ArthritisExercise
is scheduled tobeginat 9:30a.m.;
Bridge
is set tobeginat 11:30a.m.
OpenEnrollmentVendorFair
scheduled to takeplace from10:00am to4:00pm.;
CribbageandMusical
KeyboardingLessons
is scheduled tobeginat 1:00p.m.
Quilters
are scheduled tomeet at 9:00a.m.;
Euchregame
is scheduled tobeginat 1:00p.m.
ThanksgivingHoliday–SeniorCenterClosed
ArtClassandLineDancing
is set tobeginat 10:00a.m.;
Euchre
is set tobeginat 12:00p.m.
SUNDAY,NOVEMBER23
AWANA Program at Penuel Christian Fellowship.
Street. Sundays 12:15 to 1:45 pm. Ages 5-17 broken into groups.
Developing friendships. Having fun. Learning about God. Safe envi-
Konnect Youth Group at Living Waters Church,
LeRoy. Sundays from 6:30 to 8:30 pm for ages 12-18. "Bring Down
all theWalls! Connect with God and Connect with others." Formore
information, check us out online at: livingwatersleroy.org/kon-
MONDAY,NOVEMBER24
TOPS (Take Off Pounds Sensibly)
meets Monday evenings at the
LeRoyPresbyterianChurch, corner of Clay&MainStreets. Doors open
at6:00pmandmeeting is from6:30-7:15pm.Visitorsarealwayswel-
come. Call 585-768-7103 formore information.
TUESDAY,NOVEMBER25
Preschool Storytime:
Every Tuesday at 11 am featuring stories,
craft and songs at Pavilion Public Library, 5Woodrow Dr., Pavilion.
LeRoy Zoning Board of Appeals Meeting (as necessary), 7:30 pm at
theTownHall, 48MainSt. For further info. call 768-6910, Ext. 223
LCCP's GRACE'S KITCHEN:
A FREE dinner every Tuesday evening,
5-6:30 pm at the LeRoy UnitedMethodist Church, 10 Trigon Park.
ParkingavailableonTrigonPark& the lots to the left andbackof the
Church. Handicapped Entrance in the back of the Church. Takeout &
deliveryareavailable. Formore info. contact SelbyDavisat 585-738-
WEDNESDAY,NOVEMBER26
PavilionBaptistChurch
youthprograms
wintereveryWednesdayevening.Allcommunitychildrenarewelcome
toattend.AWANA isaprogram foryoungerchildrenPre-school (4year
old) through6thgrade. It is a fun time of Bible Stories, games Bible
memoryandeven refreshments.WordofLifeprogram is for teens7th
through 12th grade.We are easily located at 10956 S Lake Road in
Pavilion. Call 585-584-3179ext. #12 for anyquestions.
THURSDAY,NOVEMBER27
GeneseeVeteransSupportNetwork
(GVSN) supports thedevel-
opment ofVeterans focusedAAmeetings everyThursday, 6-7pmat
the First Baptist Church, 306 E. Main St., Batavia. Meetings led by
MikeW.&areopen tonon-veteransaswell.Handicapaccessible. For
additional information call 585-302-0825.
GRACE'S CLOSET:
A clothing giveaway program
Le Roy United Methodist Church, 10 Trigon Park, Le Roy, 9:30 am
to 11:30 am every Thursday. We have clothing for all ages. FALL &
WINTER clothingnowbeingput inplace.Weare inneedofWARMER
clothingespeciallycoats, jacketsboots,pajamas. Weneedbeddingof
all kinds especially blankets.We accept donations be dropped off at
thehousenext to the church. Pleaseput all bags INSIDEon theback
porch. NOELECTRONICS, COMPUTERS,DISHES,etc. Anyquestionscall
FRIDAY,NOVEMBER28
Penuel Christian Fellowship,
One Step to Freedom addictions
ministry, a Christ Centered Addictions program, a weeklymeeting
every Friday at 7 pm. Call the Church formore information at 768-
SATURDAY,NOVEMBER29
UPCOMINGEVENTS
LCCP's Mommy &Me Playgroup: Every 2nd & 4th Friday,
12:00-1:30, LeRoyPhysicalTherapy (in thebackgym).Anymoms
and their birth-kindergarten childrenarewelcome to comeenjoy
socialization, lunch, coffee, structuredgames& freeplay.
Breakfast with Santa at McDonald's
December7 from9-11am.For ticketspleasecall768-7700orpur-
chase atMcDonald's thatmorning. Don't forget your camera! All
proceeds tobenefit the childrenof LeRoyNurserySchool.
CommunityCalendar Submissions shouldbe sent to:
CALEDONIA—SharonM. Bickford, passedaway
on Tuesday (Nov. 11, 2014) peacefully at home
surrounded by her loving family. In lieu of flowers,
memorialsmaybemade to theBigSpringsHistor-
ical Society andMuseum, POBox 41, Caledonia,
LEROY—MarjorieA.Calmes,70,ofNorthAvenue
passed away Thursday morning (Nov. 13, 2014)
at home in the loving presence of her family. The
courtesyof no flowers is requestedwithmemorials
suggested to Crossroads House, PO Box 403,
LEROY— JohnM. Brewster, 91, ofWestAvenue
passedaway at homeThursday evening (Nov. 13,
2014).Thecourtesyof no flowers is requestedwith
memorials suggested to the Pancreatic Cancer
Association of WNY, PO Box 24580, Rochester,
WYOMING— James I. Goodenow, 77, of Wyo-
ming diedNov. 9, 2014, under hospice care at the
WyomingCounty Community Hospital inWarsaw.
Memorialsmaybemade toHomeCare&Hospice,
450 N. Main St., Warsaw, NY 14569 or Wyoming
Hook& Ladder Company,Wyoming, NY14591.
LEROY—AnthonyM.Lasaponara,97, formerly
of South Street Road, passed away Tuesday
morning (Nov. 18, 2014) at the Le Roy Village
Green Nursing Home. The courtesy of no
flowers is requestedwithmemorials suggested
to the Sunshine Fund of the Le Roy Village
GreenNursingHome, 10Munson St., LeRoy,
LE ROY— Douglas R. Weig, 57, of Le Roy
diedWednesday (Nov. 5, 2014) at Crossroads