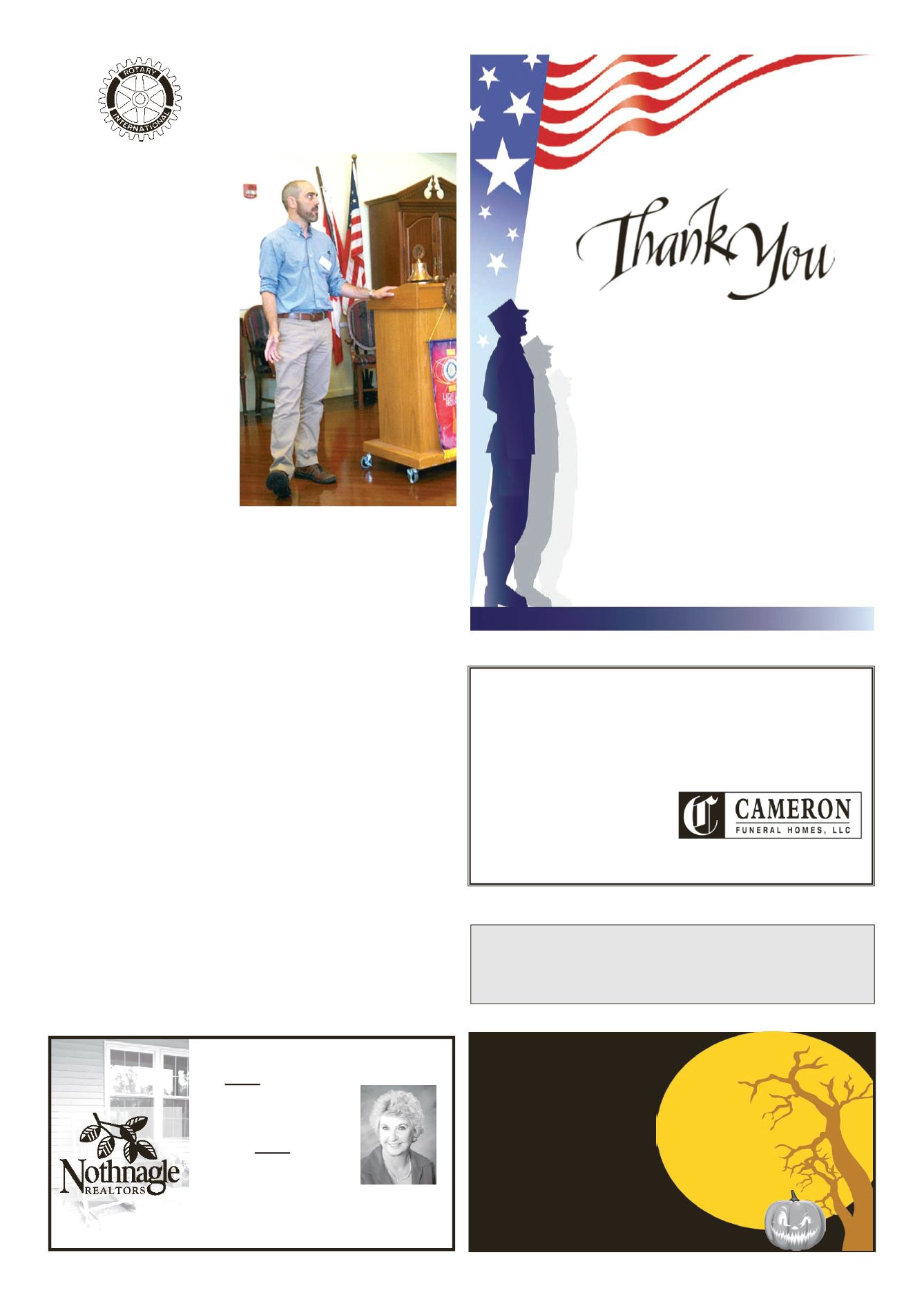 LEROYPENNYSAVER&NEWS - SEPTEMBER 28, 2014
HelpingFamiliesCelebrateaLifeLived
"Our FamilyServingYours Since 1907"
Trusted•Honest •Proven
(585) 768-6800•LeRoyFuneralHome.com
Cameron, Brady&Steuber
FuneralHome
111Wolcott Street
LeRoy,NY 14482
SUPPORTYOUR LOCALADVERTISERS!
They help sponsor the local news section of the Le Roy Pennysaver.
THANKS FORYOUR SUPPORT!
LeRotary
Notes
Batavia
585-343-6750
NOW is theBEST time
toBUYwith the interest rates
at their lowest!
Don't wait
toBUY -
call
LindaBeaumont
for all your real
estateneeds.
LindaBeaumont
Home (585) 768-6315
LicensedReal Estate
Salesperson
Multi-MillionDollar Producer
LeRoy's 1st Annual
Trick
orTrot
5KWalk/
Run
LHSEcologyClub
2:00pm
Saturday,
October25th
Treats forkids,Halloween
costume contest prizes, games.
Go to: Active.comorTRItheOatka.com
to register today.
The Risewick
Family
extends a heartfelt
to our friends& family for their
support& encouragement during
Mike's deployment.
Thanks for having my back!
Additionally, Thank You
LeRoy Fire&Police Departments,
Spirits and S
&
SLimo
for the extraordinary
WelcomeHome!
We are proud to call LeRoy "home"!
opened our September 17th
meeting with the usual ring-
ing of the Rotary bell and
Pledge of
Allegiance
tarymembersof the following
Rotarians cited for missed
meetings:TomMcGinnis,Mar-
tha Bailey, Bob Carlson, Ron
Pangrazio, Samantha Vagg,
Marymargaret Ripley, Eric
Fix, JimEllison,CindyBishopand
Fines thisweek:MarthaBailey
was fined for her 9 year Rotary
Anniversary, Tom Cox, David
Grayson and Jim Ellison were
fined for enjoying a new liba-
tion.CindyBishopwasfined for
having such beautiful fall deco-
rations,MarymargaretRipley for
her cake decorating class, Eric
Fixfornotknowing theanswer to
TV trivia andRonPangrazio for
Our program for the day was
a presentation of the history of
Kodokan Judo by Dr. Joe Gi-
Dr. Joeexplained that in1882
Jigoro Kana studied the ancient
self-defense formsand integrated
thebestof theseformswithanew
principal of maximum efficient
use of physical and mental en-
ergy, into a sport now known as
Kodokan Judo. Kodokan Judo's
three main focuses are physical
education, contest proficiency
and mental training. Although
Kodokan Judo is limited in the
UnitedStates,more than20mil-
lionpeople practice judo around
theworldonadailybasis. Octo-
ber 28th, JigoroKana's birthday
is now celebrated every year as
Dr. JoehasbeenstudyingJudo
for over 20 years and is now
offering Introduction to Judo
classes on Tuesday and Thurs-
day evenings at LeRoy Central
School. Proper falling, throwing
andmat techniqueswill be used
tocreateawell rounded introduc-
tory course for all ages.
This ispart of theCommunity
EducationWorkshops being of-
fered this fall at LeRoy Central
The meeting was concluded
with the raffle drawing andwas
adjourned for anotherweek.