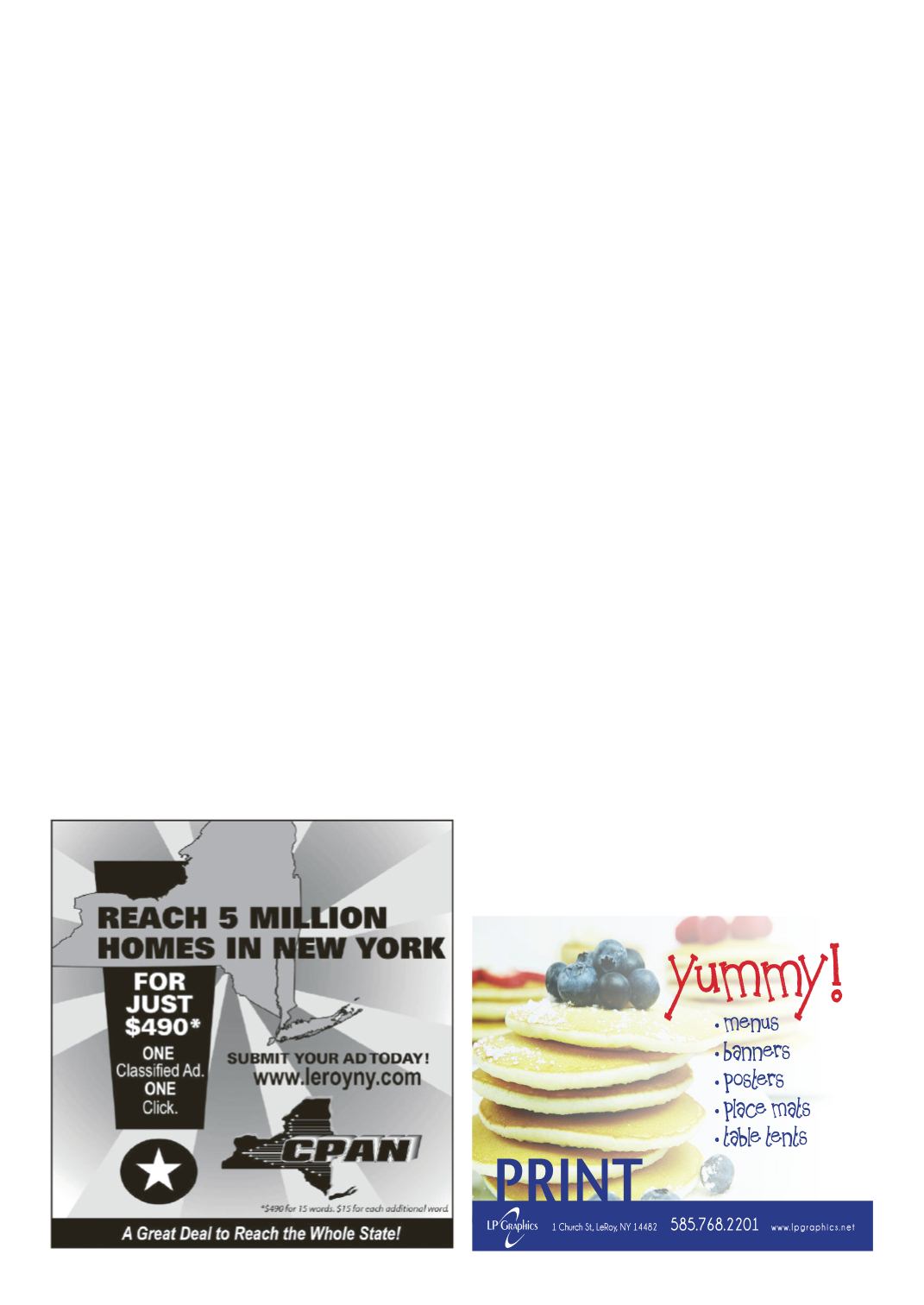 LEROYPENNYSAVER&NEWS - SEPTEMBER 21, 2014
The Le Roy Senior Knights
moved to 4-0 on the season
following their 28-0 shutout of
rivalCal-Mum, their thirdshutout
of the season. The Red Raiders
received the opening kick and
drove into Le Roy's territory.
Their drive was stopped on 4th
down when Nate Andrews got
into thebackfieldanddropped the
Cal-Mum runner for a loss. The
Knights took over on their own
42 yard line and put together a
nice drive, including a big fourth
down conversionbyCodyLytle.
The next play saw a 20 yard
TD pass fromKeaton Hobart to
AndrewEnglerth called back on
a holdingpenalty. LeRoywould
not be denied asAlexPanepento
would take the next handoff 28
yards for the Knights first score.
KeatonHobart's pass toAndrew
Englerth would add two points
as the Knights took an early 8-0
lead. Cal-Mum was able to put
togetheradecentdrivebuta tough
Knightsdefense forceda turnover
ondownsat theirown5yard line.
Ashort runup themiddlebyAlex
Panepentowould setupahuge82
yardTD runbyAndrewEnglerth!
Keaton Hobart's pass to Alex
Panepento was completed but
Alexwas tackled at the goal line
TheKnightswould takea14-0
lead into the 2nd quarter. Cal-
Mumwould once again turn the
balloverondownsonabig tackle
by Jimmy Burns on 4th down.
The Knights third drive saw a
goodmixof runningandpassing
asKeatonHobart connectedwith
Cody Lytle on a 12 yard pass to
Good runs byAlex Panepento
and Cody Lytle would move
the Knights deep into Cal-Mum
territory before aLeRoy fumble
after a long runwould give Cal-
Mumnew life. LeRoy's defense
would give the ball right back
to the offense as Andrew En-
glerth, Nate Andrews and Alex
Panepento would shut down the
Red Raider's running backs. Le
Roy would make Cal-Mum pay
as Andrew Englerth would take
the 1st play 40 yards for a TD.
Keaton Hobart's pass on the 2
pt. conversionwas completed to
AlexPanepentofora22-0LeRoy
The third quarter saw both
teams' trade possessions as the
defenses took over. Le Roy's
offense would strike first in the
2ndhalf asKeatonHobart found
Cody Lytle wide open as they
connected on a 40 yard pass.
Cody was dragged down on the
1yard linewhereAlexPanepento
tookoverandplowed into theend
zone for the 28-0 Le Roy lead.
Cal-Mum's next three drives
would all stall as the Knights
defense tookcontrolof thegame.
On the 1st drive, Alonso Sto-
rey would drop the Red Raider
running back on 4th down and
thenCodyLytlewould takeover
the defense. On back to back
drives, Cody would record an
interceptionwitha19yard return
and then he would bust through
the Cal-Mum line on 4th down
and block a Red Raider punt.
He would recover the ball and
return it 5 yards to theCal-Mum
7 yard line. A few short runs by
Tyler Strollo andEthanBeswick
wouldkill theclockandallow the
Knights tomove to4-0at thehalf
would lead theway in this game
on both sides of the ball as he
tallied 11 tackles to go along
with his 83 yards rushing and
two touchdowns.Alexwouldalso
scorea2pt.conversionreceiving.
AndrewEnglerthalsohadamon-
stergameashe logged10 tackles
to go along with his 135 yards
rushing and 2 touchdowns. He
would also score a 2 pt. conver-
sion through the air. Cody Lytle
would prove he was a complete
playeraswould rush for38yards
and record 52 yards receiving.
He also recorded 4 tackles to go
along with his interception and
blocked punt. Keaton Hobart
went 6 for 9passing for 58yards
and two2pt. conversions.Adam
Risewick and Ethan Beswick
wouldadd27yards and19yards
Alsoadding to theseasonhigh
total of 339 rushing yards were
Nate Andrews, Cam Greene,
Brady Fix, Zack Vanderhoof,
AlonsoStorey andTyler Strollo.
JasonEckalso logged some time
under center tofinishout thewin
Defensively, the Knights had
almosthalf the team inon tackles
asJimmyBurns (6),TylerStrollo
(4), Ethan Beswick (4), Nate
Andrews (3), IanKemp (2),Cam
Greene (2) would all addmulti-
ple tackles. Also dragging down
the Cal-Mum ball carriers with
one tackle eachwereBrady Fix,
Devyn Bzduch, Andrew Kettle,
Brett Babcock, Alonso Storey
andColeRauscher. TheKnights
were able to control both lines
of scrimmages as Jimmy Burns,
ZackVanderhoof,ColeRauscher,
IanKemp, AndrewKettle, Luke
Rider,RileyPankowandJackson
Locke were able to open huge
Defensively,BrockFlint,Tyler
Strollo,WyattCalcoteandEthan
Howewere able towreak havoc
from their nose guard positions
while Jason Lesage and Joey
Brennan rounded out the stout
defensive line. Zeke McIntyre,
CoryWallace and Cole Sullivan
addedgreat run support from the
safety position. The Knights hit
the roadnextSundayas theyhead
toBath to take on theRams.
LeRoyYouthFootball
LeRoySeniorsDownRivalCal-Mum 28-0ForThirdShutoutOfTheSeason