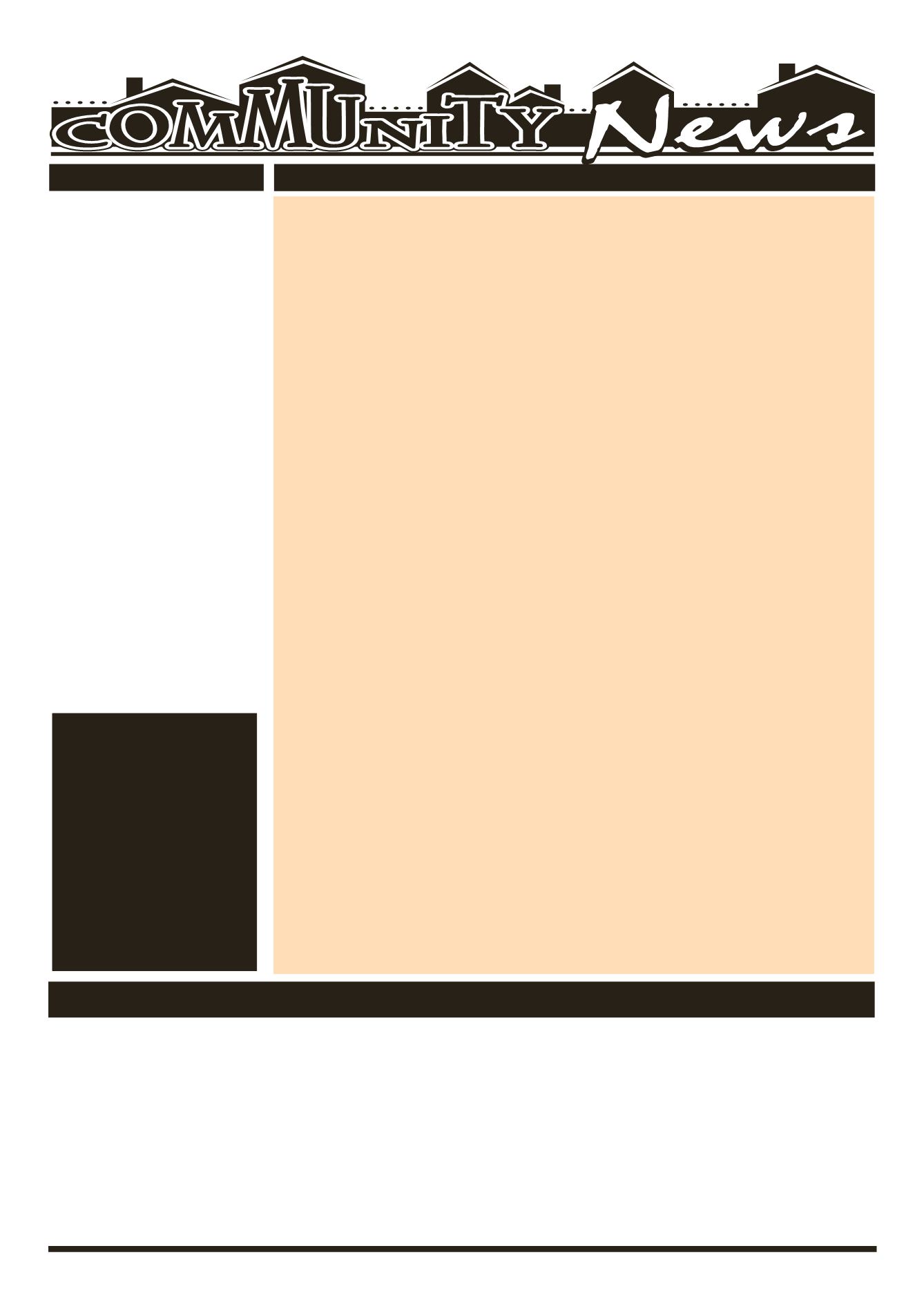 LEROYPENNYSAVER&NEWS - SEPTEMBER 21, 2014
Le Roy
Pennysaver
All GeneseeCounty residents, 60andolder, can takepart in thisweek'sactivitiesat theBataviaSenior Center, 2BankSt., Batavia. Formore information, call 343-1611.
(September 22 - September 26)
WEEKLYEVENTS
OBITUARIES
ArthritisExercise
is scheduled tobeginat 9:30a.m.;
Bridge
is scheduled tobeginat 11:30a.m.
HollandLandOfficeMuseumLuncheon&Program
Cribbage
Quilters
are scheduled tomeet at 9:00a.m.;
Euchregame
is scheduled tobeginat 1:00p.m.
Tai Chi Class
GentleFitness
CribbageandBridge
MusicalKeyboardingLessons
LineDancingandArtClass
is set tobeginat 10:00am.
SUNDAY, SEPTEMBER21
AWANAProgramatPenuelChristianFellowship.
12:15 to1:45pm.Ages5-17broken intogroups.Developing friendships.Having
fun. LearningaboutGod. Safeenvironment.
KonnectYouthGroupatLivingWatersChurch,
from6:30 to8:30pm for ages 12-18. "BringDownall theWalls! Connectwith
God and Connect with others." For more information, check us out online at:
livingwatersleroy.org/konnect-youth-ministry/
MONDAY, SEPTEMBER22
TOPS (TakeOffPoundsSensibly)
meetsMondayevenings from6:30-7:15pm
at the LeRoy Presbyterian Church, corner of Clay&Main Streets. Visitors always
welcome. Call 768-2933 formore info.
ToddlerTimeforTwosbeginsa7-weeksession
10:30-10:50AMattheWoodwardMemorialLibrary.ToddlerTime isastorytime
for childrenwho are 2 years old and a caring adult. Spend approximately 20
minutesonMondaymornings listeningtostoriesthat featurethemes likeshapes
and colors, singing songs anddancing, coloring, andplayingwithbubbles. Call
768-8300or registeronlineat
TUESDAY, SEPTEMBER23
LCCP'sGRACE'SKITCHEN:
(will be closed Sept. 9th, andwill reopen Sept. 16)
FREE dinner everyTuesday evening, 5-6:30 pm at the LeRoy UnitedMethodist
Church,10TrigonPark.ParkingavailableonTrigonPark& the lots to the leftand
backof theChurch. HandicappedEntrance in thebackof theChurch.Takeout&
delivery are available. For more info. contact Selby Davis at 585-738-8882 or
PreschoolStorytimebegins
a7-weeksessiononTuesdays,September23from
6:30–7:00p.m. forages3,4,and5attheWoodwardMemorialLibrar.yListento
storiesandsingsongs. Learnrhymes,fingerplays,andsign language.Tellstories
with puppets and the flannel board. Each story time ends with coloring and
bubbles. Call768-8300orregisteronlineat
LeRoyZoningBoardofAppealsMeeting
(asnecessary),7:30pmattheTown
Hall, 48MainSt. For further info. call 768-6910, Ext. 223.
WEDNESDAY, SEPTEMBER24
StaffordHistoricalSocietywillhavetheirmonthlymeeting
thetownhallat8903Route237,Stafford,NewYork. Thespeaker,LynneBelluscio,
Directorof the Jell-OGalleryMuseum,willpresentaprogramabout"Caldrons"--
thehistoryof them to includeuses, their sizes,where still foundandmanyother
miscellaneousand interesting littleknown facts.
LEGO& Game Club at theWoodwardMemorial Library
gradesK-6 from3:15 - 4:15p.m. BuildwithLegos, playboardgameswithyour
friends,or jamoutonGuitarHero.There issomething foreveryone.Registration
VillageofLeRoyBoardMeeting
, 7pmat theVillageHall, 3WestMainSt.
THURSDAY, SEPTEMBER25
Genesee Veterans Support Network
(GVSN) supports the development
of Veterans focused AA meetings every Thursday, 6-7 pm at the First Bap-
tist Church, 306 E. Main St., Batavia. Meetings led by MikeW. & are open to
non-veterans aswell. Handicapaccessible. For additional information call 585-
GRACE'SCLOSET:AClothingGiveawayProgram
Methodist Church, 10TrigonPark, LeRoy. 9:30am to11:30ameveryThursday.
We have clothing for all ages. Spring & Summer clothing now being put in
place. Weare inneedof lighter coats, clothing, shoes,pajamas,bedding, sheets
in all bed sizes. We accept donations be dropped off at the house next to the
church. Pleaseputall bags INSIDE on thebackporch. Noelectronics,TV's, com-
puters, dishes, etc. Anyquestions call theoffice768-8980.
AChickenandBiscuitDinner
will beheld at the StaffordUnitedMethodist
Church, Stafford,NYat 5pmuntil ?Take-outswill beginat 4:30PM. Adultsare
$9,5-12are$4andunderage5are free.Menu ischicken/biscuitsw/gravy, real
mashed potatoes, baby carrots, cranberry sauce, cabbage salad, homemade
TownofLeRoyBoardMeeting,
7pmattheTownHallBoardroom,48MainSt.
FRIDAY, SEPTEMBER26
Penuel Christian Fellowship,
One Step to Freedom addictions ministry, a
Christ Centered Addictions program, aweeklymeeting every Friday at 7 pm.
Call theChurch formore informationat768-6901or406-3863.
SATURDAY, SEPTEMBER27
RoastBeefonWeckDinnerattheN.BergenPresbyterian
Church
,7068N. Bergen Rd. Bergen. Servingwill be from 4:30 pm - 6:30 pm.
Menu includes: roastbeefonkimmelweckorunseeded roll,potatoes, cabbage
salad, beverage, and homemade Therewill be hot dogs, chips, and beverage
available for children. Call 494-1815 formore info.
UPCOMINGEVENTS
LCCP'sMommy &Me Playgroup: Every 2nd& 4th Friday,
Le Roy Physical Therapy (in the back gym). Any moms and their birth-kin-
dergarten children are welcome to come enjoy socialization, lunch, coffee,
structuredgames& freeplay.
FoodlinkFreeMobileFoodPantry:
MorganvilleUnited Church of Christ is
partneringwith Foodlinkof Rochester tohost a freemobile foodpantry, Tues-
day, September 30, 4:30-6:30pmatMorganvilleUnitedChurchof Christ, 8466
Morganville Road (offRt 237, 1mile north of Stafford). The exact food items
andquantityavailablearenotknown,but freshproducewillbeavailable. Must
be 18 years of age, no income requirement or ID required. Must provide own
bags/vehicle to transport items to your home. Foodprovided on afirst come,
first servebasiswhile supplies last.
Office for theAgingPresentation at Stone Church
Presbyterian Church
, 7549 S. Lake Rd, Bergen for older adults and their
caregivers.Lunch(nocharge)willbeprovidedatnoonfollowedbyapresentation
by Dorian Ely from the Genesee County Office for the Aging. Shewill discuss
programs available such as the Handyman Program, Transportation Services,
HomeVisitation, FinancialManagementandCaregiverCounseling. CallMarkat
356-4847 formore information.
TheCovingtonUnitedMethodistChurchishavingtheirAnnualHamDin-
ner,
Bazaar,andBake-saleonSaturday,October11th from4to7pm.Thechurch
is locatedat1557SimmonsRoad,northofPerry inWyomingCounty.Themenu
includesham, potatoes, rolls, squash, beans, applesauce, andhome-madepie.
Donation is$9.00 foradultsand$4.50 forchildren5-12. Takeoutsareavailable.
CommunityCalendar Submissions shouldbe sent to:
WYOMING—DeanBedient Sr., 78, of
WyomingpassedawayThursday (Sept.
11,2014)atBuffaloGeneralHospital. In
lieuof flowers,memorialsmaybemade
BYRON - John M. McCahera, 78, for-
merlyofByron,passedawaypeacefully
whilesurroundedby familymembersat
KingmanRegionalHospital inKingman,
Ariz., onAug. 6, 2014, of lung cancer.
PAVILION—BruceW. Stisser, 80, died
Tuesday (Sept. 16, 2014) inRochester.
In lieu of flowers, donations may be
made in his memory, to the Genesee
County ARC., 64 Walnut St. Batavia,
LEROY—MildredL.Hess,80, formerly
of Batavia, passedawayearlyTuesday
evening (Sept. 16, 2014) at the LeRoy
LEROY—EdwardT. Cain, 91, passed
away Wednesday morning (Sept. 17,
2014) atUnitedMemorialMedical Cen-
ter inBatavia.Mr.Cainandhis familyare
being cared for by the Falcone Family
Funeral &CremationService Inc.