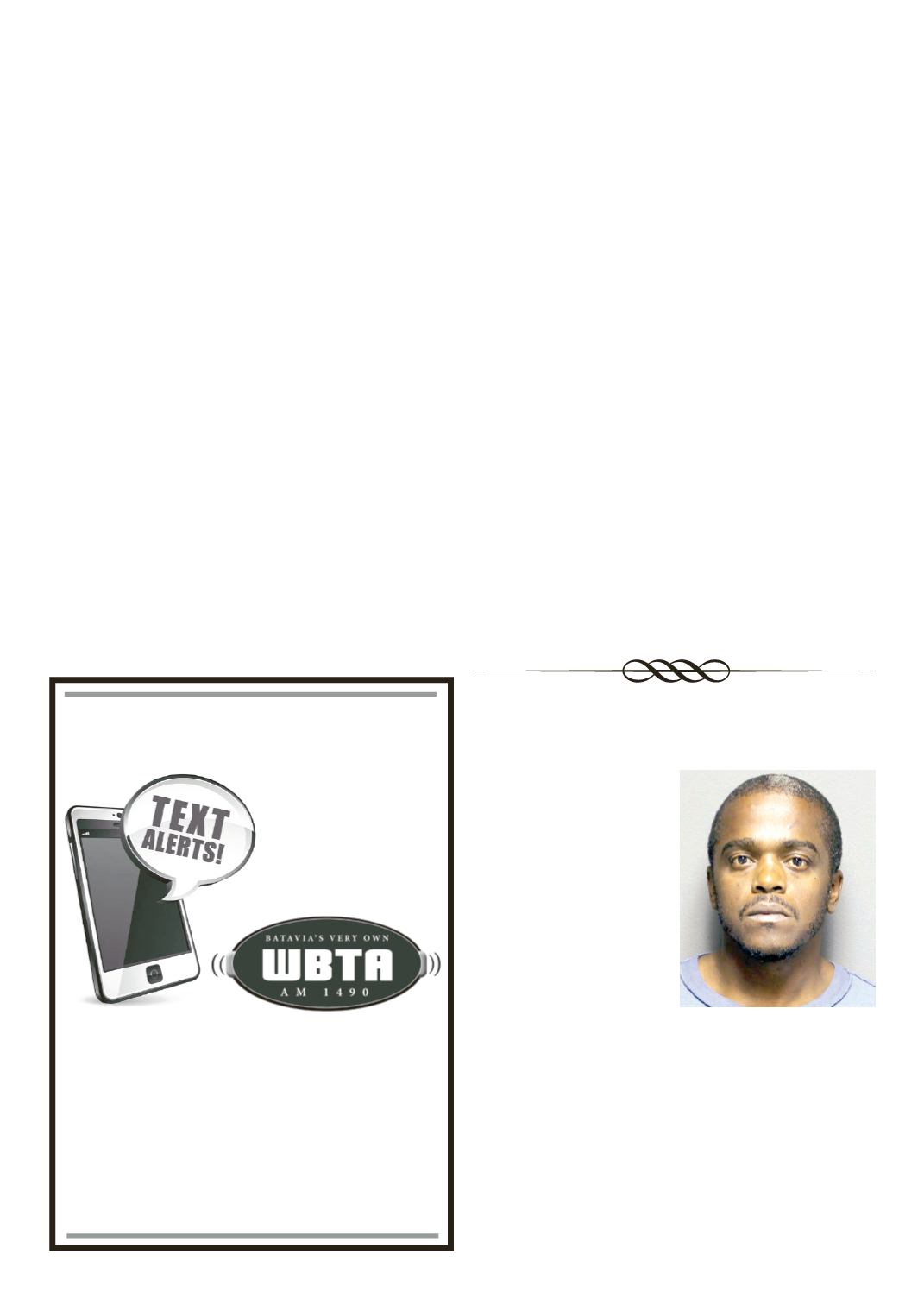 LEROYPENNYSAVER&NEWS - SEPTEMBER 21, 2014
SIGNUP TODAY!
GET ONLY THE
NEWS YOU
CHOOSE
FROM
New! Signup for TEXTALERTS.
Get only thenews you choose!
Be the first to know about SevereWeather,
BreakingLocal News, TrafficAdvisories&dSchool Closings.
Signup today forWBTATextAlerts.
Youneed to only supply your cell phone number
and select the services youwant to receive.
Wewill never sell your information toanyone.
WBTAi.com
The LeRoy Junior football
team used a smothering defense
to shut out previously unbeaten
Cal-Mum 22-0 in a key CYFL
After forcing a punt on Cal-
Mum's initialpossession,LeRoy's
offense took possession of the
football. Benefitting from some
hardand longrunsfromRileyWil-
liams, the Junior Knights capped
off a 14 play drive when Drew
Strollo scored from10yardsout,
barely reaching the ball over the
goal line toscore the touchdown.
Williams punched in the 2 point
conversion togive theKnightsan
The defense stood tall again,
forcinganotherpunt aftera3and
out by Cal-Mum's offense. Cal-
Mum's defense initially forced
the Knights back after runs for
losses and a holding penalty.
However on 4th and 20, Tommy
Condidorio hit Drew Strollo
under pressure with a perfectly
placed pass for a 45 yard touch-
down. The conversion attempt
failed, giving LeRoy the lead
at 14-0. Strong defense by both
squads for the rest of the second
quarter left the score at 14-0 at
LeRoy moved the ball on the
first drive in the third quarter,
sparkedbya35yard runbyWil-
liams.Theoffensestalledhowev-
er;bringing thedefensebackonto
thefield. The defense continued
with a strong effort, giving the
back to theoffensequickly. Cal-
Mum's defense continued with
their strong play as well in the
secondhalf, stopping theKnights
on consecutive possessions.
LeRoy's offense broke through
one last time, as Condidorio hit
Strolloagain for a17yard touch-
downpass. FullbackTonyPiazza
blasted through the line to secure
theconversionattempt,finalizing
RileyWilliams had a monster
game running the ball despite
Cal-Mum routinely blitzing and
loadingup the linewithdefenders.
He carried the ball for 131 yards
includinga2pointconversionand
multiple big first down pickups.
TonyPiazzaadded35yardson the
groundwhiledeliveringsomekey
blocks and also scored a 2 point
conversion. Drew Strollo added
30 yards rushing including a
touchdown,butmadehispresence
felt catching 3 balls for 84 yards
and 2 touchdowns. Quarterback
Tommy Condidorio endured sig-
nificant pressure throughout the
game andwas able to complete 3
out of 4 passes for 84 yards and
2 touchdowns. RyanShirley and
Bryce Lathan moved the chains
with 16 and 12 yards rushing re-
spectively. Other ball carriers for
theKnights includedCondidorio,
Landen Saeva, Nate Yauchzee,
JacksonFix, andRyanHiggins.
nomenal all day long, not only
shutting out Cal-Mum on the
scoreboard but not allowing one
firstdown theentiregame. Drew
Strollo had 9 tackles (7 for loss)
and forced two fumbles. Antonio
Martinez recovered a fumble.
TonyPiazzaadded4 tackles (2 for
loss) and linebacker Cole Fried-
haber filled the holes tallying 3
tackles. Defensive ends Ryan
Higgins, Riley Williams, Ryan
Shirley, and Antonio Martinez
provided essential containment
withWilliamscontributingwith2
tackles (1 for loss).Thedefensive
linewas in the backfield all day,
led by Bryce Lathan (3 tackles,
2 for loss), Connor Hegeman
(3 tackles, 1 for loss), Xavien
Walker (2 tackles), and Bryson
Gentile and Will Eschberger,
both with tackles. Jackson Fix
had two tackles and linebackers
AydenRiggi andNateYauchzee
also contributed on tackles.
The LeRoy Junior squad trav-
els toBath onSunday 9/21 for a
game against the Rams starting
LeRoyYouthFootball
Juniors ShutOutArchRivalCal-Mum
09/14/2013 - A second suspect has now been arrested in relation
to a forgery ringwhich came intoGeneseeCounty on 08/26/2014.
40yearoldO'NeilO.Llewellyn
of 314 Hudson Street, Syracuse
NYwas arrested on 09/11/2014
based on a joint investigation
between the LeRoy and Batavia
PoliceDepartments. It isalleged
that on 08/26/2014, Llewellyn
entered a local bank in LeRoy
knowingly possessing a forged
checkwith the intent to cash the
check. Llewellyn was charged
by the LeRoy Police with one
count of the Class D-Felony of
Criminal Possession of a Forged
Instrument in theSecondDegree. Further charges arepending from
theBataviaPoliceDepartment.
It appears that anout of stateForgery ring came into theSyracuse
NY area and recruitedpersons local to theSyracuse area, supplying
themwithforgedchecks.Therecruitedpersonsare thendrivenaround
NY todifferent towns, enteringbanksattempting tocash thechecks.
The recruitedperson is thengivinga small percentageof anychecks
Llewellyn was arraigned before the Hon. Michael Welsh of the
LeRoy Town Court and committed to the Genesee County Jail in
Thefirst personarrestedwasThomasWebbofSyracuse,whowas