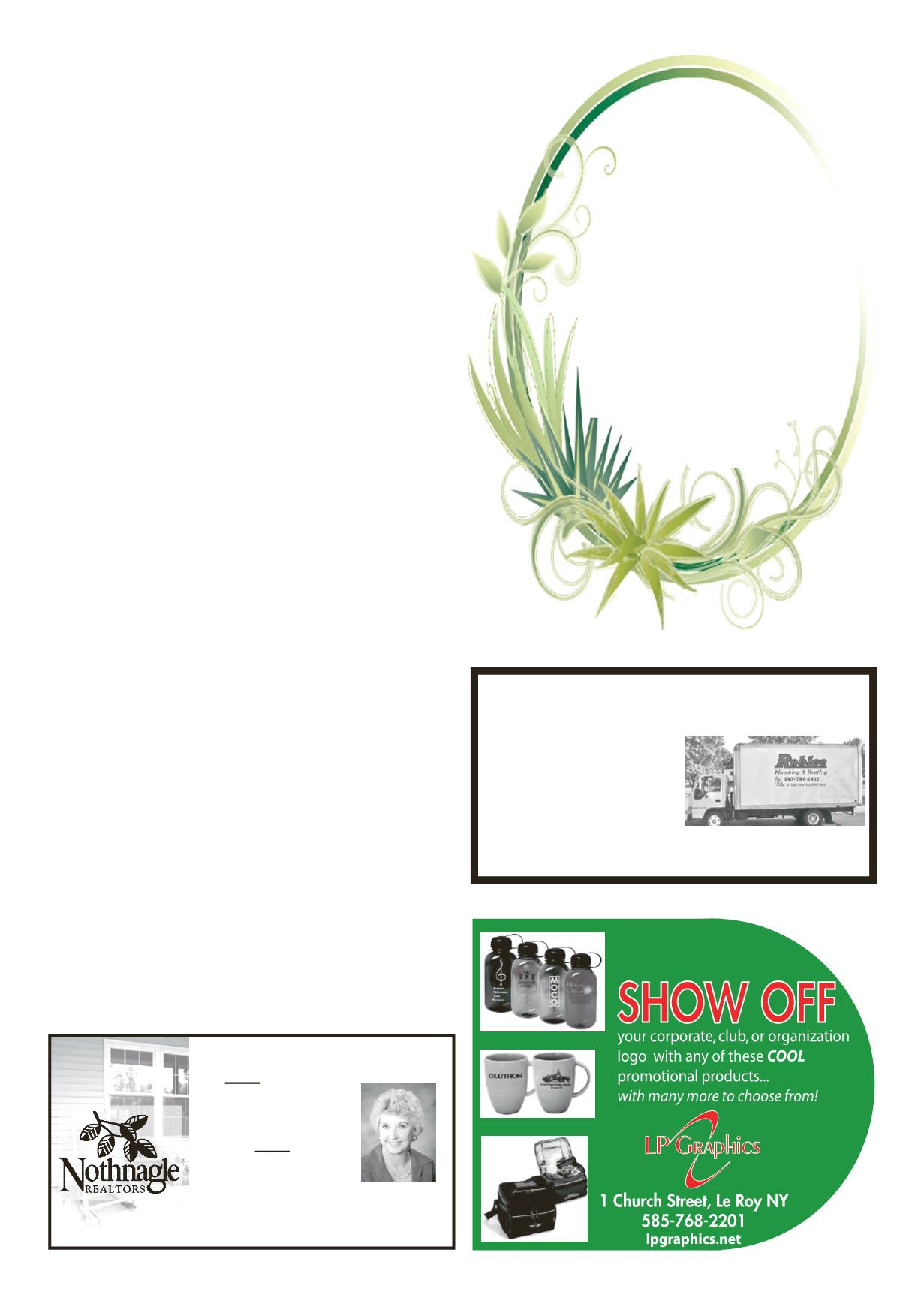 LEROYPENNYSAVER&NEWS - SEPTEMBER 21, 2014
Batavia
585-343-6750
NOW is theBEST time
toBUYwith the interest rates
at their lowest!
Don't wait
toBUY -
call
LindaBeaumont
for all your real
estateneeds.
LindaBeaumont
Home (585) 768-6315
LicensedReal Estate
Salesperson
Multi-MillionDollar Producer
ROBLEE
Plumbing&Heating, LLC
10991LakeRd., Pavilion • (585) 584-3841
Full Insured
LUXAIRE
GOULD
NYSCertifiedBackflowTester
Water&Sewer Lines •Water Treatment&ConditioningSystems
bySenatorRanzenhofer
September, 2014
As your State Senator, I am
committed toworking inabi-par-
tisanway togiveallWesternNew
Yorkers the opportunity to suc-
ceed. Delivering tax relief isone
way toensureabrighter, stronger
andmore prosperous future.
Over the last four years, real
progress has been achieved in
providing greater tax relief for
residents, manufacturers, home-
owners and businesses. In total,
49 tax cuts have been enacted,
reducing the tax burden by $5.6
Many tax rates are at their
lowest levels in decades. Today,
manufacturers are paying the
lowest tax rate since1917,while
thecorporate tax rate is at a level
not seensince the late1960s. For
middle-class families, the income
tax rate is at its lowest level in
New tax relief checkswill also
help familieswith the rising cost
of raisingchildren. In thecoming
weeks, 262,800 families (with
children under 17) in our region
willbegin receivinga$350check
in themail,providing$91million
benefit from a rebate check on
property taxes. This important
new initiative will encourage
local governments and school
districts tooperateefficientlyand
hold the line on taxes. In return,
local homeowners will soon see
a property tax rebate check in
Theproperty taxcaphashelped
homeowners save millions of
dollars since it was enacted
threeyears ago. Homeowners in
GeneseeCountyhavesaved$4.7
million inproperty taxes, and the
property tax cap will continue
to deliver a reduced tax bill in
In addition, the STAR and En-
hancedSTARprograms received
a record funding level of $3.4
billion this year. These two out-
standingprograms delivermajor
tax relief to millions of home-
owners, middle-class families
and seniors each and every year.
Lastly, a new tax break will
save residents and businesses
$600million over the next three
years by accelerating the phase-
out of the two percent utility tax
surcharge.WesternNewYorkers
already pay some of the highest
energybills in thenation,and that
iswhy I led the effort for energy
Each and every one of these
measures will help to ensure
that Western New Yorkers see
meaningful tax relief this year,
helping them save, invest in their
futures and pursue their dreams
From reducing taxes on small
businesses and manufacturers,
to providing direct tax relief for
families, toofferingproperty tax
relief to homeowners, we have
made progress in delivering tax
relief. Even with all that has
been done, more progress must
be made to further reduce New
Inmyopinion, Iwould charac-
terize thisprogressasonlya start
because there is still more work
tobedone. That iswhy tax relief
remainsoneofmy toppriorities!
ProgressReport:
DeliveringTaxRelief
46thLeRoyan
AwardDinner
Honoring
NancyBaker
October 4, 2014
AmericanLegion
53WestMainSt.
LeRoy,NY
Tickets $17.00 available at
Local Banks and the Legion
SocialHour 6 pm
Dinner 6:45