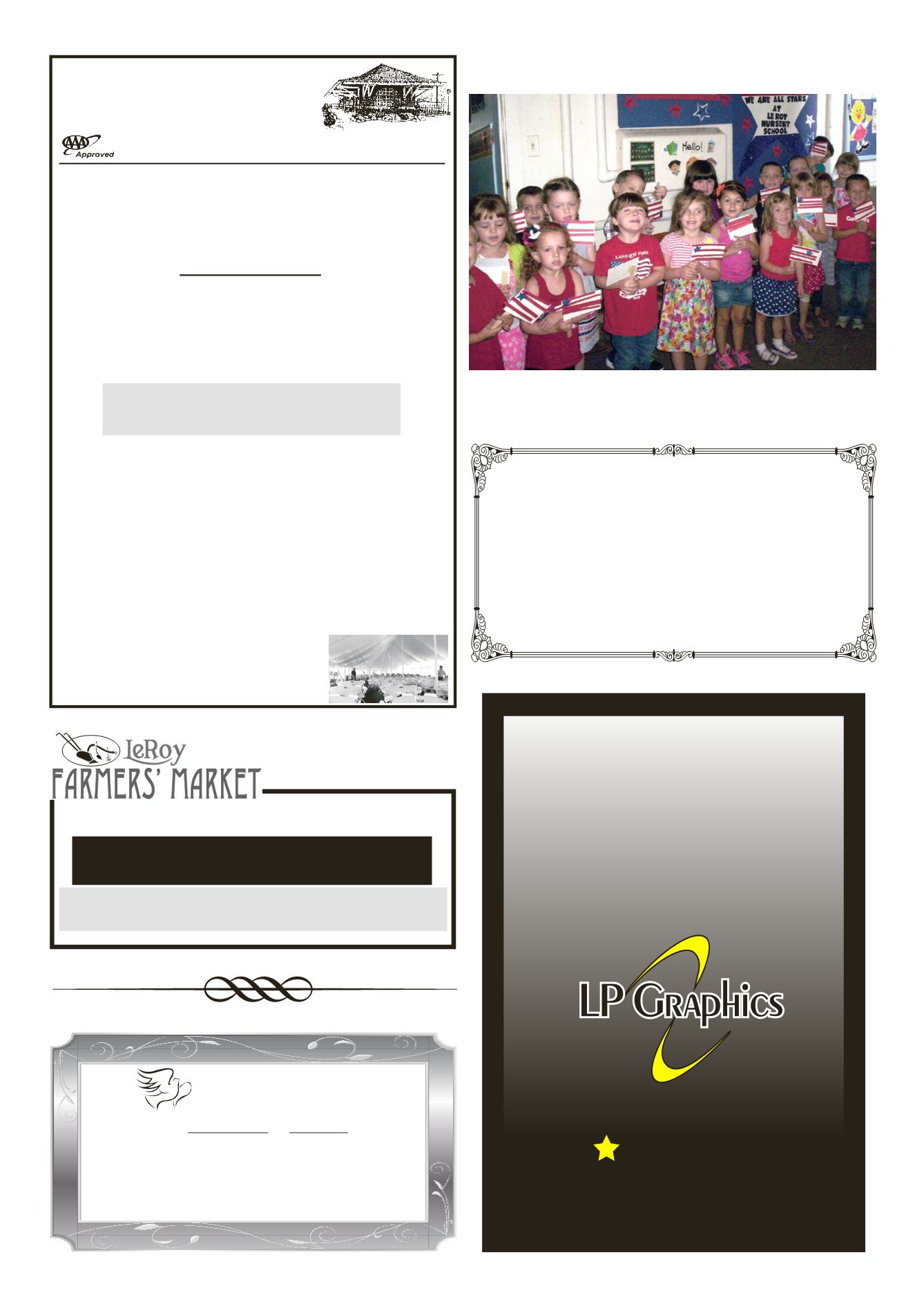 LEROYPENNYSAVER&NEWS - SEPTEMBER 21, 2014
D&RDepot
63LakeSt. (Rt. 19), LeRoy• 768-6270
Let'sMeetAt The ...
OpenForBreakfast, Lunch&Dinner - 7DaysAWeek 7am-9pm
F
ALCONE
F
AMILY
Funeral&Cremation Service, Inc.
Director/Owner
Director /Owner
FuneralDirector
SUNDAY, SEPTEMBER 21stDINNERSPECIAL
ROASTTURKEYDINNER
withhomemade dressing - $14.99
(includes soup or salad, realmashed potatoes, beverage
and pumpkin ice cream pie)
SUNDAY, SEPTEMBER 28thDINNERSPECIAL
HOMEMADEGLOMKIS in a red sauce - $16.99
(includesChickenKluskie noodle soup,
realmashed potatoes, beverage and a baked apple
with cinnamon stick ice cream dessert)
Time for theFallNewsletter –
have you signedup for your copy?
SUNDAY,OCTOBER 5TH –FIRSTSTOPONOUR
SUNDAY 'AROUNDTHEWORLD'DINNERSPECIALS
We're traveling toSpain –Spanish cooking is a -mixture of
influences fromGreek, Celt, Roman andMoor cultures.
We'll be featuring delicious SeafoodPaella full of shrimp, crab,
chicken, vegetables andChorizo, alongwith aSpanish style
mixed salad and raspberryflan for dessert -
$17.99
TheDepot's new sister company, DoubleLRentals - offering tables, chairs,
heaters, bars, linens, dishes& catering supplies for your special occasions!
10%Discount
when youuse both the
D&RCateringServices
andDoubleLRental foryour event.
Visit doublelrental.com or call us at
(585) 344-0023
eRoyFarmer'sMarket onFacebook
TRIGON PARK
Saturday, Sept. 20th
9:00 am-12:30 pm
LOCAL • FRESH•DELICIOUS •NUTRITIOUS
More variety arrivingweekly as the growing season progresses. Support your neighbor! Buy Local!
Jams, jellies, eggs, gluten free baked goods,Yancey'sFancyCheeses, Tracy's Teas,
NaturalDogTreats byEva, NundaMustards, OnceAgainNut Butters,
First Light CreameryCheeses andYogurts, bakedgoods, organic produce, honey,
maple syrup and fresh, locally grown produce.
9/
yTownBandwill be inour entertainment booth.
9/
rtwill be entertainingus andSunshinePreschool
will have registration information on their 5k race.
LeRoyNurserySchool celebratedSeptember 11th, PatriotDay
bymakingflags. The childrendressed in red, white&blue and
learned about thewonderful countrywe live in.
77ClaySt., LeRoy, NY 14482
Sept. 26th andSept. 27th, 9-5
House is full of quality antiques, oak furniture, lamps,
paintings, prints, glass, china andmuchmore.
Formore information call 585-219-4698
PatriotDayAt LNS
1CHURCHST, • LEROY, NY • lpgraphics.net
WEHANDLEALLASPECTSOFPRINTING...
PROGRAMS
LETTERHEADS
BILLHEADS
FLYERS
BROCHURES
POSTERS
CARBONLESSFORMS
ENVELOPES
RAFFLETICKETS
NEWSLETTERS
RESUMES
TYPESETTING
RUBBERSTAMPS
ENGRAVEDSIGNS
NAMETAGS
COPIES
LAMINATION
COMMUNITYFAX
NEWSANDPICTURES
ADVERTISING
BUSINESSCARDS
HOURS: Monday thruFriday 8:00 to 5:00