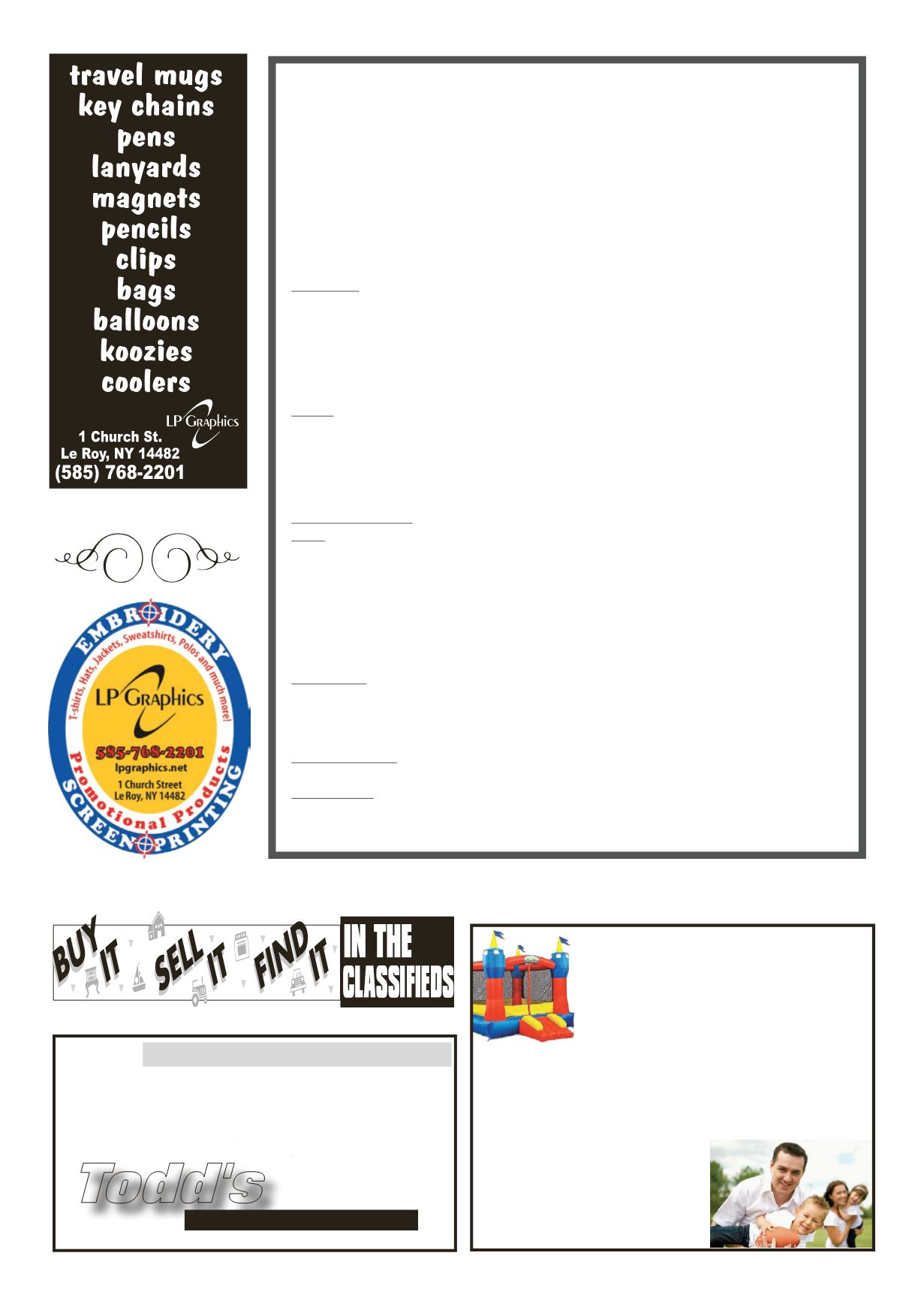 LEROYPENNYSAVER&NEWS -AUGUST10, 2014
Saturday,August23,2014at9:30am
AuctionarrowsoffRt. 63atFederalRoad
8milesnorthwestofGeneseo, 9mileseastofPavilion
Carl andMarthaFullerhave sold theirhomeandaremoving to
Floridaandwill sell the following:
Household:
Oakdining tablew/4 chairs; Bk/wh sofa; 40" SamsungTVw/DVD; quilt rack;
spindlebackhall seat; oak like computer desk andoffice chair;maple end table;wicker
chair; Fenton table lamp; floor lamp; reed seat rocker; pine lamp tablew/drawer; full size
"waterfall"bed; 7drawermapledresser; cedar chest; ratan circular chair; picture frames;
chinadishes for 8; light blueHobnail dishes;GermanPez steins; nicedishes&glasses; asst.
cookware; roaster and cutlery;microwave; room air conditioner 5,150btu.; seasonal deco-
rations; 4pc. resinpatio set; yardbenchw/cast iron sides.
Sports:
10gun cabinetw/storage; bags of 12gawads for reloading; assort. gunpowder;
quantityof assort. 22-30-243-270 ammo and12ga. shotgun shells;Hoppe shootingbench
rest; size 10wader boots; fishingboots; insulatedboots; 7 channelwalkie talkiew/charger;
fishingpoles; tackleboxw/lures; electricfilet set; "Have aHeart" trap; landingnet; Bear
Paw snow shoes;GraphiteElite adjustable compoundbow; deer transport; claypigeon
thrower; turkeydecoys; 3hp. Jansen twin cyl. outboardmotor.
NewCollectorPiece:
ToyMamod steam tractorw/box.
Shop:
Never usedTroyBuilt 5,500generator;Husky2,600PSI gas poweredwasher; JD
2BVgas leaf blower; JDF725 lawnmowerw/54" front deck - sharp!; JDno. 15 lawndump
trailer; 1hpport. 3gal. air comp.; Craftsman table saw; 5hp20gal. 220 air compressor;
5hpMTO chipper shredder; sawzall;Deltadrill press;Makita10"miter saw; 4"hand
grinder; soldering torch; 1/2"drive sockets; 2Tfloor jack; 35,000btupropaneheater; 5hp
Simplicity rototiller; older 16" chain saw; pedestal grinder; Shopvac;weedwackerw/steel
blade; cordless drill; battery charger; car tire chain; planer; C clamps&bars;woodworking
tools; asst. hand tools shop&garden.
Motorcycles:
1971Kawasaki 90 -CA70only1,799miles; 1974Kawasaki 100 -G471; 1981
HondaCT110 trail bike; 1993SuzukiKingQuadLTF4 fourwheelerw/984miles and
windshield; 1982YamahaXS650Heritage Special 5 speed, only5,076miles;All bikes are
ready to ride.NearlynewAluma5'x8' road trailer, andmore to sell.
AuctioneersNote:
For pictures go to auctionzip.com. Everything in excellent shape and
ready touse. Bringyour own chair. Tent sale. Lunch available.
Termsof Sale:Cashorhonorablecheckon saledaywithproper ID.All items sold"as is,where
is". 10%BuyerPremium.Nothing removeduntil settled for.
MikeAlmeter, SaleManager/Auctioneer | Strykersville,NY14145 | (585)457-8143
OurLady ofMercyParish
TheMercedarianThirdOrder
August 17th, 2014
11:30 to 2pm
BlueCastleBounceHouse
Sail BoardRaces
Sing-A-Longs •CottonCandy
Popcorn • Snacks • RingToss
Kids'Games&Prizes
FREE
FREE
NewHomes •Additions •Garages •PoleBarns
ToddCarli • Phone 703-0964
Todd's
Decks •Windows •Doors
Kitchens •Baths
CeramicTile
Basement Finishing
CustomShelves/Built-Ins
Siding •Remodeling
Roofing • SnowPlowing
FULLY INSURED