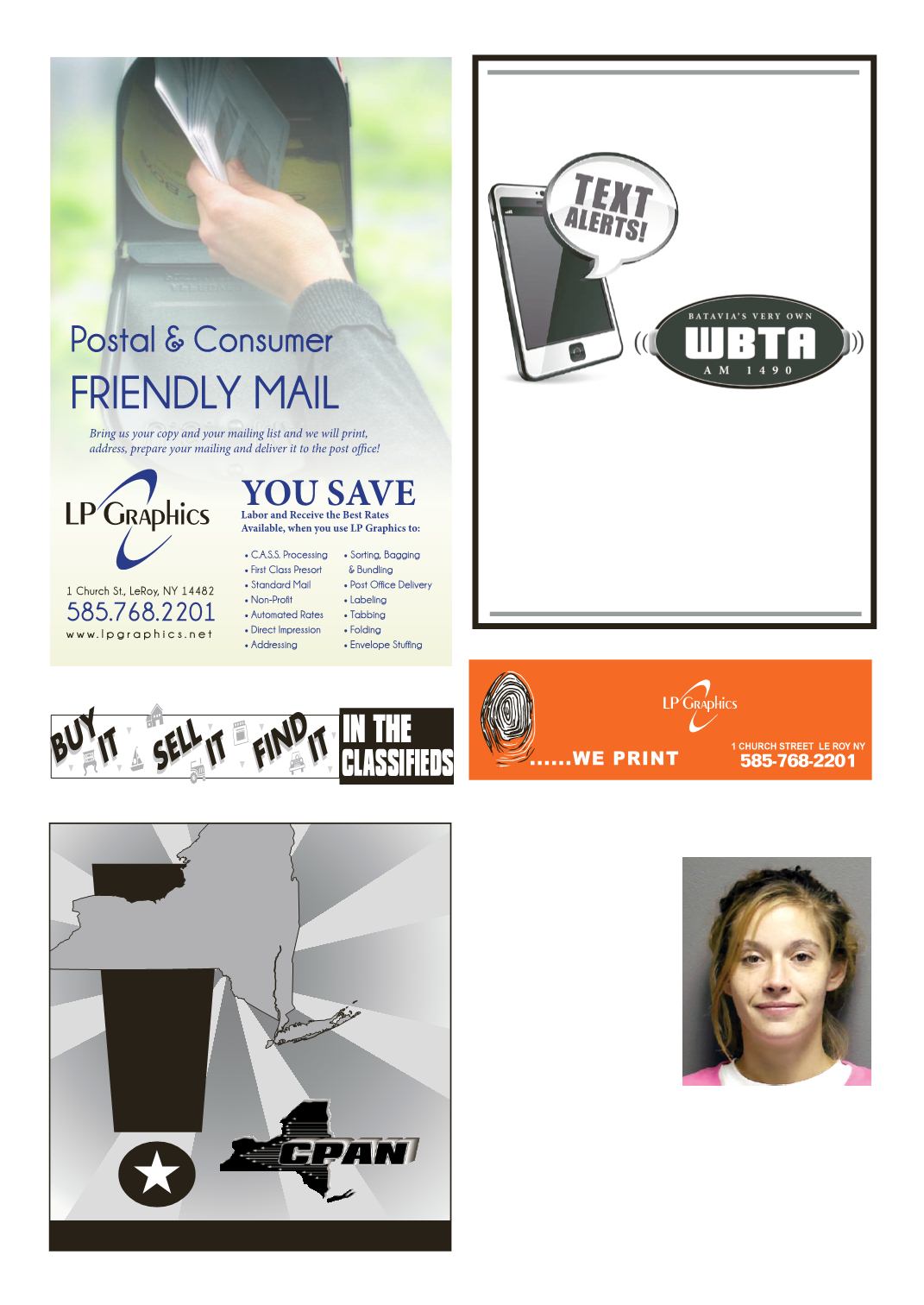 LEROYPENNYSAVER&NEWS -AUGUST10, 2014
SIGNUP TODAY!
GET ONLY THE
NEWS YOU
CHOOSE
FROM
New! Signup for TEXTALERTS.
Get only the news you choose!
Be the first to knowabout SevereWeather,
Breaking Local News, TrafficAdvisories&dSchool Closings.
Signup today forWBTATextAlerts.
You need to only supply your cell phonenumber
and select the services youwant to receive.
Wewill never sell your information to anyone.
WBTAi.com
SUBMIT
YOURAD
HERE
ONE
ONE
*$490 for15words. $15 foreachadditionalword.
AGreat Deal toReach theWholeState!
08/04/2014 - 24 year old Sara
E. Schimley, a LeRoy native,
now having no permanent ad-
dress in theCity of Buffalowas
arrested on 7/28/2014 by the
LeRoyPoliceDepartmentbased
onaBenchWarrant issuedby the
LeRoy Town Court for Failure
to Appear on Felony Burglary
1st and Criminal Possession of
aWeapon 3rd charge. Schimley
was locatedby theBuffaloPolice
Department and turned over to
theLeRoyPoliceDepartment on theBenchWarrant.
Schimleywasfurtherchargedby theLeRoyPoliceDepartmentwith
anewchargeofBail Jumping in the2ndDegree, aClassE-Felonyas
itwas alleged that Schimley failed to appear inLeRoyCourtwithin
30 days of her last scheduled appearance on the original burglary
Schimleywasarraignedbefore theHon. JudgeSehmof theLeRoy
Town Court and committed to the Genesee County Jail in lieu of
lpgraphics.net