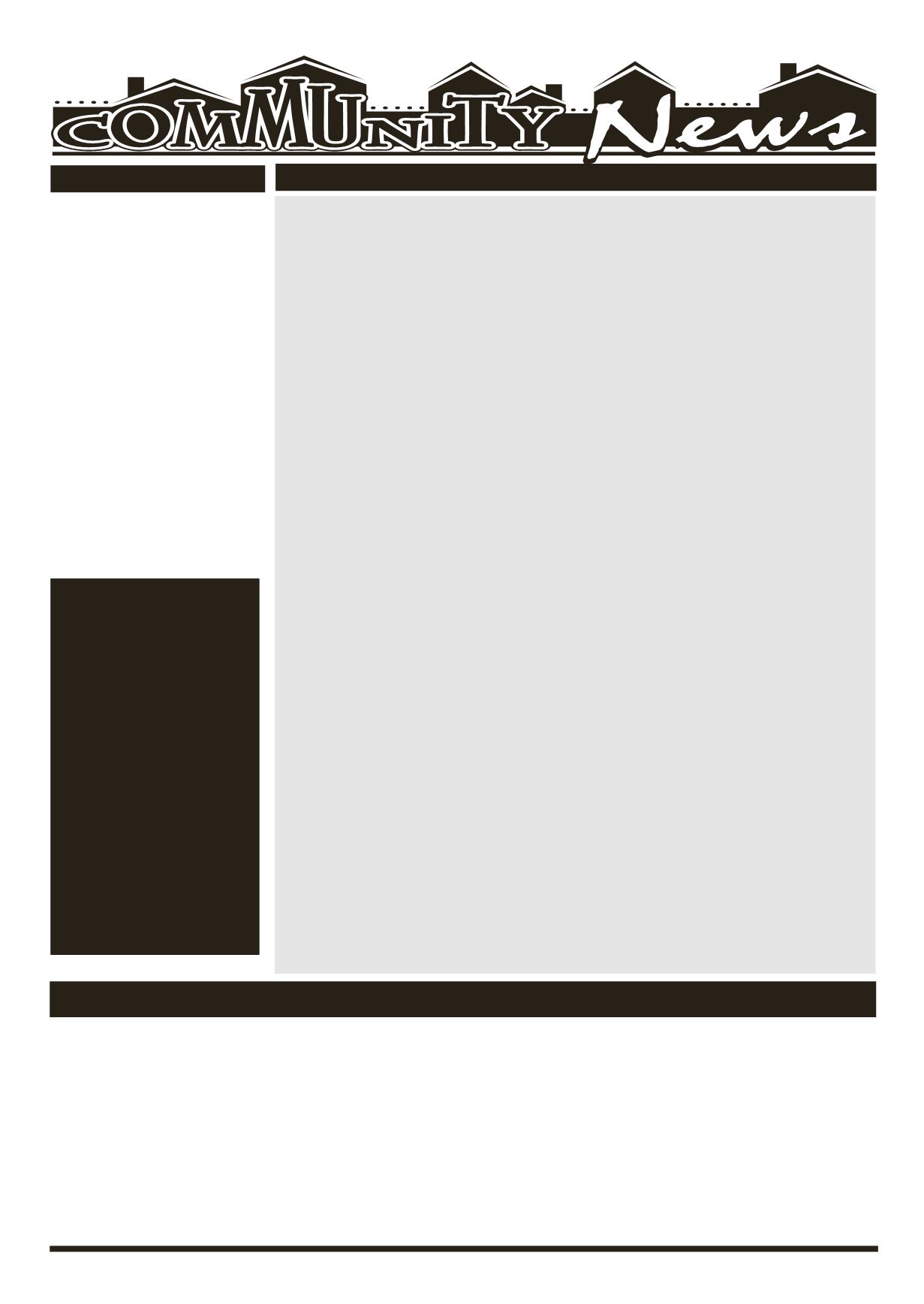 LEROYPENNYSAVER&NEWS -AUGUST10, 2014
Le Roy
Pennysaver
All GeneseeCounty residents, 60andolder, can takepart in thisweek'sactivitiesat theBataviaSenior Center, 2BankSt., Batavia. Formore information, call 343-1611.
WEEKLYEVENTS
OBITUARIES
ArthritisExercise
is scheduled for 9:30a.m.;
Bridge
Alzheimer'sAssociationMeeting
Cribbage
Quilters
are scheduled tomeet at 9:00a.m.;
Euchregame
is scheduled tobeginat 1:00p.m.
CribbageandBridge
is scheduled for 1:00 p.m.; G
eneseeSenior FoundationMeeting
MusicalKeyboardingLessons
LineDancing&ArtClass
are set tobeginat 10:00am.
SUNDAY,AUGUST10
AWANAProgramatPenuelChristianFellowship.
Sundays12:15 to1:45pm. Ages5-17broken intogroups. Developing
friendships.Having fun. LearningaboutGod. Safeenvironment.
Konnect Youth Group at Living Waters Church,
LeRoy. Sundays from 6:30 to 8:30 pm for ages 12-18. "BringDown
all theWalls! ConnectwithGodandConnectwithothers." Formore
information, check us out online at: livingwatersleroy.org/kon-
MONDAY,AUGUST11
TOPS (Take Off Pounds Sensibly)
meets Monday evenings from
6:30-7:15pmat theLeRoyPresbyterianChurch, cornerofClay&Main
Streets.Visitorsalwayswelcome. Call 768-2933 formore info.
TUESDAY,AUGUST12
LCCP'sGRACE'SKITCHEN:
AFREEdinnereveryTuesdayevening,5-7
pm at the LeRoy UnitedMethodist Church, 10 Trigon Park. Parking
availableonTrigonPark& the lots to the left andbackof theChurch.
Handicapped Entrance in the back of the Church. Takeout &delivery
are available. Formore info. contact SelbyDavis at 585-738-8882or
WEDNESDAY,AUGUST13
Villageof LeRoyBoardMeeting,
7pmat theVillageHall, 3West
THURSDAY,AUGUST14
GeneseeVeterans SupportNetwork
(GVSN) supports thedevel-
opment ofVeterans focusedAAmeetings everyThursday, 6-7pm at
the First Baptist Church, 306 E. Main St., Batavia. Meetings led by
MikeW.&areopen tonon-veteransaswell.Handicapaccessible. For
additional information call 585-302-0825.
GRACE'S CLOSET: A Clothing Giveaway Program
Le Roy UnitedMethodist Church, 10Trigon Park, Le Roy. 9:30 am to
11:30 am every Thursday. We have clothing for all ages. Spring &
Summer clothing now being put in place. We are in need of lighter
coats, clothing, shoes, pajamas, bedding, sheets in all bed sizes. We
accept donations be dropped off at the house next to the church.
Please put all bags INSIDE on the back porch. No electronics, TV's,
computers, dishes, etc. Anyquestions call theoffice768-8980.
TownofLeRoyBoardMeeting,
7pmat theTownHallBoardRoom,
FRIDAY,AUGUST15
Penuel Christian Fellowship,
One Step to Freedom addictions
ministry, a Christ Centered Addictions program, a weekly meeting
every Friday at 7 pm. Call the Church for more information at 768-
UPCOMINGEVENTS
LCCP's Mommy & Me Playgroup: Every 2nd & 4th Friday,
12:00-1:30, Le Roy Physical Therapy (in the back gym). Anymoms
and their birth-kindergarten children are welcome to come enjoy
socialization, lunch, coffee, structuredgames& freeplay.
Lite the Knight 5k & Family Fun Night
2014;5pm.Come together to raise funds foramemorial scholarship!
2014Recipients:TheBordonaroFamily.5Krun/walkonan illuminated
course,a3-on-3basketball tournament,wellness fair,many freechil-
dren'sactivities,aperformancebyLeRoyMarchingKnights,achicken
barbecueby theEagleBBQandBrew, and free livemusicbyFlipside.
The LeRoy, Stafford, Caledonia, and Pavilion Fire Departments will
be settingup an interactivedisplayof their fire engines for children
and families to experience. Call 585.768.4550 formore information
orvisitourwebsite: villagefit.com Info isalsoon facebook
low this link to register for the 5k:
Gen. County HealthDept. Div. of Environmental Health -
2014An-
ti-Rabies ImmunizationClinic -
GeneseeCo. Fairgrounds, 5031E.
MainSt.,Batavia.Thursday,August21st,4to7pm.Savetimebyfilling
outyourregistrationformbeforetheclinicat:
departments/health/index.html
FamilyFunDayatOurLadyofMercyParish,
insidetheParishCenter.SponsoredbytheMercedarianThirdOrder.Au-
gust17,11:30amto2pm,FreeAdmission,allelse isFree.BlueCastle
BounceHouse,KidsGames&Prizes,CottonCandy,Popcorn,SailBoat
Races, Singalong, RingToss, BeanBagToss, CoffeeandDoughnuts.
FoodlinkFreeMobileFoodPantry:
MorganvilleUnitedChurchof
Christ is partneringwithFoodlinkof Rochester tohost a freemobile
foodpantry,Tuesday,August19,4:30-6:30pmatMorganvilleUnited
Churchof Christ, 8466MorganvilleRoad (offRt 237, 1milenorthof
Stafford). Theexact food itemsandquantityavailablearenotknown,
but fresh produce will be available. Must be 18 years of age, no
income requirement or ID required. Must provideownbags/vehicle
to transport items toyour home. Foodprovidedonafirst come, first
servebasiswhile supplies last.
CommunityCalendar Submissions shouldbe sent to:
WYOMING — Charles A. Wilson, 90, of
Warsaw-WyomingRoadpassedawaySun-
day (Aug. 3, 2014) at theWyomingCounty
Community Hospital. In lieu of flowers,
memorial contributions may be made in
Charles' name to theFirst BaptistChurchof
Wyoming,28MainSt.,Wyoming,NY14591;
or to theWyomingRescue Squad, POBox
ROCHESTER/LEROY—Mary L. Bell, 74,
formerly of Le Roy, passed away Saturday
morning (Aug. 2, 2014) atHighlandHospital
in Rochester. Memorials are suggested to
the Le Roy Fire Dept., 3West Main St., Le
LEROY—StanleyR. Ugorek, 82, of South
Street Road, formerly of Mill Street, passed
awaySunday evening (Aug. 3, 2014) in the
loving presence of his family. Memorials
suggested toOur Lady of Mercy Parish, 44