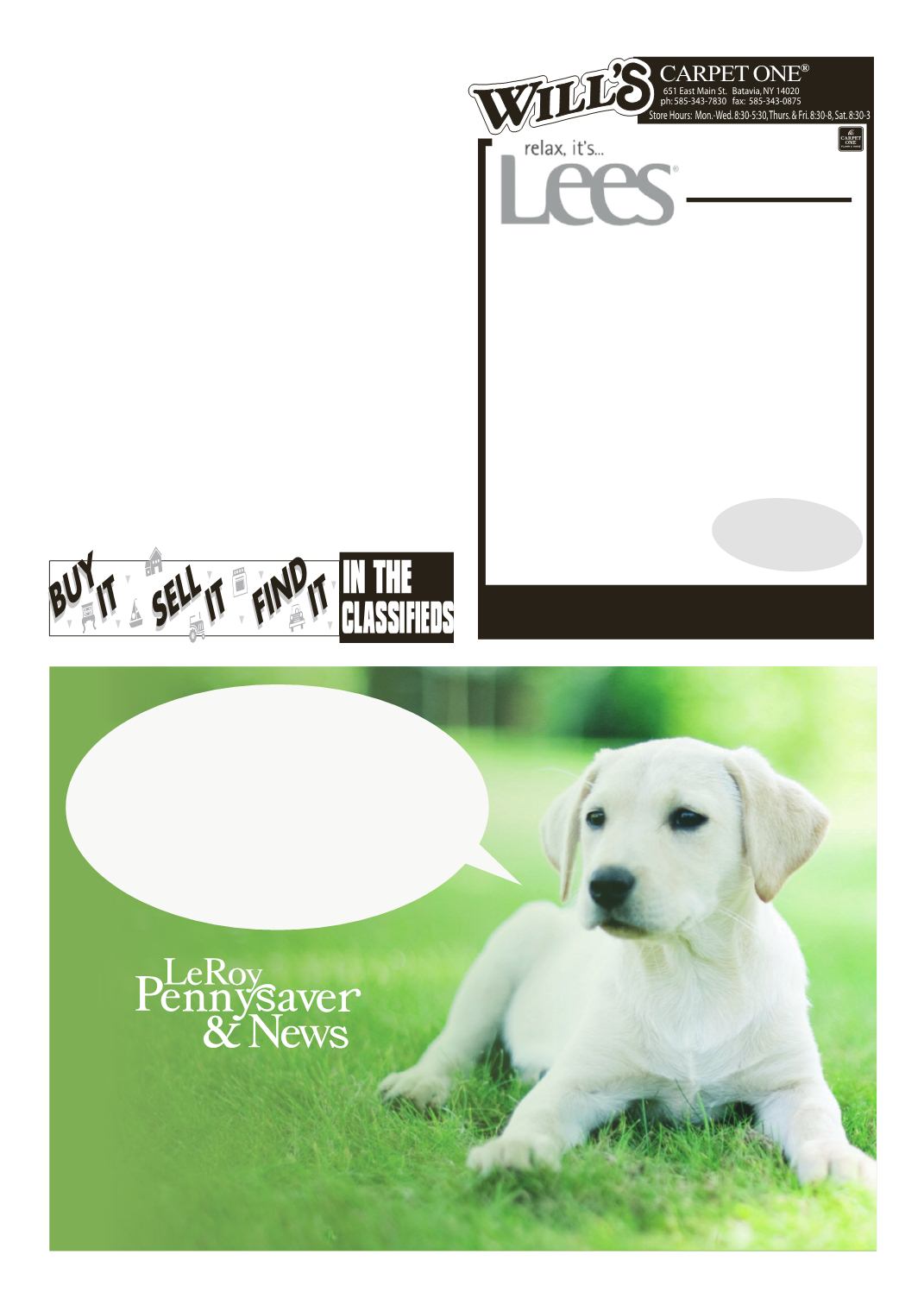 LEROYPENNYSAVER&NEWS -AUGUST 10, 2014
FLOOR
&HOME
TheONE store for your perfect floor.
•NOExclusions - Stain& SoilWarranty
• 25YearPet StainWarranty
• FreeEstimates
• FinancingAvailableTo
QualifiedBuyers
Hurry
LimitedTime!
CARPET
ENTIRELINEOFLEE'SONSALE
InstalledWith a 6#Pad
50%
OFF
A joint statement issued by
the Presidents of the LeRoy
Fire Department, Inc., and the
LeRoy Fireman's Benevolent
saddened by the news of the
alleged larceny by the Treasurer
of the Department and the As-
sociation. Both the Department
and the Association have been
cooperating with the authorities
including the Office of the New
York State Comptroller and the
LeRoyPoliceDepartmentduring
Our respective organizations
would like toapologize to the res-
identsofourfirecommunity, and
the Town and Village of LeRoy
for anymistrust in our organiza-
tions these allegationsmay have
caused. The LeRoy Firemen's
Benevolent Association and the
LeRoy Fire Department, Inc.
have already taken steps in our
financialpolicies tokeep this type
of activity fromhappening in the
future.Bothourorganizationsare
committed to providing the best
emergencyservice toourcommu-
nity, andwill strive toworkhard
to restore any loss of faith inour
The Presidentswant to remind
the public that the Fire Depart-
ment and theAssociation do not
receive any real property tax
money.TheAssociation receives
their money from the State In-
surance Department's 2% fund,
while the Department's budget
is derived from fund-raising and
Statement FromThe
LeRoyFireDepartment
Advertise•Classifieds•News
HelpWanted•CommunityCalendar
1ChurchSt., LeRoy, NY14482
585.768.2201
yny.com