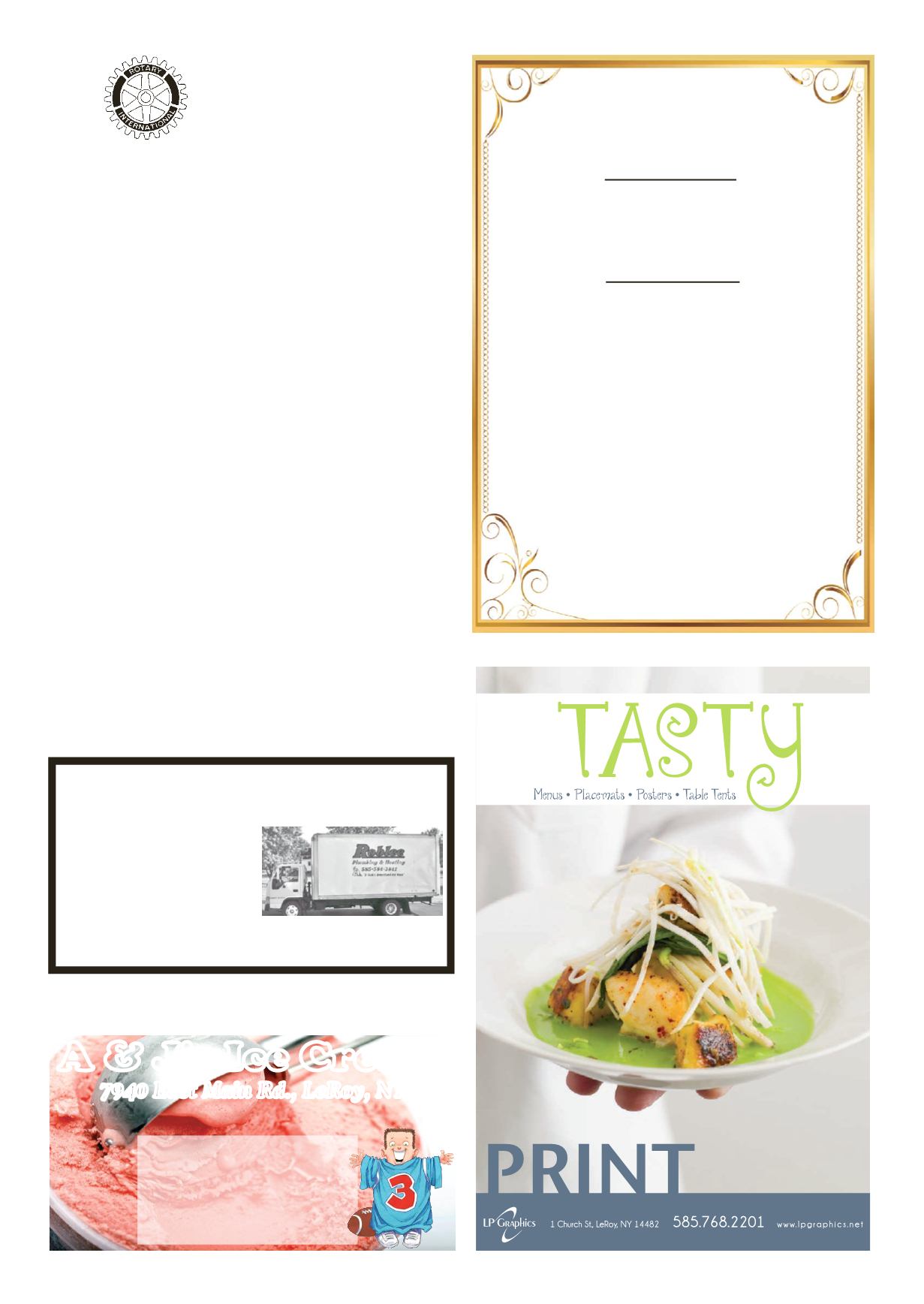 LEROYPENNYSAVER&NEWS -AUGUST 10, 2014
LeRotary
Notes
ROBLEE
Plumbing&Heating, LLC
10991LakeRd., Pavilion • (585) 584-3841
Full Insured
LUXAIRE
GOULD
NYSCertifiedBackflowTester
Water&Sewer Lines •Water Treatment&ConditioningSystems
President Randy Vink opened
our July 30th meeting and pro-
Pledge of Alle-
giance.
Our guest for the daywasAva
The following announcements
Samantha Vagg would like to
start a team for Lite the Knight.
Please contact her if interested.
Christine Gephart gave an up-
date on the planter project.
PresidentRandy announced the
-plans for a Family Picnic, the
date has not yet been decided.
-reminder that Rotary dues are
-Business Council meeting
8/4/14 at 5:30 pm atMooney's.
Rotarians sited for missed
meetings: Lynne Belluscio, Bob
Bennett, BobBoyce, LarryBoy-
lan, Kim Cox, Erik Fix, Tony
Gugino, Tracy Martorana, Jerry
McCullough, andTamaraTorrey.
The following fines were is-
sued: BobBennettwasfined for
a milestone birthday and being
serenaded by all of the patrons
at Spirits; Bob Boyce was fined
for missing out on a free break-
fast; LarryBoylanwas fined for
receiving the key to theTownof
LeRoy; Tom Cox was fined for
pulling awater tubewith a 50 hp
boat; JerryMcCulloughwasfined
for becoming theVPof theRush-
ford Landowners Assoc.; Tim
Moag was fined for celebrating
his 28th Rotary Anniversary;
and Ron Pangrazio was fined
for celebrating his 15th Rotary
The program for the meeting
was the financial statement re-
view of the Milne Scholarship
Fund. This information was de-
livered byBobBennett andTim
Moag. Bob Bennett discussed
the Scholarship Awards while
TimMoag reviewed the balance
sheet,profit& lossstatementand
the fund portfolio. Bob Bennett
gave specific thanks to Saman-
tha Vagg and The Greens of
LeRoy for their roles inmaking
The Graze to Raise (The Milne
Scholarship fund-raiser) such a
The meeting was concluded
with the raffle drawing andwas
adjourned for anotherweek.
**LikeusonFacebookat "Ro-
7940EastMainRd., LeRoy, NY
Wear your practice jersey