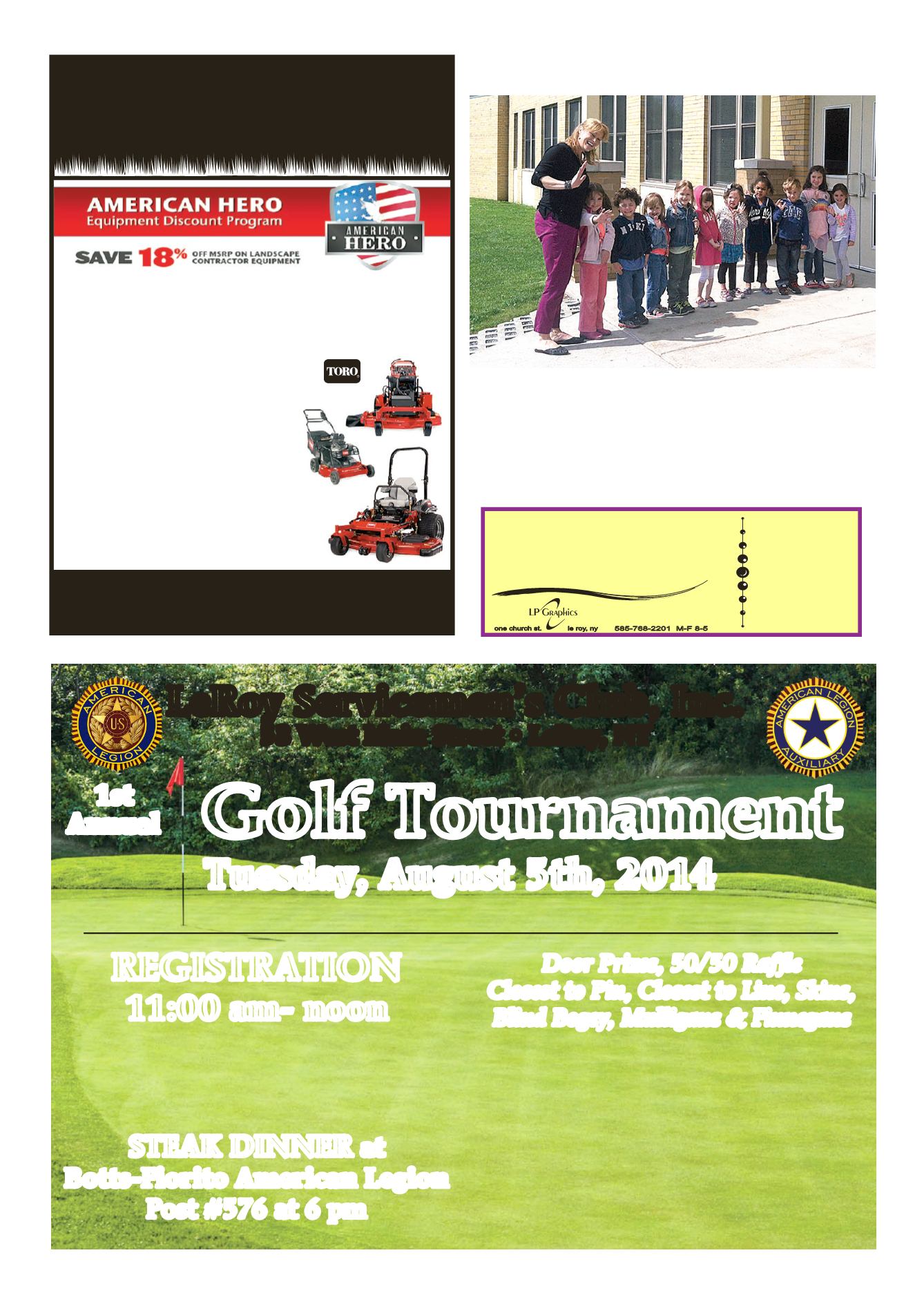 LEROYPENNYSAVER&NEWS - JUNE 29, 2014
Toro's new equipment discount program recognizes thosewho serve in
theUnitedStatesmilitary, aswell as thoughwhoserve theircommunities
across thecountry.Under theprogram, current or formermembersof the
military and current or formerEMT's, firefighters andpoliceofficers are
eligible for special pricing onToroLandscapeContractor Equipment.
EligibleProducts
•ZMasterZero-TurnMowers
•GrandStandMowers
•Mid-SizeWalk-BehindMowers
•Heavy-Duty 21"Walk-BehindMowers
• 30"TurfMasterWalk-BehindMower
• SelectAttachments
Program runs now through
October 31, 2014
at participating dealers only.
See participating dealer for full program details.
1818 LinwoodRd., Linwood, NY
HOURS:Mon.-Fri. 8am-5:00pm, Sat. 8am-12:00noon
LINWOOD
LeRoy Servicemen'sClub, Inc.
53WestMain Street • LeRoy,NY
GolfTournament
Tuesday, August 5th, 2014
LEROYCOUNTRYCLUB •
7759E.MainRd., LeRoy,NY
REGISTRATION
11:00 am- noon
4Person Scramble,
with Shotgun Start atNoon
STEAKDINNER
at
Botts-FioritoAmericanLegion
Door Prizes, 50/50Raffle
Closest to Pin, Closest to Line, Skins,
BlindBogey,Mulligans& Finnegans
$55.00/person -
cart, sandwich & soft drink at turn,
$35.00/person
$20.00/person
CashBar
1st
Annual
ThePre-KclassatLoveBugsPreschool recentlyvisitedWolcott
Street School for amorningfilledwith all thingsKindergarten!
They started theirmorning by being pickedupby a school bus
and were driven right to the bus drop off at the school. From
their they visited all the different places in the school that they
would see next year! Pictured here isMrs. Panepento and the
Pre-K class right before their tour!
SeeYou InKindergarten!
one church st. le roy, ny
one church st. le roy, ny