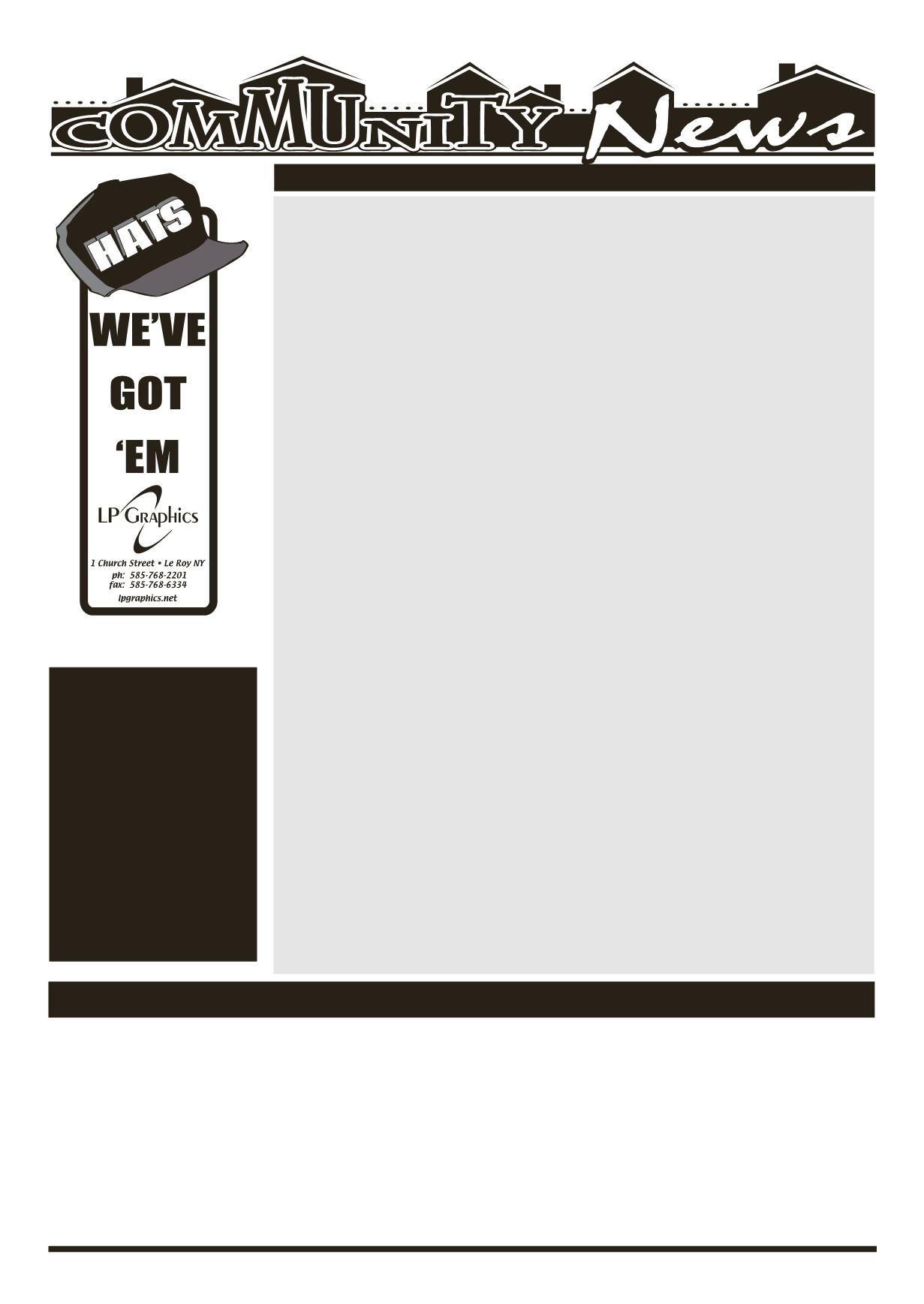 LEROYPENNYSAVER&NEWS - JUNE 29, 2014
All GeneseeCounty residents, 60andolder, can takepart in thisweek'sactivitiesat theBataviaSenior Center, 2BankSt., Batavia. Formore information, call 343-1611.
WEEKLYEVENTS
ArthritisExercise
is scheduled for 9:30a.m.;
Bridge
Cribbage
Quilters
are scheduled tomeet at 9:00a.m.;
Euchre
is scheduled tobeginat 1:00p.m.
CribbageandBridge
MusicalKeyboardLessons
arescheduled tobeginat2:30p.m.
4thof JulyHoliday -OFAClosed.
SUNDAY, JUNE29
AWANAProgramatPenuelChristianFellowship.
Sundays12:15 to1:45pm. Ages5-17broken intogroups. Developing
friendships.Having fun. LearningaboutGod. Safeenvironment.
Konnect Youth Group at Living Waters Church,
LeRoy. Sundays from 6:30 to 8:30 pm for ages 12-18. "BringDown
all theWalls! ConnectwithGodandConnectwithothers." Formore
information, check us out online at: livingwatersleroy.org/kon-
FoodlinkFreeMobileFoodPantry:
MorganvilleUnitedChurchof
Christ is partneringwith Foodlinkof Rochester tohost a FreeMobile
Food Pantry, 4:30-6:30 pm at Morganville United Church of Christ,
8466MorganvilleRoad(offRt237,1milenorthofStafford). Theexact
food items andquantity available are not known, but freshproduce
will be available. Must be 18 years of age, no income requirement
or ID required. Must provide own bags/vehicle to transport items
to your home. Foodprovided on afirst come, first serve basiswhile
MONDAY, JUNE30
TOPS (Take Off Pounds Sensibly)
meets Monday evenings from
6:30-7:15pmat theLeRoyPresbyterianChurch, cornerofClay&Main
Streets.Visitorsalwayswelcome. Call 768-2933 formore info.
SummerReadingProgram
beginsMonday, June30andcontinues
throughFriday,August15at theWoodwardMemorial Library. This is
a freeprogram forchildren, teens,andadults. Allages read forprizes.
Register at the library throughout the summer.
Annual Kick-Off Event For Summer Reading
MemorialLibrary, from6 to8p.m.Toucha truck (touchawidevariety
of largevehicles in frontof the library),playon the inflatableobstacle
courseandenjoy free ice cream!
TUESDAY, JULY1
LCCP'sGRACE'SKITCHEN:
AFREEdinnereveryTuesdayevening,5-7
pm at the LeRoy UnitedMethodist Church, 10 Trigon Park. Parking
availableonTrigonPark& the lots to the left andbackof theChurch.
Handicapped Entrance in the back of the Church. Takeout &delivery
are available. Formore info. contact SelbyDavis at 585-738-8882or
WEDNESDAY, JULY2
CharlieTheCowboy&CheckersTheClown - from6:30 to7:30p.m.At
theWoodwardMemorial Library. Watch them juggle, performmag-
ic and ride a unicycle. Registration is required for this program. Call
768-8300or registeronlineat
THURSDAY, JULY3
GeneseeVeteransSupportNetwork
(GVSN) supports thedevel-
opment ofVeterans focusedAAmeetings everyThursday, 6-7pmat
the First Baptist Church, 306 E. Main St., Batavia. Meetings led by
MikeW.&areopen tonon-veteransaswell.Handicapaccessible. For
additional information call 585-302-0825.
GRACE'S CLOSET: A Clothing Giveaway Program
LeRoyUnitedMethodist Church, 10TrigonPark, LeRoy. 9:30am to
11:30 am every Thursday. We have clothing for all ages. Spring&
Summer clothingnowbeingput inplace. We are inneedof lighter
coats, clothing, shoes, pajamas, bedding, sheets inall bed sizes. We
accept donations be dropped off at the house next to the church.
Please put all bags INSIDE on the back porch. No electronics, TV's,
computers, dishes, etc. Anyquestions call theoffice768-8980.
Duct Tape Crafts
for grades 7 - 12 at theWoodwardMemorial Li-
brary from 1 to 2 p.m. Learn how tomake a duct tapewallet and
key chain. Supplies areprovided. Call 768-8300or register onlineat
FRIDAY, JULY4
Penuel Christian Fellowship,
One Step to Freedom addictions
ministry, a Christ Centered Addictions program, a weekly meeting
every Friday at 7 pm. Call the Church formore information at 768-
UPCOMINGEVENTS
LCCP's Mommy & Me Playgroup: Every 2nd & 4th Friday,
12:00-1:30, Le Roy Physical Therapy (in the back gym). Anymoms
and their birth-kindergarten children are welcome to come enjoy
socialization, lunch, coffee, structuredgames& freeplay.
OatkaFestival2014:
Joinusforthe26thAnnualOatkaFestival! July
19th&20th,10am-6pm.Kick-offwiththeParade:Saturday,July19th
@11am.Wrap-upwith theDuckDerby:Sunday, July20@5pm. Find
usonFacebook&Twitterforupdates!Orontheweb:oatkafestival.org
TheStaffordHistorical Society invites thepublic to the10th
AnnualTasteofStafford
event from5:00 to8:00pm.onThursday,
July10,2014. Theevent is located in IletteParkatthecornersofRoute
5toRoute237 inStafford.Bringyourmostcomfortable lawnchairand
enjoy theday. (Rain?Wewillmeet at StaffordFireHall).
CommunityCalendar Submissions shouldbe sent to:
Le Roy
Pennysaver