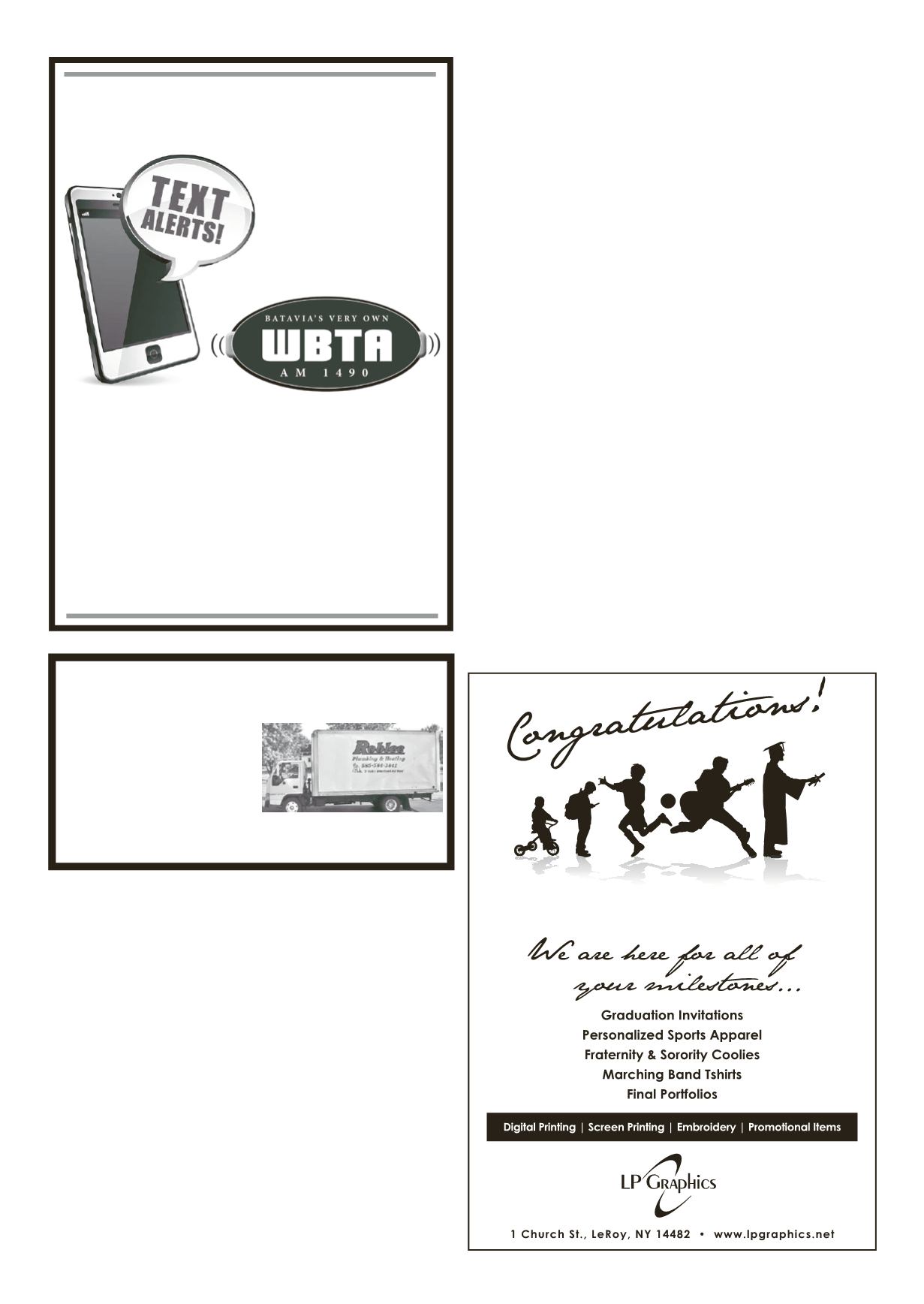 LEROYPENNYSAVER&NEWS - JUNE 29, 2014
SIGNUP TODAY!
GET ONLY THE
NEWS YOU
CHOOSE
FROM
New! Signup for TEXTALERTS.
Get only the news you choose!
Be the first to knowabout SevereWeather,
Breaking Local News, TrafficAdvisories&dSchool Closings.
Signup today forWBTATextAlerts.
You need to only supply your cell phone number
and select the services youwant to receive.
Wewill never sell your information toanyone.
WBTAi.com
CourtneyM.Brooks
ingtonAvenue inLeRoy (senior
public justice major) has been
named to theDeans'List for the
spring 2014 semester at SUNY
The President's and Deans'
lists represent the academic top
30.3 percent of theOswego stu-
dent body. Tobe includedon the
Deans' List, students must have
a semester gradeaverageof 3.30
C Elizabeth AWeaver
LeRoy, a Junior in the College
of Education/Human Develop-
ment, has been named to the
2014springsemesterDean'sList
at the University of Minnesota
Toqualify for theDean'sList,a
studentmustcomplete12ormore
letter-gradedcreditswhileattain-
ing a 3.66 grade point average.
GeneseeCommunityCollege
Names Students to
Spring 2014President's List
Students honored on the Pres-
06/25/2014 - 1) 18 year oldNicholasR. Graves of 7317Griswold
Rd., Bergen was arrested by the LeRoy Police Department and
charged with one count of Endangering theWelfare of a Child, a
ClassA-Misdemeanor. It isalleged thatGravesknowinglyacted ina
manner likely tobe injurious to thephysical,mentalormoralwelfare
of achildunder theageof17whenonor aboutMay8, 2014,Graves
hadsexual contactwitha juvenileunder theageof17whileonNorth
Street in theVillageofLeRoy.Graveswasarraignedbefore theHon.
D. Sehm of the LeRoyTown Court and Releasedwith anOrder of
Protection to stay away from the victim.
2) 25 year oldBenjamin P. Hilton of 25Bacon St.,Apt E, LeRoy
was arrestedby theLeRoyPoliceDepartment and chargedwithone
countofCriminalMischief in the4ThDegree, aClassA-Misdemean-
or. It is alleged that on or about 6/21/2014, while onMill Street in
theVillage, Hilton having no right to do so, intentionally broke the
windowof a local business.Hiltonwas issuedanAppearanceTicket
to appear in theLeRoyTownCourt at a later date.
ident's List have maintained
full-timeenrollment andearneda
qualitypoint indexof3.75(rough-
ly equivalent to anA) or better.
Bonilla,GinaConstable,Brandy
Hare, Ellen Kirkpatrick, David
Mackey, Brendan Murray of
EmilyGeorge, BrandyHarmon,
Jaime Arena, Betsy Griffith,
Peter Hollands, Kelsey LaVare,
RebekahMiller, JessicaMortim-
er, Shelbi O'Geen, Erica Parker,
Samantha Platek, Nicole Poli-
soto, William Simmons, Jordan
Tillotson, Hailey White, Sarah
Richard Apley, James Bab-
cock, Trevor Berkemeier, Brian
DeFisher,KaitlinDraper,Charles
Janes, Marissa Kingsley, Sean
Love, Cody NiCastro, Johna-
than Peritore, Peter Sherman of
Jennifer Cone, NicoleMoody
ROBLEE
Plumbing&Heating, LLC
10991LakeRd., Pavilion • (585) 584-3841
Full Insured
LUXAIRE
GOULD
NYSCertifiedBackflowTester
Water&Sewer Lines •Water Treatment&ConditioningSystems