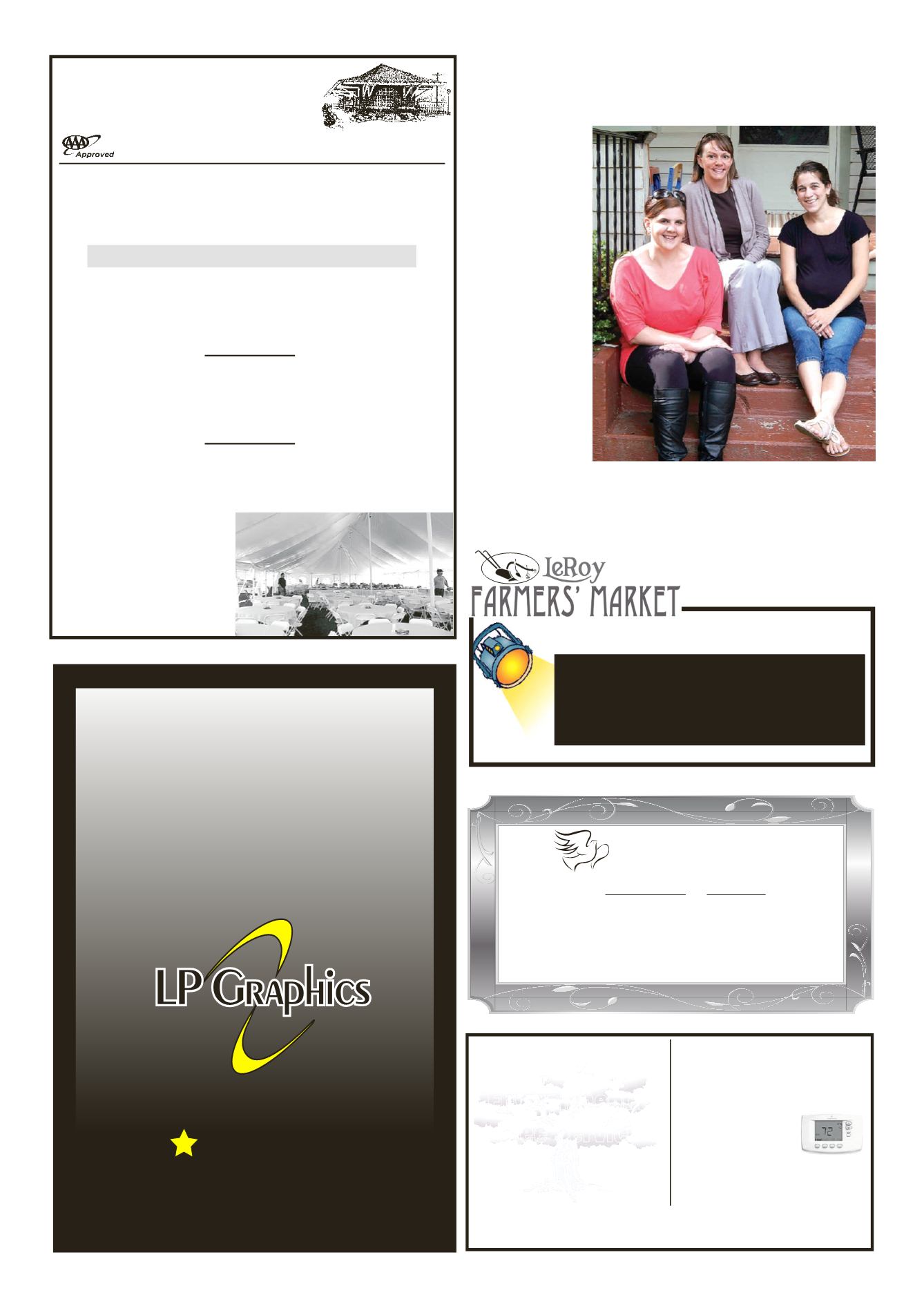 LEROYPENNYSAVER&NEWS - JUNE 29, 2014
D&RDepot
63LakeSt. (Rt. 19), LeRoy• 768-6270
Let'sMeetAt The ...
OpenForBreakfast, Lunch&Dinner - 7DaysAWeek 7am-9pm
F
ALCONE
F
AMILY
Funeral&Cremation Service, Inc.
Director/Owner
Director /Owner
FuneralDirector
SUNDAY, JUNE 29thDINNERSPECIAL
VIRGINIABAKEDHAMDinner - $15.99
(includes soup or salad, scalloped potatoes, beverage
and pineapple upside down cake)
TheDepotWillNotBeOpenOnFriday, July 4th
SUNDAY, JULY6thDINNERSPECIAL
BARBECUEDCHICKENn'RIBSDinnerSpecial - $16.99
(includes soup or salad, potato salad, beverage
andChessCake dessert)
SUNDAYJULY13thDINNERSPECIAL
HOMEMADECRABCAKESDINNER - $16.99
(includes chilled Strawberry soup, potato salad, beverage
and a crème puff for dessert)
TheDepot's new sister company, DoubleLRentals - offering tables, chairs,
heaters, bars, linens, dishes& catering supplies for your special occasions!
10%Discount
when youuseboth the
D&RCateringServices
andDoubleLRental
foryour event.Visit
doublelrental.com
or call us at
(585) 344-0023
Malovich
Environmental
Tree Service
•TreeTrimming
•TreeRemoval
•StumpGrinding
FreeEstimates • Fully Insured
24Hour Service
•Residential
•MobileHomes
•ServiceRepairs
•New Installations
•ChimneyCleaning/Repairs
•ChimneyLiners
585-409-6509
eRoyFarmer'sMarket onFacebook
TRIGON PARK
Saturday, July 5th
9:00 am-12:30 pm
LOCAL • FRESH•DELICIOUS •NUTRITIOUS
Seasonal Fruits andVegetablesWill BeArrivingWeekly!
J&WFarm
has been in the business of raising fresh produce
since 1978. Our small family farm goal is to offer consistently
freshproducts.This isdoneby staggering theplantingof almost
r customers can always count on young,
s. We have a stand at ...
Rd. LeRoy and canbe found at
LeRoyFarmers'Market - Saturdays 9 a.m. to 12:30p.m.
Upon embark-
ing on our 26th
year, the Oatka
Festival Com-
mittee would
like to proudly
introduce three
new committee
members to their
team: Samantha
Vagg, StacieMa-
jor and Lauren
Humphrey, all
of LeRoy. With
several veteran
members step-
ping down after
many years of
service, the new
additions bring varied skills and talent to the table that will
re-energize theannual celebration. Besure to join thecommittee
and the rest of the community in this year's festivities on July
19th& 20th!
OatkaFestival Introduces
NewCommitteeMembers
1CHURCHST, • LEROY, NY • lpgraphics.net
WEHANDLEALLASPECTSOFPRINTING...
PROGRAMS
LETTERHEADS
BILLHEADS
FLYERS
BROCHURES
POSTERS
CARBONLESSFORMS
ENVELOPES
RAFFLETICKETS
NEWSLETTERS
RESUMES
TYPESETTING
RUBBERSTAMPS
ENGRAVEDSIGNS
NAMETAGS
COPIES
LAMINATION
COMMUNITYFAX
NEWSANDPICTURES
ADVERTISING
BUSINESSCARDS
HOURS: Monday thruFriday8:00 to 5:00