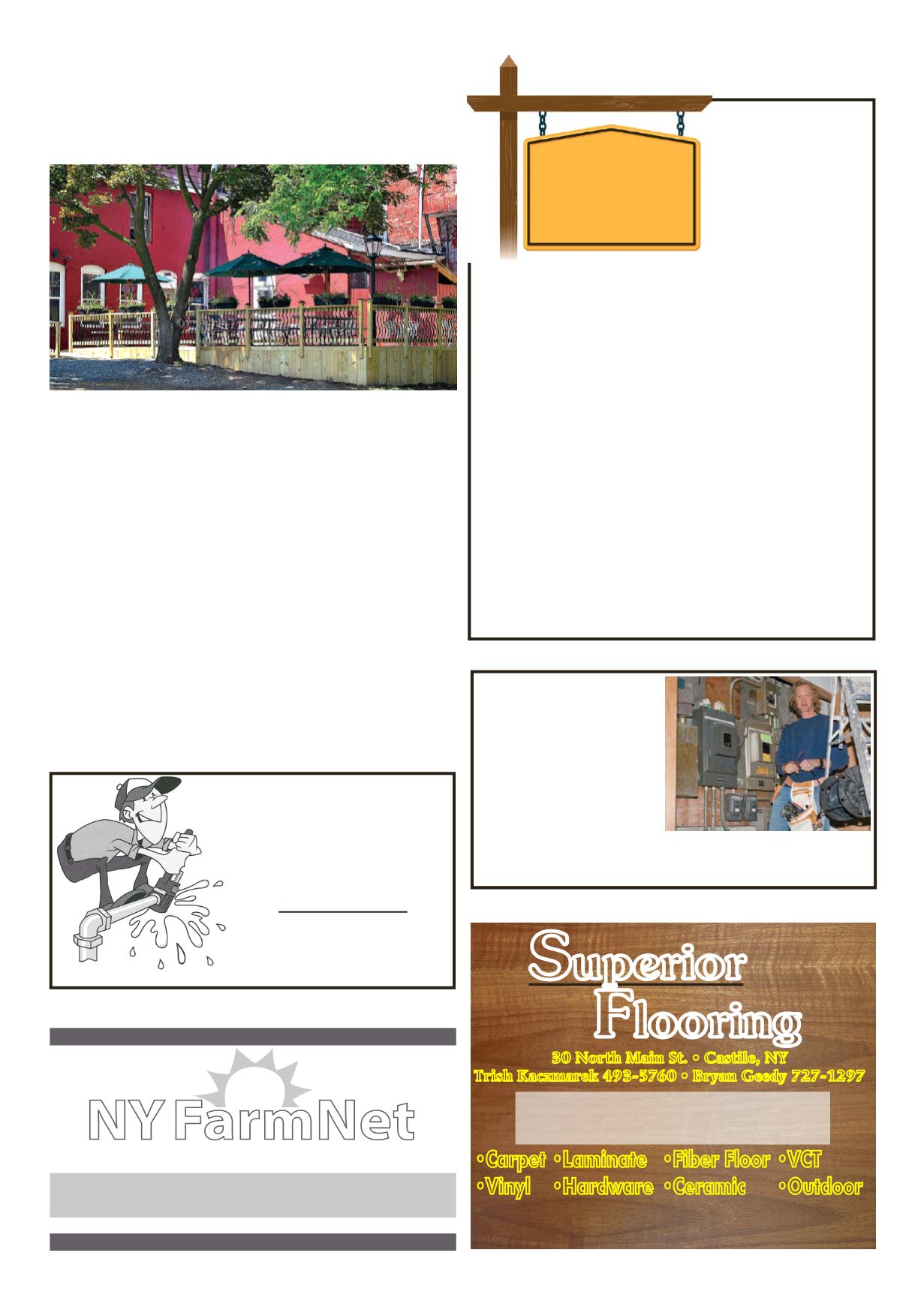 LEROYPENNYSAVER&NEWS - JUNE 15, 2014
HELP
WANTED
Electricianand
ElectricianHelpers
Must have transportation and tools.
Call Dave - 585.494.2400
Dave Salway
PlumbingLLC
7100QuinlanRoad
LeRoy,NY 14482
Cell Phone: 585-721-8446
HomePhone: 585-768-8446
When you callDave, yougetDave!
NYFarm
Net
Brightening the futureofNYagriculture since1986
BusinessPlanning •Retirement&EstatePlanning
FinancialAnalysis •StressManagement
PersonalWellbeing •BusinessTransfers
1.800.547.FARM • NYFarmNet.org
100% FREE&CONFIDENTIAL
30NorthMain St. •Castile,NY
TrishKaczmarek493-5760 •BryanGeedy727-1297
We have it all!
WBECertified FREEESTIMATES
•Carpet •Laminate •Fiber Floor •VCT
•Vinyl •Hardware •Ceramic •Outdoor
Serving you the best
Price •Quality& Flooring around!
Our mother, Eveline, has moved and we have had to
significantlydownsizeher.Weare selling the contents
ofherapartment.ThoseofyouwhoknowEveline,know
that she boughtQUALITY stuff.
Items Include ...
FURNITURE
- chairs, bookcases, lamps, chests;
KITCHEN
- Pots, pans, dishes, utensils, silverware,
DECORATIVE
- Paintings, chotskies,mirrors
TOOLS/HARDWARE
-Powerdrills,misc.hardware
(an entire chest full), power/extension cords.
AREARUGS
With the arrival of summer,
comes a new addition to the
outdoor dining experience at the
local eatery and bar, Smokin'
EagleBBQ&Brew, located at 9
MainSt., in the heart of LeRoy.
welcomed the improvements to
date, including a Smoked BBQ
menu and concept, newMen's
and Women's restrooms, fresh
paint- insideandout,updatedbar
décor, and increased live enter-
tainment,whichboastsanocover
charge policy for it's patron's.
Themost recent improvement
comes in the formofa largedeck/
patio that stretches almost 1,500
square feet! The space is going
to be used for increased outdoor
seating as well as this summer's
outdoor concert series, that will
focus on acoustic acts as well
as summertime food and drink
favorites like Steamed Clams,
BBQ, Ice Cold Buckets of Beer
and Delicious Frozen Concoc-
to be held on Thursday, June 19
starting at 6pm. Livemusicwill
be performed by Chris Moore
andScott Roblee. TheAmerican
Harvest vodka girls will also be
there promoting the event. The
Smokin' Eagle will be offering
free smokedwings! (While sup-
Smokin'EagleBBQ&Brew
OutdoorDeck
OpenForBusiness