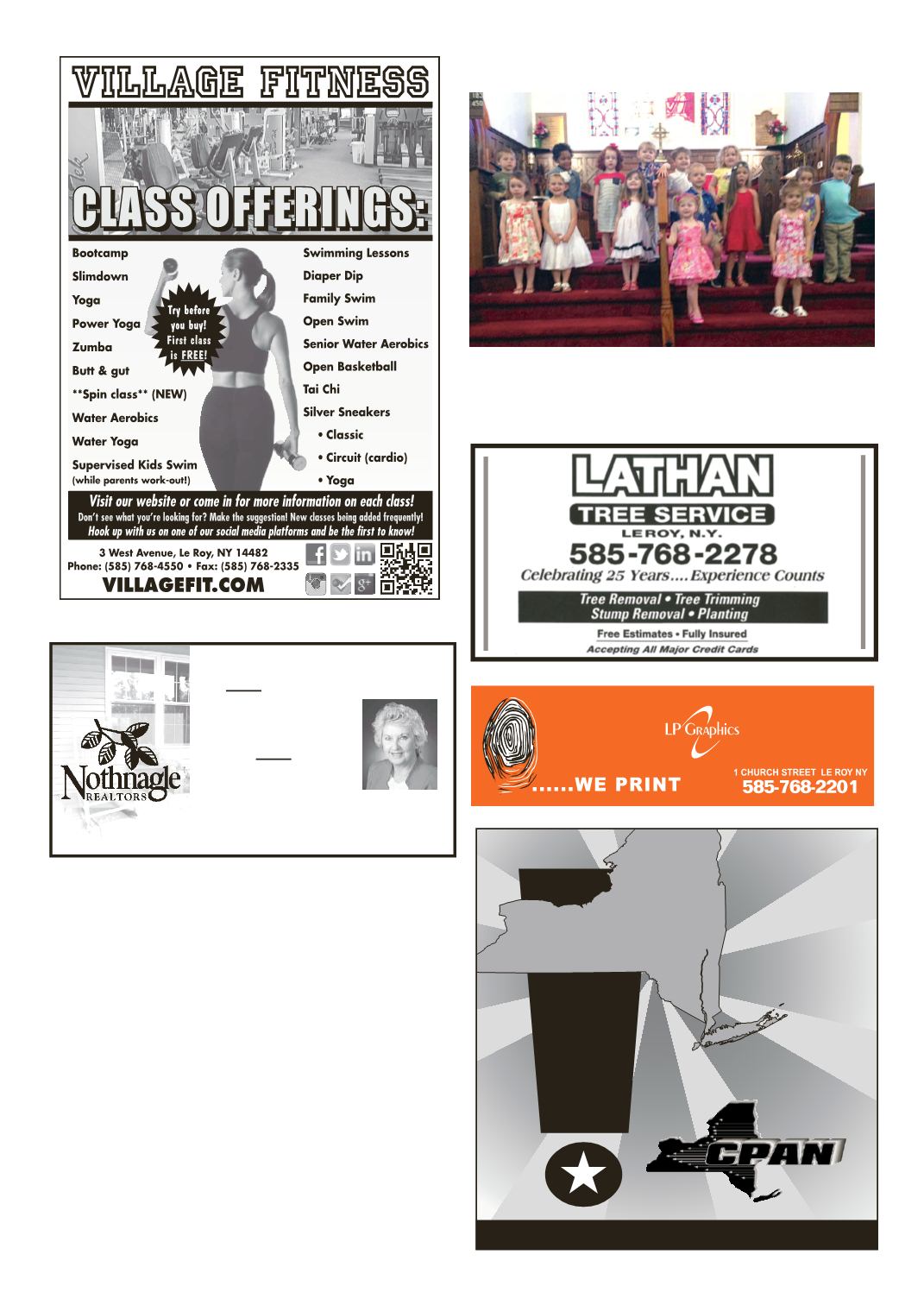 LEROYPENNYSAVER&NEWS - JUNE 15, 2014
Batavia
585-343-6750
NOW is theBEST time
toBUYwith the interest rates
at their lowest!
Don't wait
toBUY -
call
LindaBeaumont
for all your real
estateneeds.
LindaBeaumont
Home (585) 768-6315
LicensedReal Estate
Salesperson
Multi-MillionDollar Producer
ONE
ONE
*$490 for15words. $15 foreachadditionalword.
AGreat Deal toReach theWholeState!
Sunshine's Nursery class celebrated the end of Nursery school
at theirmoving up ceremony. The children performed several
of their favorite songs for Sunshine friends and families. Mrs.
Suriano andMrs. Caddell couldn't havebeenmoreproud!
MovingOnUp
06/11/2014-TheLeRoyPoliceDepartment isaskingall citizens to
be vigilant for scams over the telephone and/or computer. Recently
twocitizens receivedcalls frompersonspretending tobea"relative"
from out of statewhowas in jail and neededmoney to get out. The
caller asked the citizen to go to a nearby pharmacy to purchase a
"green dot" card or other liquid transferable funds and have the
money sent to them for bail.
It is important for all toknow that these callers are reallyunscru-
pulous andwill steal asmuchmoney as you send to themup to and
including your life savings if not stopped. Further, once you have
been targeted the caller will continue to call you attempting to vic-
timize you numerous times.
If you receive a suspicious phone calls or e-mails, please contact
theLeRoyPoliceDepartment or your local PoliceagencyBEFORE
SENDINGANYMONEY so we can assist you in determining if
Once themoneyhasbeensent, there is little tonochanceofgetting
it backor determining/identifying the scammer.
lpgraphics.net