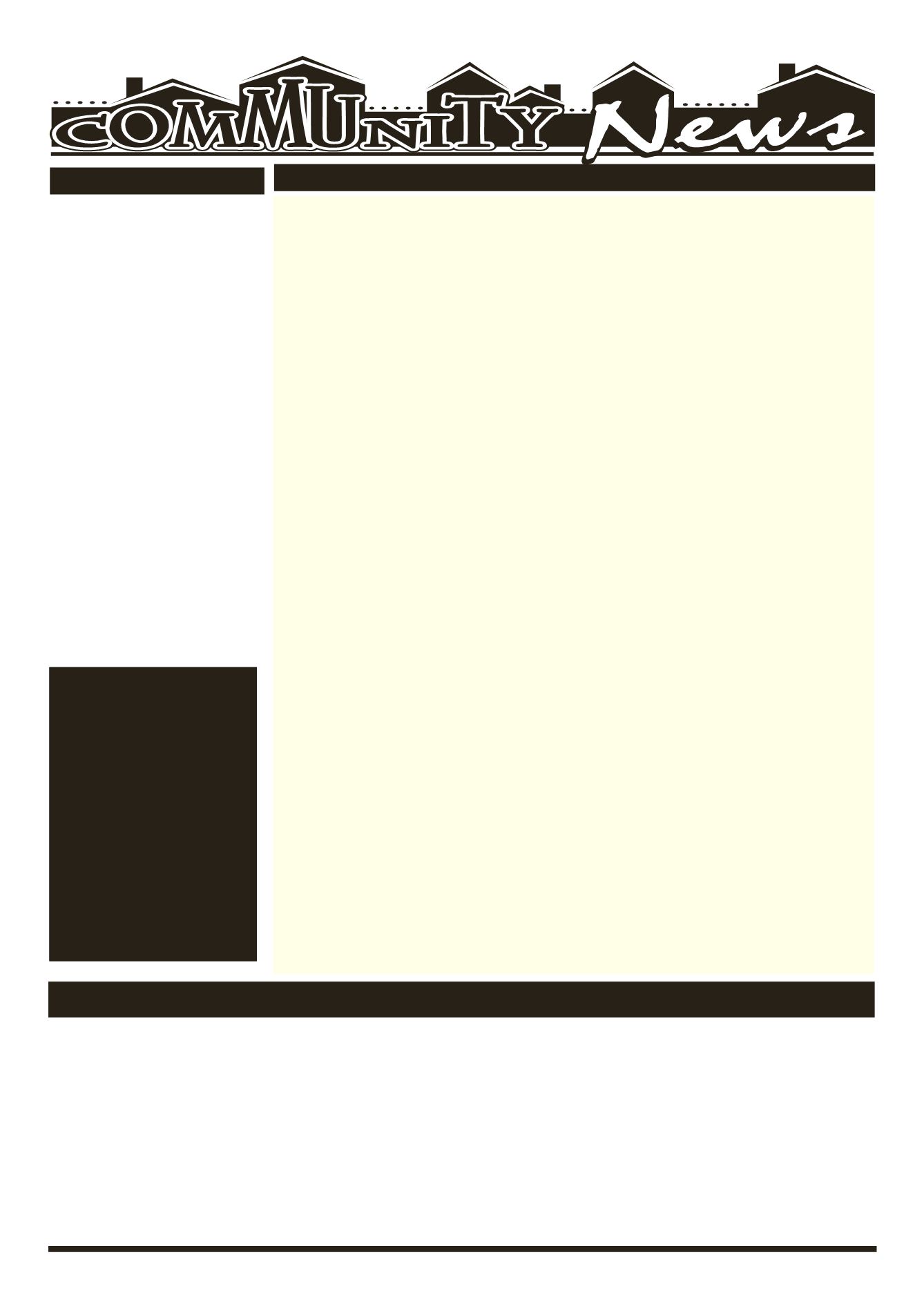 LEROYPENNYSAVER&NEWS - JUNE 15, 2014
All GeneseeCounty residents, 60andolder, can takepart in thisweek'sactivitiesat theBataviaSenior Center, 2BankSt., Batavia. Formore information, call 343-1611.
WEEKLYEVENTS
OBITUARIES
ArthritisExercise
is scheduled for 9:30a.m.;
Bridge
TheLifespanMeetin
g is set tobeginat 1:00p.m.
NewsletterAssembly
isall set tobeginat 8:45a.m..;
Cribbage
Quilters
are scheduled tomeet at 9:00a.m.;
Euchre
is scheduled tobeginat 1:00p.m.
A representative from IndependentHealth
will beavailable from9:30a.m. to11:30a.m.;
Lifespan isholdingameeting
CribbageandBridge
MusicalKeyboardLessons
arescheduled tobeginat2:30p.m.;
Medicare101
ArtClassandLineDancing
TaiChi
SUNDAY, JUNE15
AWANA Program at Penuel Christian Fellowship.
MainStreet. Sundays12:15 to1:45pm.Ages5-17broken into
groups. Developing friendships. Having fun. Learning about
Konnect YouthGroupat LivingWaters Church,
St. LeRoy. Sundays from 6:30 to 8:30 pm for ages 12-18.
"Bring Down all theWalls! Connect with God and Connect
with others." For more information, check us out online at:
livingwatersleroy.org/konnect-youth-ministry/
MONDAY, JUNE16
TOPS (TakeOffPounds Sensibly)
from6:30-7:15pmat theLeRoyPresbyterianChurch, cornerof
Clay &Main Streets. Visitors always welcome. Call 768-2933
TUESDAY, JUNE17
LCCP's GRACE'S KITCHEN:
A FREE dinner every Tuesday
evening, 5-7 pm at the LeRoy UnitedMethodist Church, 10
TrigonPark. ParkingavailableonTrigonPark& the lots to the
leftandbackof theChurch.HandicappedEntrance in theback
of theChurch. Takeout&deliveryareavailable. Formore info.
Town of LeRoy Planning BoardMeeting
7:30 pm at the Town Hall, 48 Main St. For further info. call
WEDNESDAY, JUNE18
TheGeneseeValley CivilWar Roundtable
ZimmermanRobinsonon"CaptainErwinBowenofthe28thNY
Volunteers-151stNYVolunteers"at7:30PM .Themeetingwill
takeplace at the LeRoyUnitedMethodist Church at 10Trigon
Park inLeRoy.Pleaseusethefrontdoorontherightattheendof
the longsidewalk.Discussionperiodwill follow.Newmembers
welcome.Marywill bediscussinghergreatgreatgrandfather.
Itwill bean interestingprogram.
TheJuneMeetingOfTheLeRoy-StaffordSeniorCitizens
Will BeHeld at 6:00 P.m. At The KOf CMeetingHall OnWest
MainSt.BehindSave-A-Lot. ThisWillBeAPotLuckSupperAnd
YouShouldBringYourOwnPlaceSettingAndAGenerousDish
ToPass. DessertWill BeFurnished. MusicianGeoffreyClough
THURSDAY, JUNE19
Genesee Veterans Support Network
the development of Veterans focused AA meetings every
Thursday, 6-7pmat the First Baptist Church, 306 E.Main St.,
Batavia.Meetings ledbyMikeW.&areopen tonon-veterans
as well. Handicap accessible. For additional information call
GRACE'S CLOSET: A Clothing Giveaway Program
sored by Le Roy UnitedMethodist Church, 10Trigon Park, Le
Roy. 9:30 am to11:30 am everyThursday. Wehave clothing
for all ages. Spring & Summer clothing now being put in
place. We are inneed of lighter coats, clothing, shoes, paja-
mas, bedding, sheets in all bed sizes. We accept donations
bedroppedoffat thehousenext to the church. Pleaseput all
bags INSIDE on thebackporch. Noelectronics,TV's, comput-
ers, dishes, etc. Anyquestions call theoffice768-8980
FRIDAY, JUNE20
Penuel ChristianFellowship,
One Step to Freedom addic-
tionsministry, aChristCenteredAddictionsprogram, aweek-
ly meeting every Friday at 7 pm. Call the Church for more
informationat768-6901or406-3863.
UPCOMINGEVENTS
LCCP'sMommy&MePlaygroup:Every2nd&4thFriday,
12:00-1:30, Le Roy Physical Therapy (in the back gym). Any
moms and their birth-kindergarten children arewelcome to
come enjoy socialization, lunch, coffee, structured games &
The Stafford Historical Society's monthlymeeting
Wednesday, June 25, 2014, will be presenting a program by
Terry C. Abrams, the Administrative Coordinator of Western
New York Association of Historical Agencies (WNYAHA) and
vice-president of theTonawanda ReservationHistorical Soci-
ety. Hisprogramwillbeon thehistoryof theTonawandaRes-
ervation, including thepre-reservationera, the treatyera, Ely
Parker's role in saving the reservation and information about
the reservation of today. Themeeting starts at 7:00 P.M. at
theStaffordTownHallCourtRoom locatedat8903Route237.
CommunityCalendar Submissions shouldbe sent to:
LEROY -ThomasJ.McGeeJr.,64,ofWellsville,
formerlyofLeRoy,passedawayearlyThursday
morning (June5,2014)atStrongMemorialHos-
pital in Rochester. In lieu of flowers, memorial
contributionsaresuggested toAlleganyCounty
CancerServices, Inc.,100SouthHighlandAve.,
BETHANY — Edward "Ronald" Maliszewski,
60, passed away Thursday (June 5, 2014)
at his home under the care of his family and
HomeCare & Hospice. In lieu of flowers, me-
morials may be made to Crossroads House,
P.O. Box 403, Batavia, NY 14021 or Roswell
Park Memorial Institute, PO Box 631, Buffalo,
LEROY—MaryLou Fillette, 60, of East Main
Road, passed away Friday afternoon (June 6,
2014) at Rochester General Hospital after an
unexpected illness. Memorials are suggested
PAVILION—NancyM.Gill,75,ofPeoriaRoad,
Pavilion passed away Friday (June 6, 2014) at
theUnitedMemorialMedicalCenter inBatavia.
LE ROY — H. Patricia Czadzek, residing at
McAuleyManor,Hornell,and formallyofWarsaw
Road, Le Roy, passed away Sunday (June 8,
2014) at age 92. Memorials may be made to
Le Roy
Pennysaver