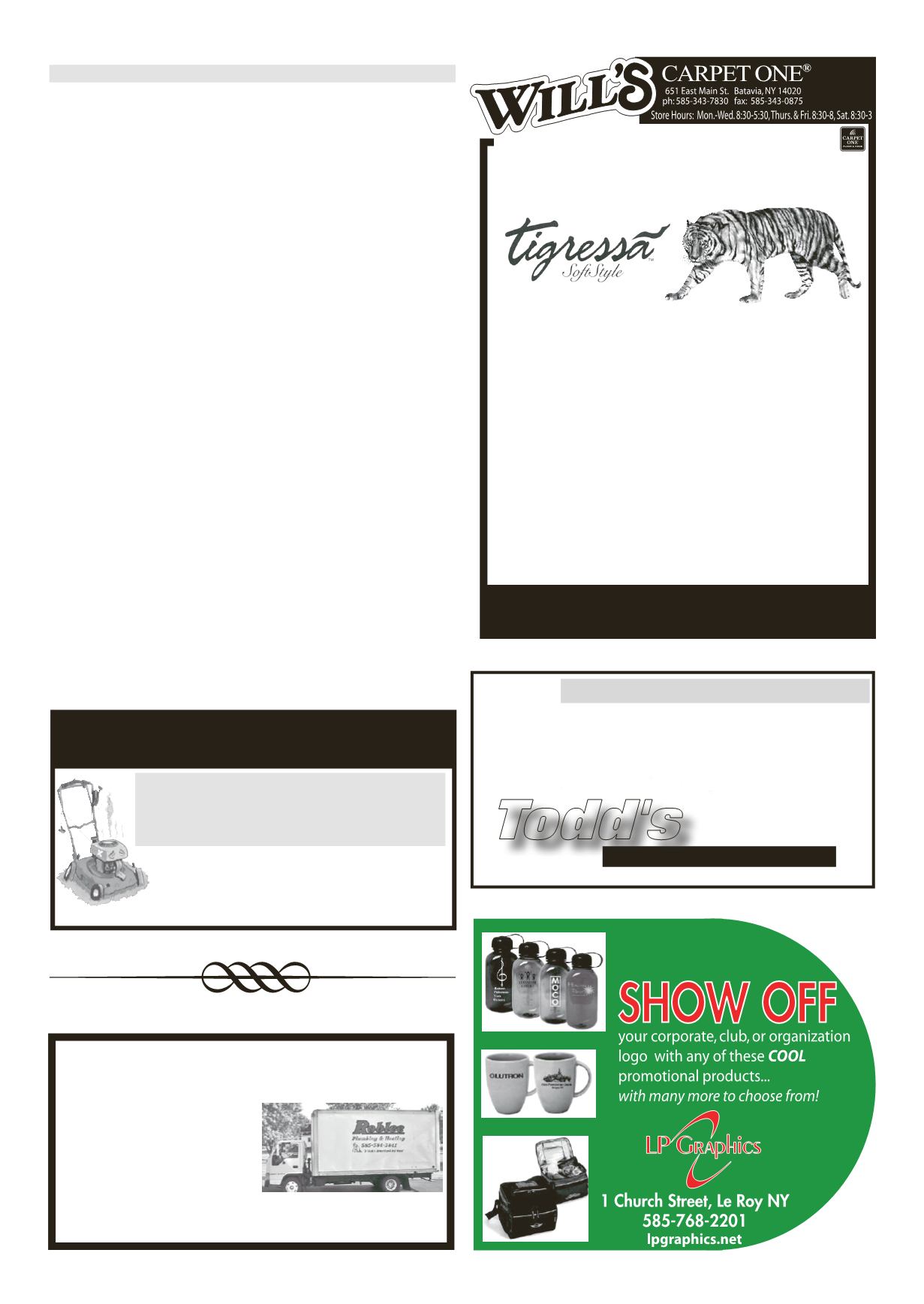 LEROYPENNYSAVER&NEWS - JUNE 15, 2014
FLOOR
&HOME
TheONE store for your perfect floor.
NewHomes •Additions •Garages •PoleBarns
ToddCarli • Phone 703-0964
Todd's
Decks •Windows •Doors
Kitchens •Baths
CeramicTile
Basement Finishing
CustomShelves/Built-Ins
Siding •Remodeling
Roofing • SnowPlowing
FULLY INSURED
• 18MonthFinancingAvailableForQualifiedCustomers
•FreeEstimates
Select Styles
StartingAt $2.69 sq. ft. • Installedw/a 6# pad
Hurry! LimitedTimeOnly!
Notes From TheMayor's Office
byGreg 'Porp"Rogers
Mayor
Let's not get the cart in front
of the horse. On Friday, May
Batavia Daily News
reported that, Iwanted to be the
last Mayor of LeRoy. This is a
true statement and I didmake it.
However there are a multitude
of issues that need be addressed
before this could happen, which
is why the Village Board is
going to be proactive seeking
grants to do these studies. The
Governor is giving incentives to
municipalities who are willing
to consolidate, and the timing
It is our position that any
movewould have to have some
benefit to all and be in the spirit
of the greater goodof thewhole
community. Iappreciate that Jim
Krencik , expressing the fact that
it was said twice, that anymove
couldnothaveanyadverseeffect
on our agricultural community,
which is something I believe
very strongly in. Over the past
years theVillagehasdoneagood
job reducing their debt,which is
another reason the timing could
be right, so in short we will be
looking into anything we can
do to lower the tax rate in our
One of the issues that face our
Village is thegrowingnumberof
abandoned, andbeing foreclosed
upon houses, this usuallymeans
unkempt lawns and unsightly
properties. The Village Board
has begun to address this situ-
ation, we are looking for a tax
incentive of some sort to people
buying thesehomesandbringing
them up to an inhabitable status.
We have formed a committee
and will be pushing forward to
keep our neighborhoods looking
good. We are also looking into
othermunicipality's codes to see
how they address this situation,
as well trying to get the lending
institution to act faster on such
On a much brighter note, the
Farmers'Market is up and run-
ning so try to support our local
farmers and stand operators.
This is part of the charm of our
"The 6 W's: Work will win
when wishing won't". Todd
ROBLEE
Plumbing&Heating, LLC
10991LakeRd., Pavilion • (585) 584-3841
Full Insured
LUXAIRE
GOULD
NYSCertifiedBackflowTester
Water&Sewer Lines •Water Treatment&ConditioningSystems
•Engine andTransmissionRebuilds
•Lawn andGardenEquipment •ATV's, Dirt Bikes
•PickUp andDeliveryAvailable
Hours: Tues.,Wed. 6 pm to 8 pm
Thurs., Fri., Sat. 9 am to 6 pm, Closed Sun.,Mon.
8525Rt. 237, Stafford,NY14143