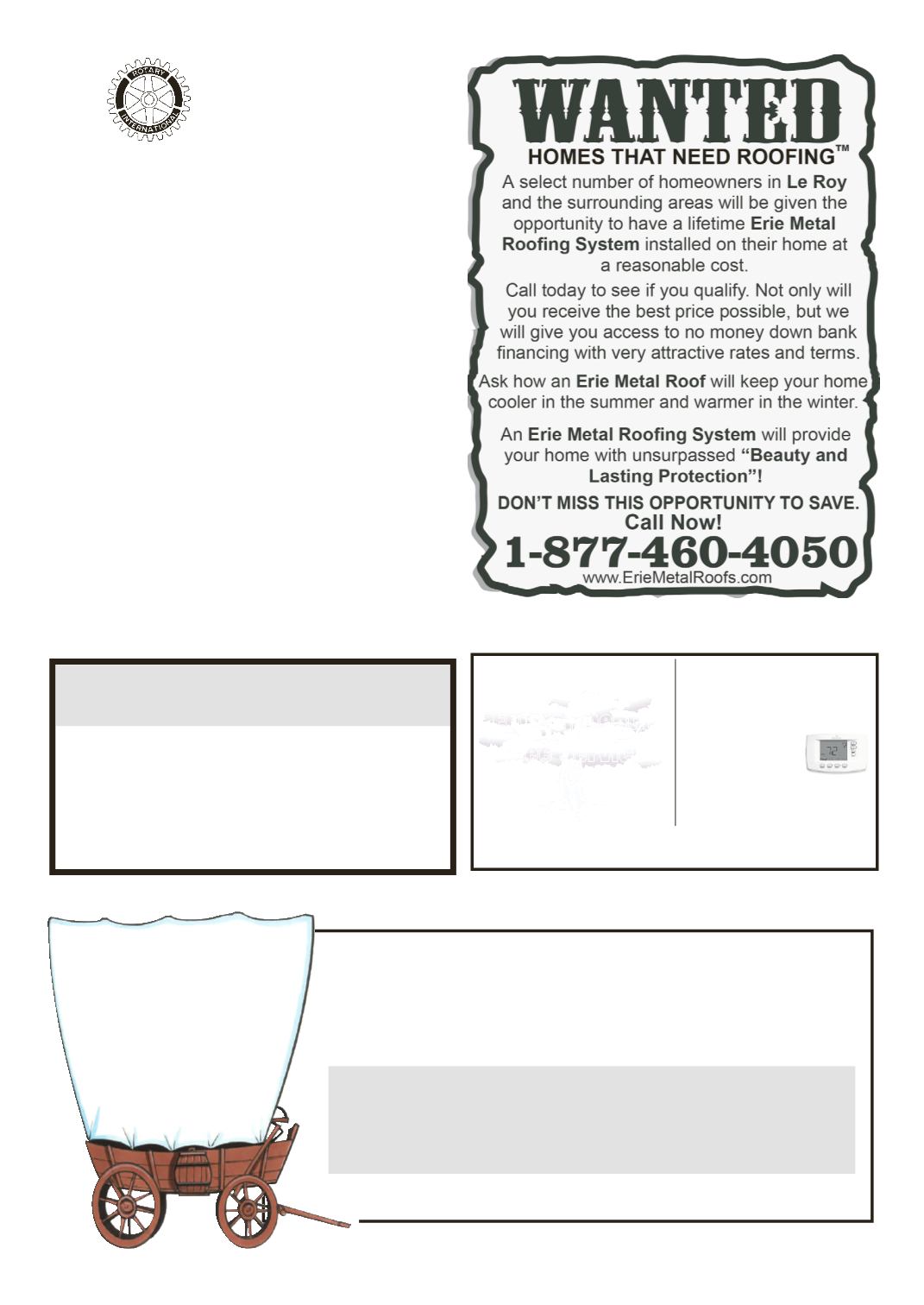 LEROYPENNYSAVER&NEWS - JUNE 15, 2014
WeCan't DoBusiness FromAn EmptyWagon
SERIOUSLY,WENEED LISTINGS!
Why?Becausewehavea varietyof buyers looking for properties.
Now is the time to list your propertywithus.
WE SPECIALIZE INYOURAREA!
We feel that amajor part of our success is due to the fact
thatwe specialize inacertainarea.
(LeRoy•Caledonia• Pavilion• StaffordandBergen)
Giveus a try, youwon't bedisappointed!
NOT THE BIGGEST - JUST THE BEST!
LeRotary
Notes
Itwasa fullhouseasPresident
Tracy rang the bell to begin the
June 4th weeklymeeting of the
LeRoy Rotary Club. Guests
today included Le Roy High
School Seniors, three PerryRo-
tarians and two representatives
number of worthwhile com-
munity activities. Bob Bennett
informed us that on July 26th
theYWCAwill be hosting their
annual Wheels and Heels fund
raiser. Proceeds will go to sup-
port theY's Domestic Violence
programs. JimEllison reminded
Rotarymembers that the annual
InstallationBanquet isJune24th.
Jimwould appreciate your sign
There were several members
withmissedmeetings. 16make-
ups were provided while Tracy
Martorana,TimMoag andSteve
Zocco offered green cards.
FineswereaplentyasPresident
Tracy is rounding out her year
andhadmanyRotarians to catch
up. Most were victims of the
President Tracy reminded us
that June is Rotary Fellowships
month and encouraged everyone
to review the materials she dis-
Jen Paxhia and JeanneWalton
provided a brief presentation on
theYWCA's Summer FiledTrip
Scholarship Fund. The program
providesassistance to familiesby
offeringchildcare throughout the
summer.Thechildrenparticipate
in theYWCAAdventureProgram
and the fundcoversfield trip fees,
admission costs, and transpor-
tation. Many Le Roy children
benefit from the program.
Don't forget toLikeusonFace-
bookat "RotaryClubofLeRoy".
ALLWORKMANSHIP GUARANTEED • INSURED
297-9097 • 768-7737
• InteriorPainting
• Plaster/LathRestoration
•Drywall&DrywallRepair
•TextureRemoval
• Floors Stripped
&Refinished
•OldCeilings&Walls
MadeLikeNew!
MikeDarby'sPatch&Paint
Malovich
Environmental
Tree Service
•TreeTrimming
•TreeRemoval
•StumpGrinding
FreeEstimates • Fully Insured
24Hour Service
•Residential
•MobileHomes
•ServiceRepairs
•New Installations
•ChimneyCleaning/Repairs
•ChimneyLiners
585-409-6509