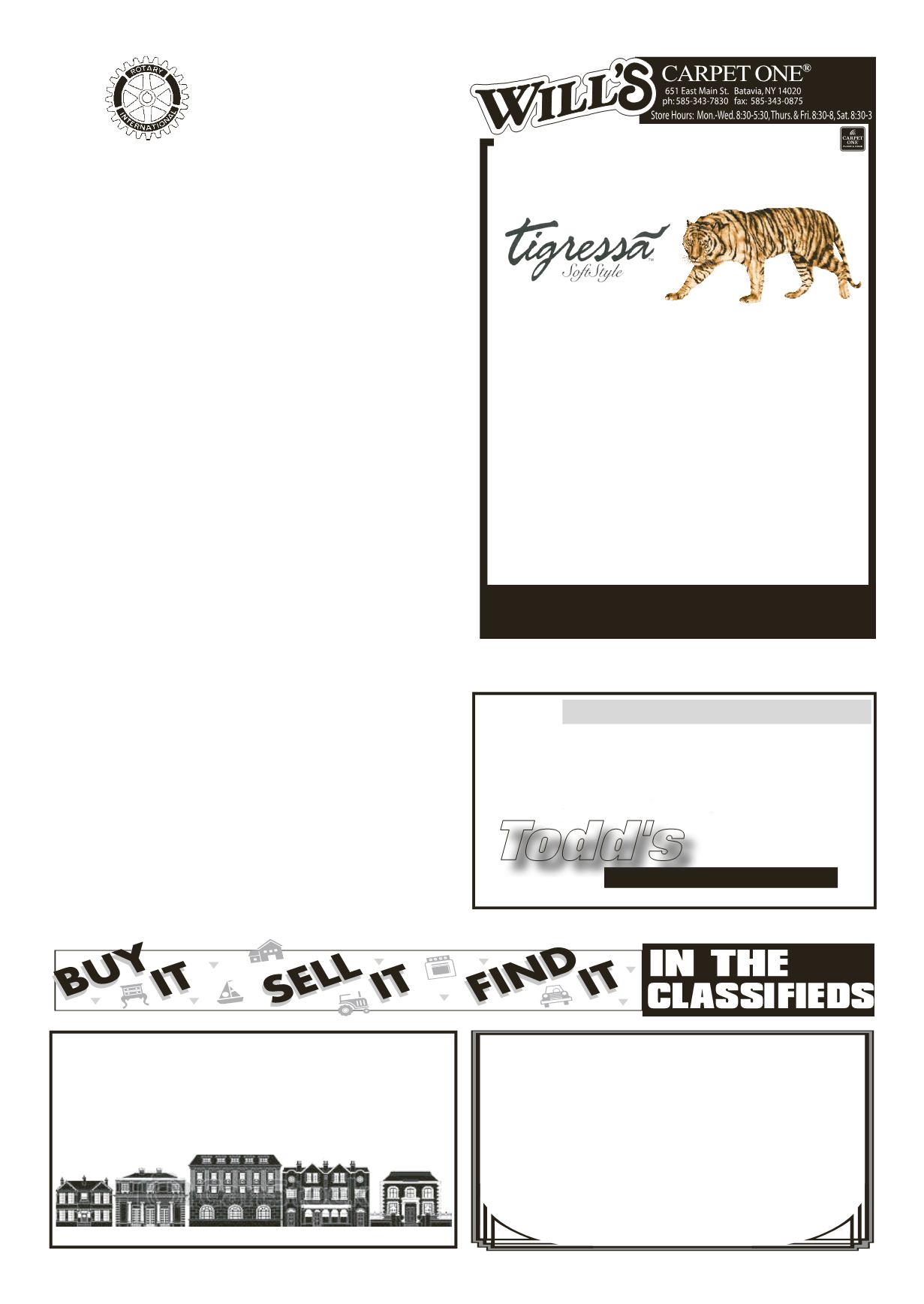 LEROYPENNYSAVER&NEWS -MAY 18, 2014
FLOOR
&HOME
TheONE store for your perfect floor.
Rider Real Estate
"Not TheBiggest, Just TheBest"
Howard E. Hotze, Jr.
Sales Associate
20YearOf Appraisal&MortgageFinancingExperience
Cell Phone: 690-7811
"PeopleYouKnow&Trust"
LeRotary
Notes
NewHomes •Additions •Garages •PoleBarns
ToddCarli • Phone 703-0964
Todd's
Decks •Windows •Doors
Kitchens •Baths
CeramicTile
Basement Finishing
CustomShelves/Built-Ins
Siding •Remodeling
Roofing • SnowPlowing
FULLY INSURED
• 18MonthFinancingAvailableForQualifiedCustomers
•FreeEstimates
Select Styles
StartingAt $2.69 sq. ft. • Installedw/a 6# pad
Hurry! LimitedTimeOnly!
A sincere thank you to everyone
for all their acts of kindness, mass cards,
foodandmonetary donations in honor of our
"beloved"Augie's passing.
Your caring and sharingwill always be remembered.
It was another full house as
President Tracy Ford opened
the meeting at 12:15 pm last
Wednesday!Wehadmore tanned
faces returning from a winter in
PledgeofAllegiance
Grace and the Four-Way Test,
guestsHeatherMcGinnis, Brian
Fuller, and Dolly Bliss of the
PerryRotarywere introduced.
Announcements: Rent-A-Ro-
tarianhappenonMay10th– it's
not too late to get some work
done! The United Way Day of
Caring will be held May 14th.
TheGraze toRaisewillbeheldat
TheGreensonFriday,May16th.
OurnewEarlyActClubs, incon-
junctionwithHealthyCommuni-
ties/HealthyYouthwillbeselling
planters at LCCP's Spring Fling
on June 7th. TheAnnual Rotary
Golf Outing will be held June
11th at Le Roy Country Club.
Contact anyRotarian for details.
We are also accepting dona-
tions of books to the Rotary
ExcitedAboutLiterature(REAL)
programwhichwill provide free
books to the community during
the Farmer's Market on June
21st. The Installation Banquet
will take place June 26th.
President Tracy attempted to
rake in some "green cards" for
missed meetings, but absences
were covered with make-ups.
Ron Pangrazio maintained his
perfect attendance status bypro-
viding 26make-ups for only 24
Thefining sessionproved tobe
a littlemore lucrative.BobBoyce
was proud to announce that his
granddaughter isgraduatingwith
highhonors from IowaState.Ron
Pangrazio paid up for a photo
donning the Santa suit in 2002.
KimCox was fined for setting a
good example for her husband.
CindyBishoppaid forher interest
in birds and a photo of Hitch-
TheBirds
MarciaMcKenzie shared several
exciting things that are keeping
her busy. Steve Zocco was ex-
cited to hand over some cash for
his new truck tires…he bought
four. Bob Bennett was fined for
a photo from the 1970's where
hewas sporting amoustache that
wouldmakeBurtReynolds envi-
ous. RandyVinkwas fined for a
dysfunctional navigation system
Our program was presented
by Kim Cox and Brian Full-
er of Le Roy Central School.
Kim and Brian discussed the
school Budget. It comes in at
$22,600,000 total with an in-
creaseof$554,000 (3.04%).The
tax levy is up 2.6% to $24.50
per $1,000. State Aid is also
up $150,000 from 2013-2014,
but down $400,000 from 2008-
2009. The school population is
projected to remain the same at
approximately 1,250 students.
LeRoyhas ahigher thannormal
transient population with more
families moving in and out of
thearea than surrounding towns.
Remember to"Like"usonFace-
book at "RotaryClub of LeRoy"