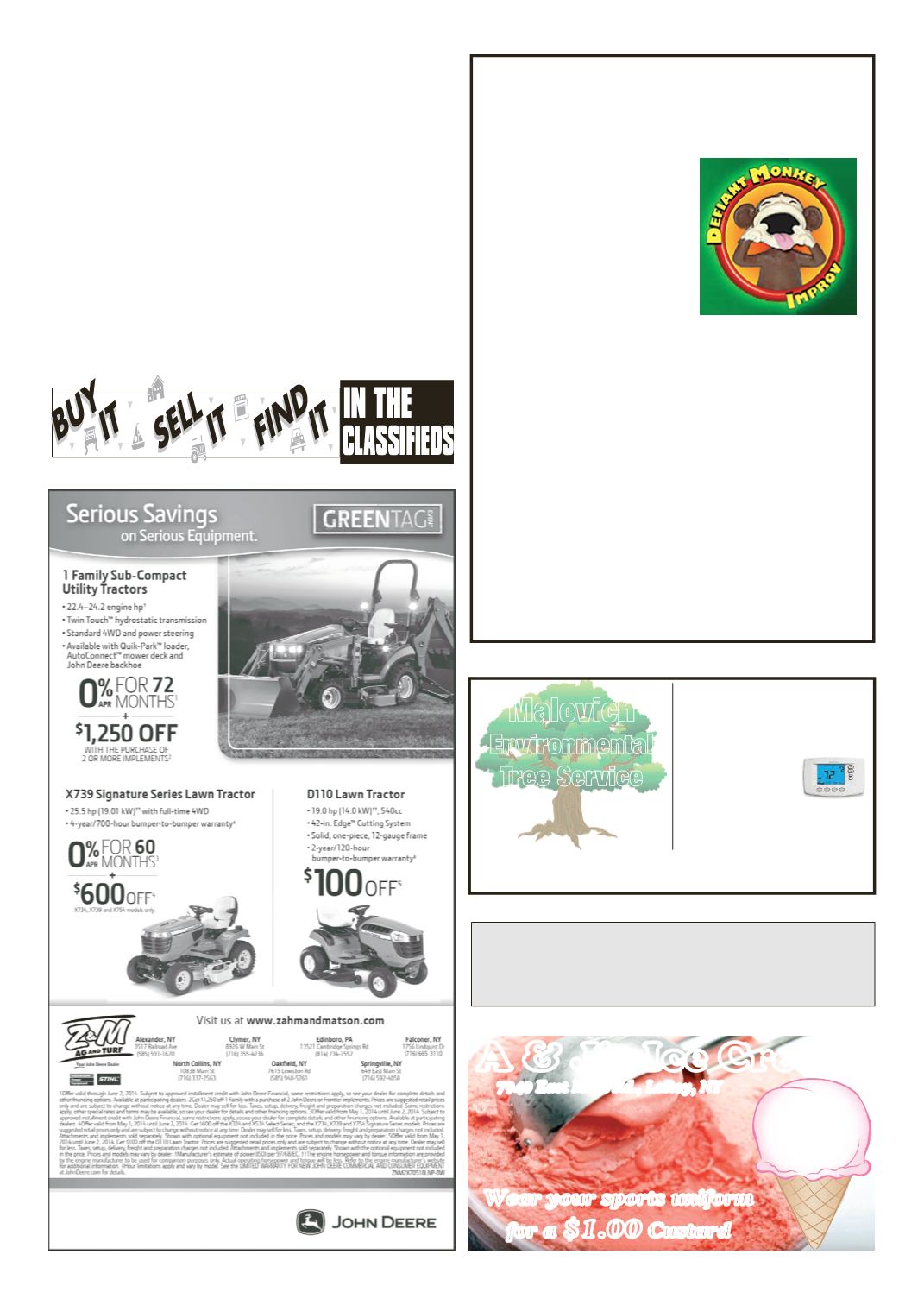 LEROYPENNYSAVER&NEWS -MAY 18, 2014
Malovich
Environmental
Tree Service
•TreeTrimming
•TreeRemoval
•StumpGrinding
FreeEstimates • Fully Insured
24Hour Service
•Residential
•MobileHomes
•ServiceRepairs
•New Installations
•ChimneyCleaning/Repairs
•ChimneyLiners
585-409-6509
iliary Botta FioritoUnit 576 an-
nouncedAvaHorganas the2014
PoppyGirl.A threeyearmember
of theAuxiliary, she has helped
with breakfasts and dinners for
Ava's in 7th grade at LeRoy
Jr./Sr. High School. She enjoys
softball, basketball, soccer and
running. Ava is also involved
in Student Council at Le Roy
AvaHorgan
2014PoppyGirl
Bring theWholeFamily!
ComedyImprov from
Defiant
Monkey
"TheMost
Entertaining
Comedy Show
inWesternNewYork"
FamilyFun andOn-the-SpotComedy!
WoodwardMemorialLibrary
Wednesday,May21
6:30p.m.
Call 768-8300
HighSchool. She is thedaughter
of Dan and Sara Horgan and
granddaughter of Sid and Linda
Horgan, Joan Leitner, and the
late Gary Leitner who served in
The proceeds from the poppy
donation will provide for the
Veterans throughout the years.
YoucanmeetAvaatTopsMarket
7940EastMainRd., LeRoy, NY
SUPPORTYOUR LOCALADVERTISERS!
They help sponsor the local news section of the Le Roy Pennysaver.
THANKS FORYOUR SUPPORT!