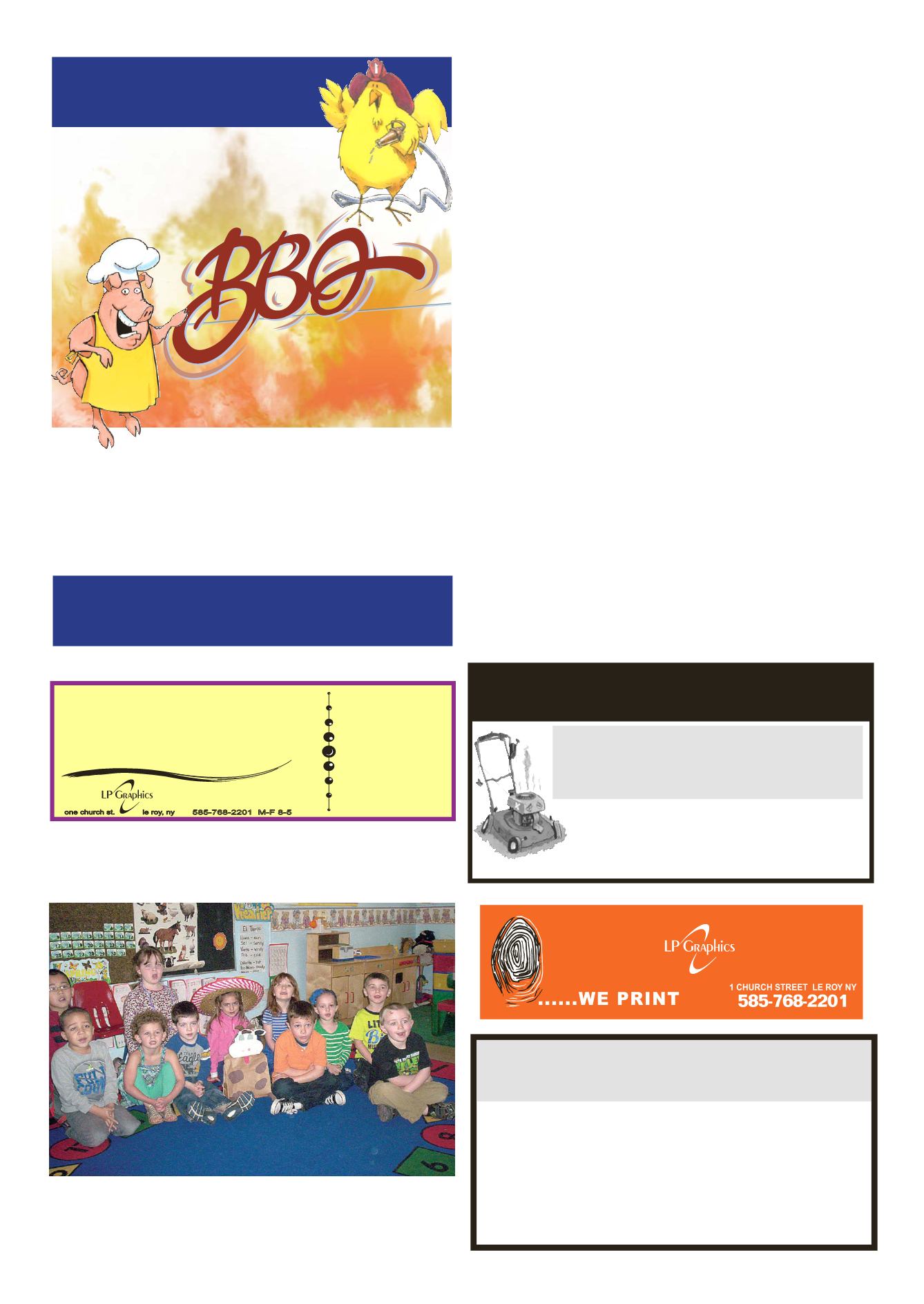 LEROYPENNYSAVER&NEWS -MAY 18, 2014
ALLWORKMANSHIP GUARANTEED • INSURED
297-9097 • 768-7737
• InteriorPainting
• Plaster/LathRestoration
•Drywall&Drywall Repair
•TextureRemoval
• Floors Stripped
&Refinished
•OldCeilings&Walls
MadeLikeNew!
MikeDarby'sPatch&Paint
•Engine andTransmissionRebuilds
•Lawn andGardenEquipment •ATV's, Dirt Bikes
•PickUp andDeliveryAvailable
Hours: Tues.,Wed. 6 pm to 8 pm
Thurs., Fri., Sat. 9 am to 6 pm, Closed Sun.,Mon.
8525Rt. 237, Stafford,NY14143
The Le RoyAmerican Legion
Post576understands thesacrifice
ourArmed Forces havemade to
preserve Freedom and to honor
past and current American ser-
vice members. These members
will wear a redmemorial poppy
as a signof their appreciationon
TheAmericanLegionAuxiliary
memorial poppy is a symbol of
thepriceofwar and the sacrifice
Thenearlyonemillionmembers
of theAmericanLegionAuxilia-
ry, the world's largest patriotic
service organization of women,
areaskingeveryAmericancitizen
to wear a poppy on the obser-
vanceofMemorialDay,Monday,
May26th2014, inaddition to the
"Wear it in honor of the mil-
lions of Americans who have
willingly served our nation, all
too many of whom have made
weekend will pay an honored
tribute to all veterans, especially
those who are currently serving
Thepoppyalsohonors thehos-
pitalized and disabled veterans
whomake these red handcrafted
flowers. The poppy continues
to provide a financial and ther-
apeutic benefit to those veterans
who construct them as well as
benefiting thousands of other
veteransand their familiesby the
revenues collected from poppy
In the battlefields of Belgium
duringWorldWar I,poppiesgrew
wild amid the ravages of war.
The overturned soils of battle
enabled the poppy seeds to be
covered, allowing them to grow
and forever serve as a reminder
Please join the American Le-
gion Auxiliary in recognizing
the sacrifice of our veterans by
making a donation to the local
poppy fundandbywearing a red
memorial poppy this Memorial
MemorialDay
HonoringAmericanVeterans
LeRoyNurserySchool celebratedCincoDeMayo (May5th). So
appropriate as thePre-KClass learnedSpanish throughout the
year.Thechildreneachhad three tries tohit thecowpiñata.Tons
of stickers spilled out. Theyhad somuch fun gathering them!
CincoDeMayo
one church st. le roy, ny
one church st. le roy, ny
lpgraphics.net