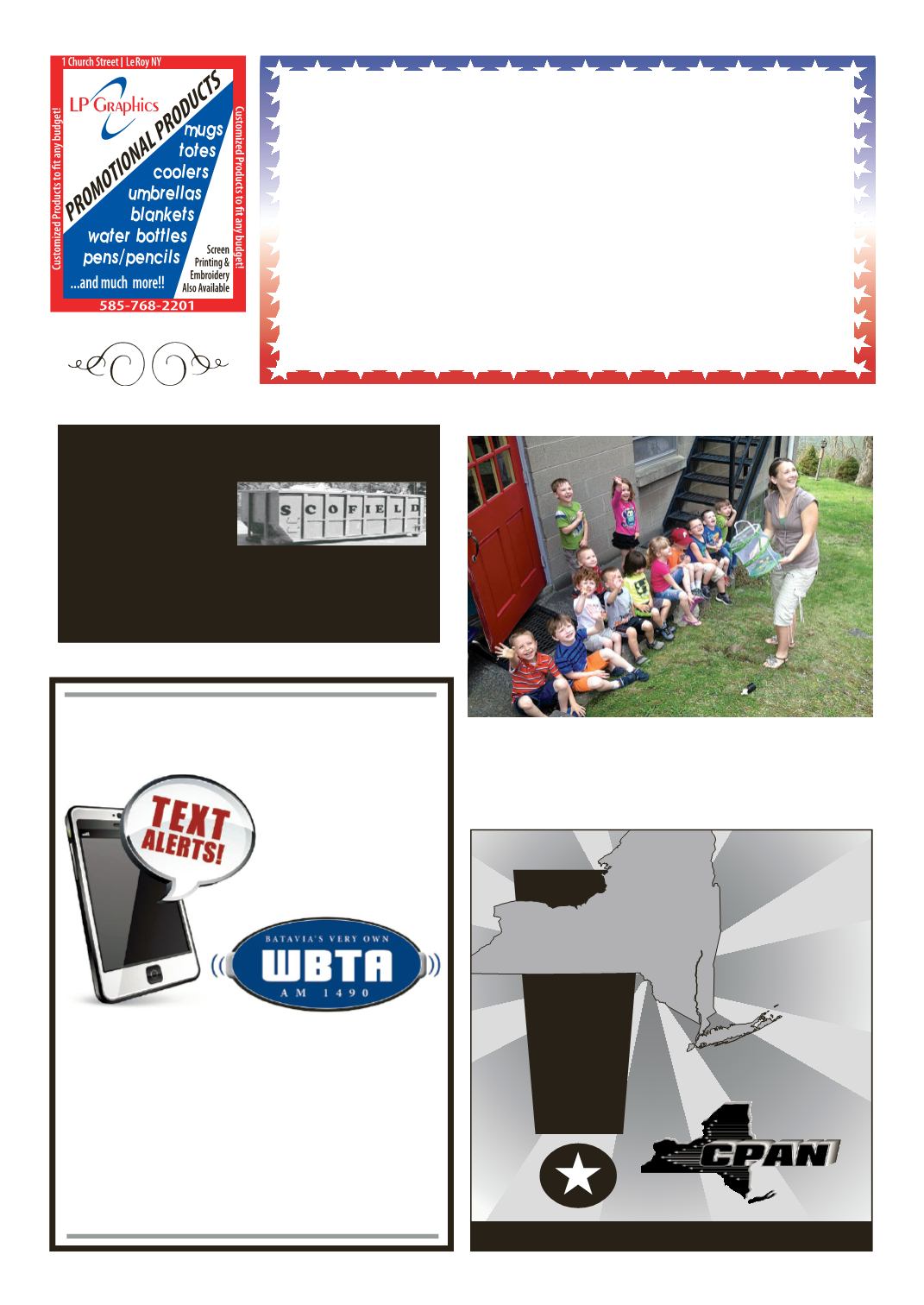 LEROYPENNYSAVER&NEWS -MAY 18, 2014
SIGNUP TODAY!
GET ONLY THE
NEWS YOU
CHOOSE
FROM
New! Signup for TEXTALERTS.
Get only thenews you choose!
Be the first to know about SevereWeather,
BreakingLocal News, TrafficAdvisories&dSchool Closings.
Signup today forWBTATextAlerts.
Youneed to only supply your cell phone number
and select the services youwant to receive.
Wewill never sell your information toanyone.
WBTAi.com
Need a Rolloff?
ScofieldRolloff • 343-8383
Fast FriendlyService
withAffordableRates!
10, 15, 17, 20, 25,
30, and40 cu. yd.
CONTAINERS
Dear FellowLeRoyans:
We are running as candidates for seats on the LeRoyCentral School Board of Education.
We were humbled three years agowhen you elected us to this position. Andwe are again
asking for your support.
We ask for your vote to be able to continue serving our community. Over the past three
years we have worked hard tomake a positive impact and effect positive change. Changes
made to ensure our students are prepared for successwhen they step out of the halls of our
schoolswhile remainingfiscally responsible to the community.
Our School Board team is strong andwe have effective leadership in ourDistrict and at
our building levels. Placing the needs of the students first andLeRoyPride are the drivers
of our decision process. We ask that you come out on
May 20th
and vote on the School
Budget andwe ask for your support onMay 20th so thatwemay continue towork for the
future of our students, their programs and your community.
Thankyou, sincerely,
RichLawrenceandJackieWhiting
SunshineNurserySchool'sPre-Kclass learnedabout the lifecycle
of a butterfly. They observed each of the four stages of life take
place in their classroombutterfly habitat. Picturedhere are the
Pre-K children setting their butterflies free. The children are
lookingforwardtosettingupanewhabitat.Bringonthetadpoles!
Butterflies at SNS!
ONE
ONE
*$490 for15words. $15 foreachadditionalword.
AGreat Deal toReach theWholeState!