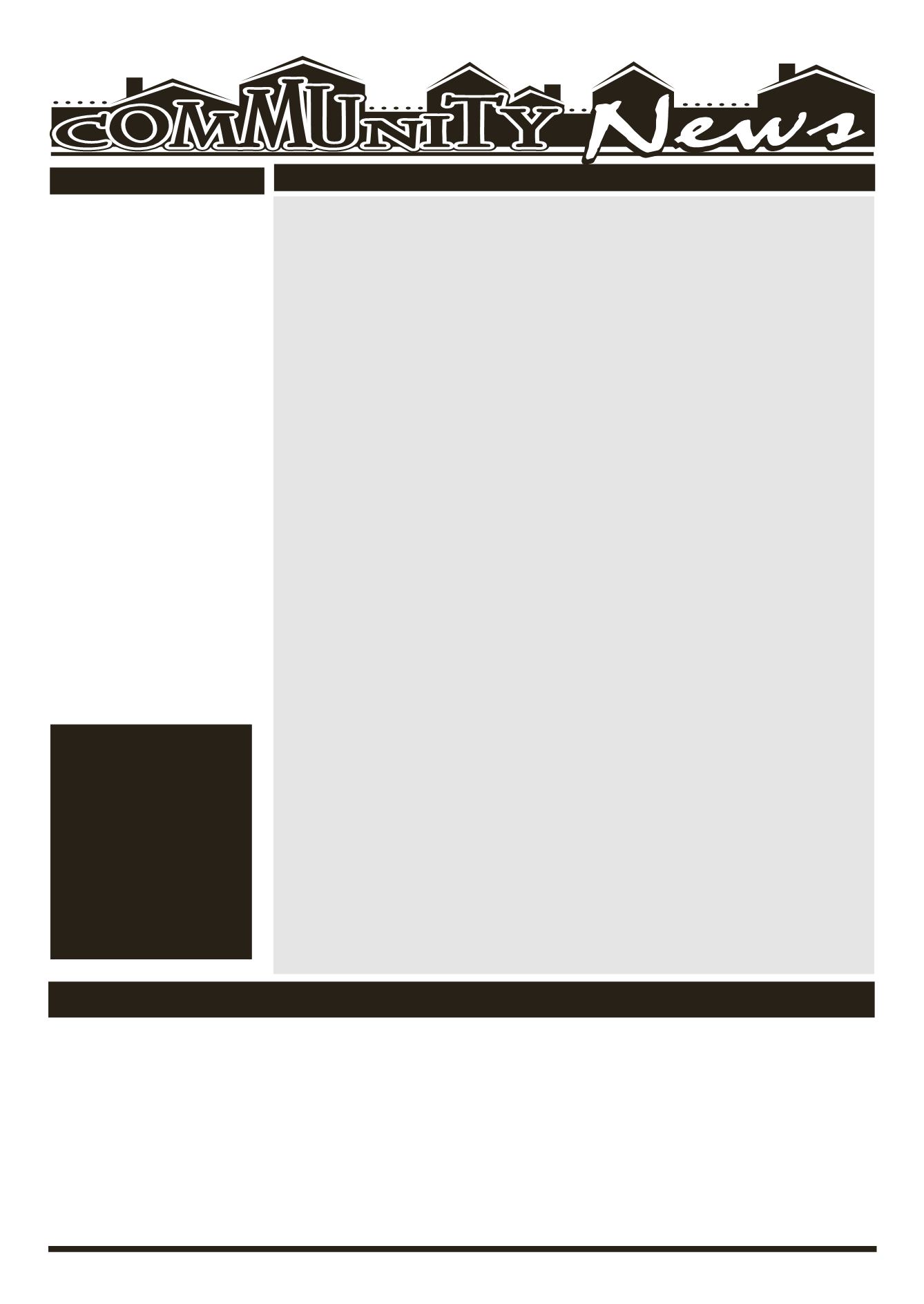 LEROYPENNYSAVER&NEWS -MAY 18, 2014
Le Roy
Pennysaver
All GeneseeCounty residents, 60andolder, can takepart in thisweek'sactivitiesat theBataviaSenior Center, 2BankSt., Batavia. Formore information, call 343-1611.
WEEKLYEVENTS
OBITUARIES
ArthritisExercise
is scheduled tobeginat 9:30a.m.;
Bridge
is scheduled tobeginat 11:30a.m.
NewsletterAssembly
takesplacebeginningat 8:45a.m.;
Cribbage
is scheduled for 1:00p.m.
OmbudsmenMeeting
is scheduled tobegin at 8:30 a.m.
Quilters
are scheduled tomeet at 9:00 a.m.;
Euchre
scheduled tobeginat 1:00p.m.
CribbageandBridge
MusicalKeyboardLessons
arescheduled tobeginat2:30p.m.
ArtClassandLineDancing
TaiChi
SUNDAY,MAY18
AWANAProgramat Penuel Christian Fellowship.
days12:15 to1:45pm.Ages5-17broken intogroups.Developing friendships.
Having fun. LearningaboutGod. Safeenvironment.
KonnectYouthGroupatLivingWatersChurch,
days from6:30 to8:30pm forages12-18. "BringDownall theWalls! Connect
withGod andConnectwithothers." Formore information, checkus out on-
lineat: livingwatersleroy.org/konnect-youth-ministry/
LeRoy Servicemen's Club BREAKFAST
, 8 am to noon. American Legion
Post, 576, 53W.MainSt., LeRoy.AllYouCanEat!
MONDAY,MAY19
TOPS (TakeOffPounds Sensibly)
meetsMonday evenings from6:30-7:15
pm at the LeRoy Presbyterian Church, corner of Clay &Main Streets. Visitors
alwayswelcome. Call 768-2933 formore info.
TUESDAY,MAY20
LCCP'sGRACE'SKITCHEN:
A FREE dinner everyTuesday evening, 5-7pm at
theLeRoyUnitedMethodistChurch,10TrigonPark.ParkingavailableonTrigon
Park& the lots to the leftandbackof theChurch.HandicappedEntrance in the
backoftheChurch.Takeout&deliveryareavailable.Formore info.contactSelby
race'sKitchenwillbe
closed -Tuesday,May20th.
Fruit Trees– Easy toGrow! at theWoodwardMemorial Library
7 to8p.m.MaryMargaret Ripleywill present aprogrambasedonher expe-
riencegrowing fruit trees inher backyard. Registration is required. Call 768-
Town of LeRoy Planning BoardMeeting
(as necessary) 7:30 pm at the
TownHall, 48MainSt. For further info. call 768-6910, ext. 223.
WEDNESDAY,MAY21
TheMaymeetingof theLeRoy-StaffordSeniorCitizens
6:00p.m.At theKof CMeetingHall onWestMainSt. BehindSave-a-Lot. This
will be a pot luck supper and you shouldbring your ownplace setting and a
generousdish topass. Dessertwillbe furnished.AccordionistGeorgeFrielwill
TheStaffordGardenClubwill have theirannual AuctionandGarden
Store
at the Stafford FireHall at 6:00pm. Mr. DavidRussellwill be the auc-
tioneer. Home andGarden related itemswill be sold in the store. Plants and
many containers will be auctioned. Come join the fun and get a head start
TheGeneseeValley CivilWar Roundtable
will be presenting JamesMc-
Grath on the topic "Identification Discs of Union Soldiers in the CivilWar"at
7:30PM.Themeetingwill takeplaceat theLeRoyUnitedMethodistChurch in
LeRoy onTrigonPark. Pleaseuse the front door on the far right at the endof
the longsidewalk.Discussionperiodwill follow.Newmembersarewelcome!!
Jimwill bediscussing theprecursor of thedog tags. Itwill beavery interest-
ingprogramonprovidingnecessary informationonmilitarypersonnel.
LEGO&Game Club at theWoodwardMemorial Library
gradesK-6 from3:15-4:15p.m.BuildwithLegos,playboardgameswithyour
friends, or jamoutonGuitarHero. Registration isNOT required.
Improv and Comedy with Defiant Monkey at the
Woodward Memorial
Library
un for thewhole family
at 6:30 p.m. A two-person improvisa-
tionalgroupcreateson-the-spot theater,basedonaudiencesuggestionsand
participation. Performers Karen Eichler and Andrew Spragge from Buffalo's
YoungAudiencesofWesternNewYorkareexperienced improvisers. They love
to have asmuch fun as possible. Registration is required. Call 768-8300 or
THURSDAY,MAY22
GeneseeVeterans Support Network
(GVSN) supports the development
of Veterans focused AAmeetings every Thursday, 6-7 pm at the First Bap-
tist Church, 306 E.Main St., Batavia.Meetings ledbyMikeW. & are open to
non-veterans as well. Handicap accessible. For additional information call
GRACE'S CLOSET: A Clothing Giveaway Program
UnitedMethodist Church, 10TrigonPark, LeRoy. 9:30am to11:30amevery
Thursday. Wehaveclothing forallages. Spring&Summerclothingnowbeing
put in place. We are in need of lighter coats, clothing, shoes, pajamas, bed-
ding, sheets inall bed sizes. Weacceptdonationsbedroppedoffat thehouse
next to the church. Please put all bags INSIDE on the back porch. No elec-
tronics,TV's, computers, dishes, etc. Anyquestions call theoffice768-8980
Town of LeRoy BoardMeeting
, 7 pm at the Town Hall Board Room, 48
Monuments Men - Movie Showing at the Woodward Memorial
Library
at 6 p.m.WatchMonuments Men in the Community Room at the
Library on abig screenwith surround sound. Freepopcornprovided. Rated
PG-13; 112minutes. Register onlineat
FRIDAY,MAY23
Penuel ChristianFellowship,
One Step to Freedom addictionsministry, a
Christ CenteredAddictions program, aweeklymeetingeveryFridayat 7pm.
Call theChurch formore informationat768-6901or406-3863.
UPCOMINGEVENTS
LCCP'sMommy&MePlaygroup: Every 2nd&4th Friday,
Le Roy Physical Therapy (in the back gym). Anymoms and their birth-kin-
dergarten children are welcome to come enjoy socialization, lunch, coffee,
structuredgames& freeplay.
GeneseeCo.HealthDept.2014Anti-Rabies ImmunizationClinic,
vationArmy, Gym area, 529 E. Main St., Batavia, Sat., May 31st, 10 am to 2
pm. Formore infoononlineat
LeRoy Alumni, will hold it's Annual Reunion
Bohn's,Clinton St.,Batavia, beginning at 5:00 p.m. For more information
please contactRoseScott at585-768-7534.
Memorial Day ChickenBBQ
at Byron Fire Hall onMonday, May 26 on Rt.
262 - following the 11:00 amMemorial Day Parade.Music&more. Benefits
ByronFireDepartment LadiesAuxiliary.
CommunityCalendar Submissions shouldbe sent to:
LE ROY — Robert G. Waterman,
86, formerly of Le Roy, passed away
Tuesday afternoon (May 6, 2014) at
the Genesee County Nursing Home.
Memorials in Bob's namemay be of-
fered to the LeRoy UnitedMethodist
EAST BETHANY— Anna May Her-
see,90,ofEastBethanypassedaway
peacefullyonThursday (May8, 2014)
at her residence. In lieu of flowers,
memorialsmaybemade to the family.
BERGEN/BATAVIA— Pearl Evelyn
Priestley, 99, of Batavia and Bergen,
a waitress at Genesee Community
College in Batavia prior to her retire-
ment, diedSunday (May 11, 2014) at
Genesee County Nursing Home in
Batavia. Memorials may be made to
JohnC.SableHeartFund,7211 Ivison
Road, Byron, NY 14422 or toBergen
UnitedMethodistChurch,POBox216,
LE ROY— Dorothy M. Truscott, 94,
passed away March 2, 2014. Ar-
rangementsarebyCameronBrady&
Steuber Funeral Home, LeRoy.