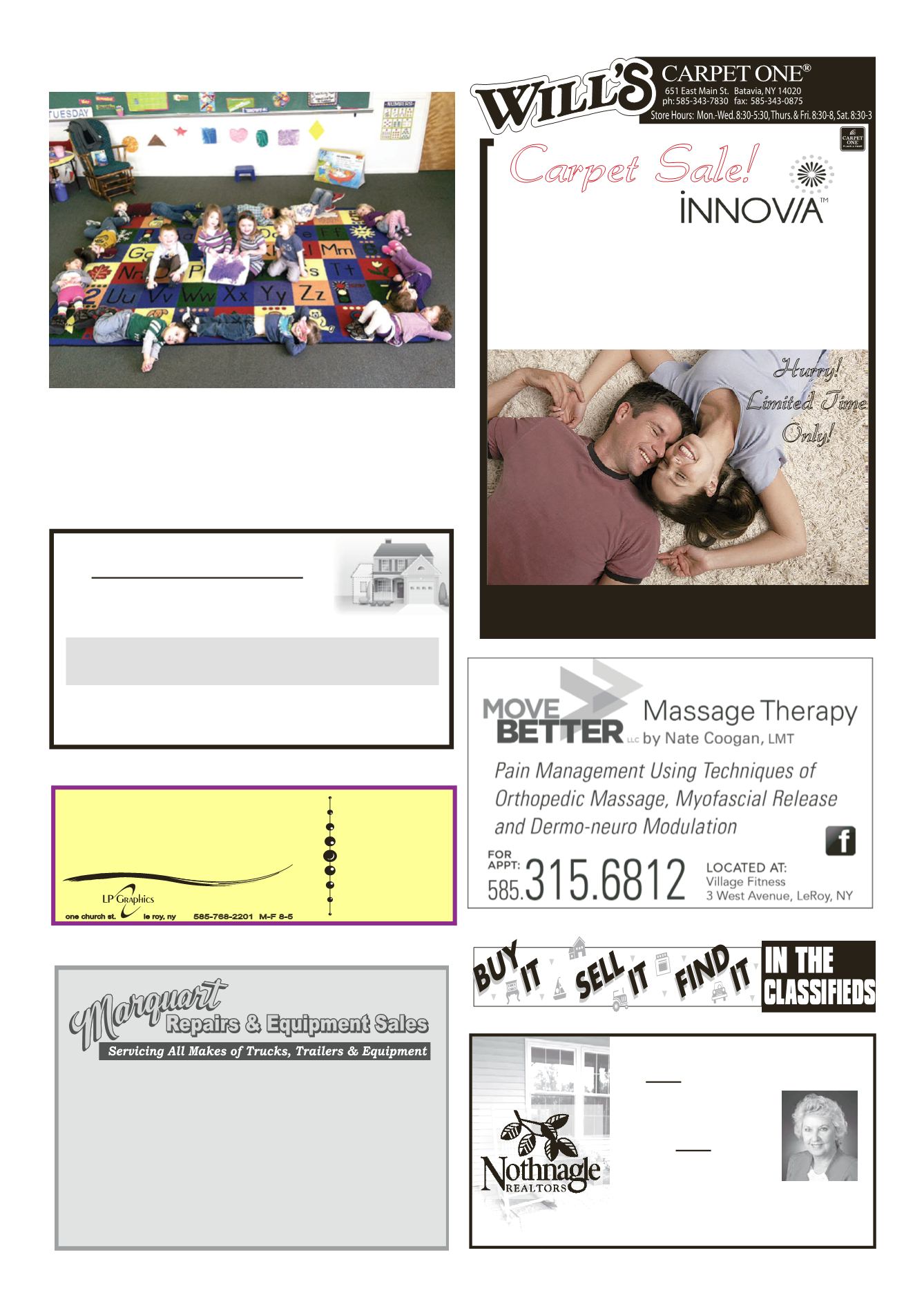 LE ROY PENNYSAVER & NEWS - APRIL 6, 2014
FLOOR
& HOME
The ONE store for your perfect floor.
"Complete Carpentry Service"
M
ILLER
B
ROTHERS
B
UILDERS
Custom Homes • Remodeling • Additions
Roofing • Siding
DANIEL
MICHAEL
Batavia
585-343-6750
NOW is the BEST time
to BUY with the interest rates
at their lowest!
Don't wait
to BUY -
call
Linda Beaumont
for all your real
estate needs.
Linda Beaumont
Home (585) 768-6315
Licensed Real Estate
Salesperson
Multi-Million Dollar Producer
18 Months Financing Available For Innovia Products Only
•Free Estimates • Professional Installation Available
OFF
50
%
The beginning of each month brings with it a new shape of the
month at Love Bugs Preschool. This month, the Nursery chil-
dren will be singing, dancing and doing many different activities
with rectangles. This past week they explored their room and
discovered that it was filled with rectangles! One rectangle they
use everyday is their "circle time" carpet. Pictured here are the
children in the morning class making a life size rectangle!
Discovering Rectangles!
5195 Route 19 • Gainesville • NY
585-493-5174 or 585-493-2522
M-F 8:00 am - 5:00 pm; Sat. 8:00 am to 12:00 noon
Has A & B-Shift opening for a qualified
technician for Semi Truck and Trailer repairs
Must have experience in maintenance and repairs of all types of Trucks and Trailers.
Diagnostic software knowledge, NYS Inspectors License and CDL is a plus.
Competitive wages with uniforms and benefits.
Contact Mark Davis at 585-493-5174 between 8 am & 5 pm Monday through Friday.
one church st. le roy, ny
one church st. le roy, ny