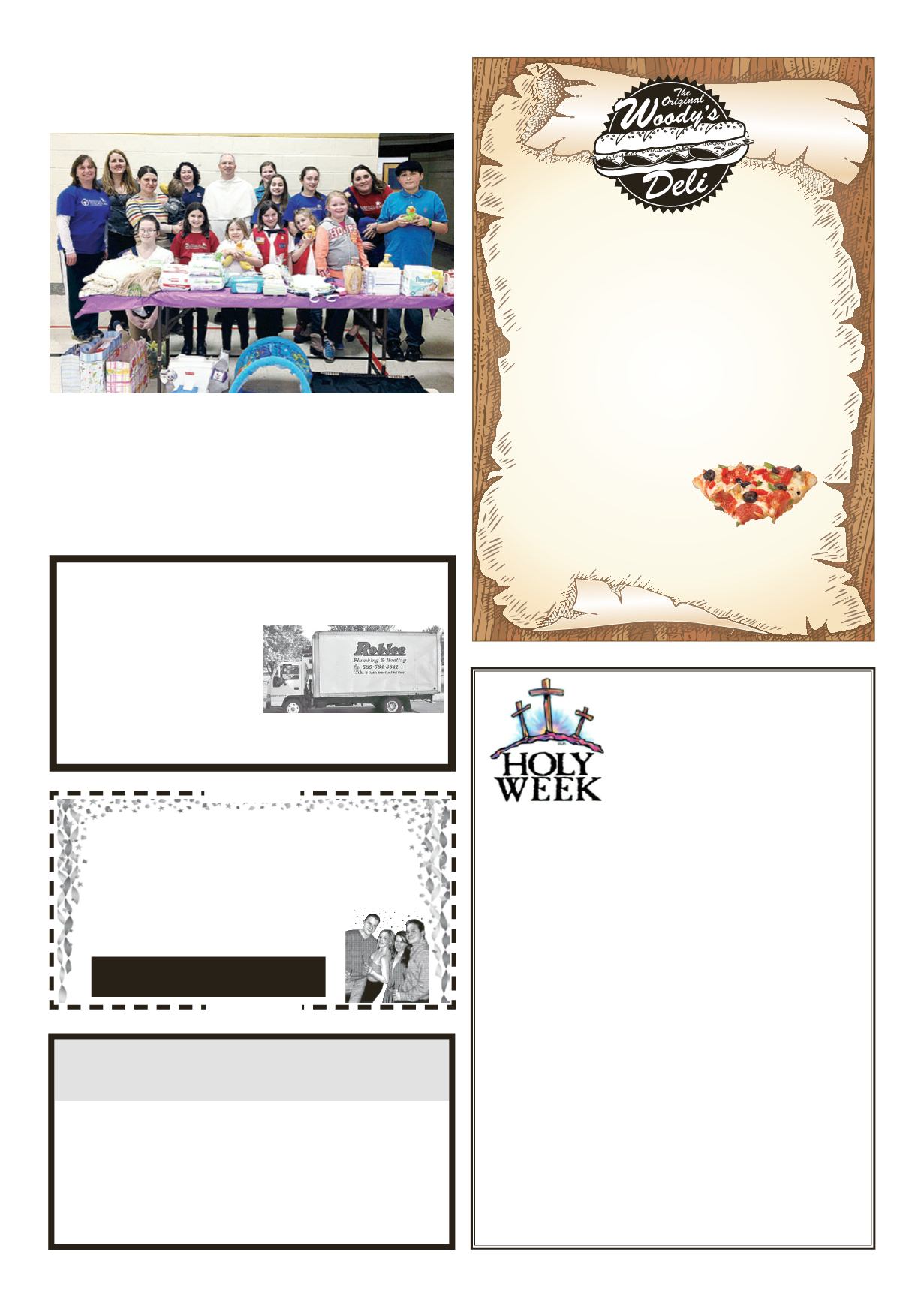 LE ROY PENNYSAVER & NEWS - APRIL 6, 2014
ALL WORKMANSHIP GUARANTEED • INSURED
297-9097 • 768-7737
• Interior Painting
• Plaster/Lath Restoration
• Drywall & Drywall Repair
• Texture Removal
• Floors Stripped
& Refinished
• Old Ceilings &Walls
Made Like New!
Mike Darby's Patch & Paint
Having An UPCOMING EVENT?
American Legion
Post 576
53 West Main St., Le Roy, NY
585-768-2090
CLIP & SAVE
CLIP & SAVE
Inside - 2 Rooms Available
Outside - Large Pavilion
ROBLEE
Plumbing & Heating, LLC
10991 Lake Rd., Pavilion • (585) 584-3841
Full Insured
LUXAIRE
GOULD
NYS Certified Backflow Tester
Water & Sewer Lines • Water Treatment & Conditioning Systems
On Saturday, American Heritage Girls Troop NY0146 in LeRoy
hosted a successful baby shower benefit at Our Lady of Mercy
Parish Center for All Babies Cherished. The Pioneer & Patriot
girls planned and executed the event themselves to fulfill one of
their requirements of having two major Community Service proj-
ects per year, and, will receive a special "Respect Life" patch for
their efforts. The Troop would like to thank all the attendees and
generous parishmembers who donated to this very worthy cause!
AHG Troop
Hosted A Baby Shower
Is Now Hiring
Friendly People For ...
• Experienced Pizza Makers
• Experienced Supervisors
(full time available for right person)
Entails sub making, delivery, cashier,
phone order taking etc.
NO PHONE CALLS PLEASE!
Woody's Deli
Non-friendly people ... need not apply.
FRIENDLY FOLKS ONLY!
9:00 am: Holy Eucharist at St. Paul's, Stafford, NY
10:30 am: Holy Eucharist with Music at St. Mark's*
*Child Care is Provided During the
6:00 pm: Service at St. Paul's, Stafford, NY
7:30 pm: Holy Communion and Stripping of
5:00 pm: Ecumenical Service at United Methodist
7:00 pm: Ecumenical Service, St. James, Batavia, NY
7:00 am: Community Sunrise Service at the
Gazebo on the Oatka Creek Bank
9:00 am: Holy Communion at St. Paul's, Stafford, NY
9:30 am: Children's Easter Celebration at St. Mark's
10:30 am: Holy Communion with Brass Ensemble and
*Child Care is Provided During the
A Community Centered in Christ,
Loving and Serving One Another
Reaching Out into the World by
Minds, Hands and Hearts with Christ
St. Mark's Episcopal Church