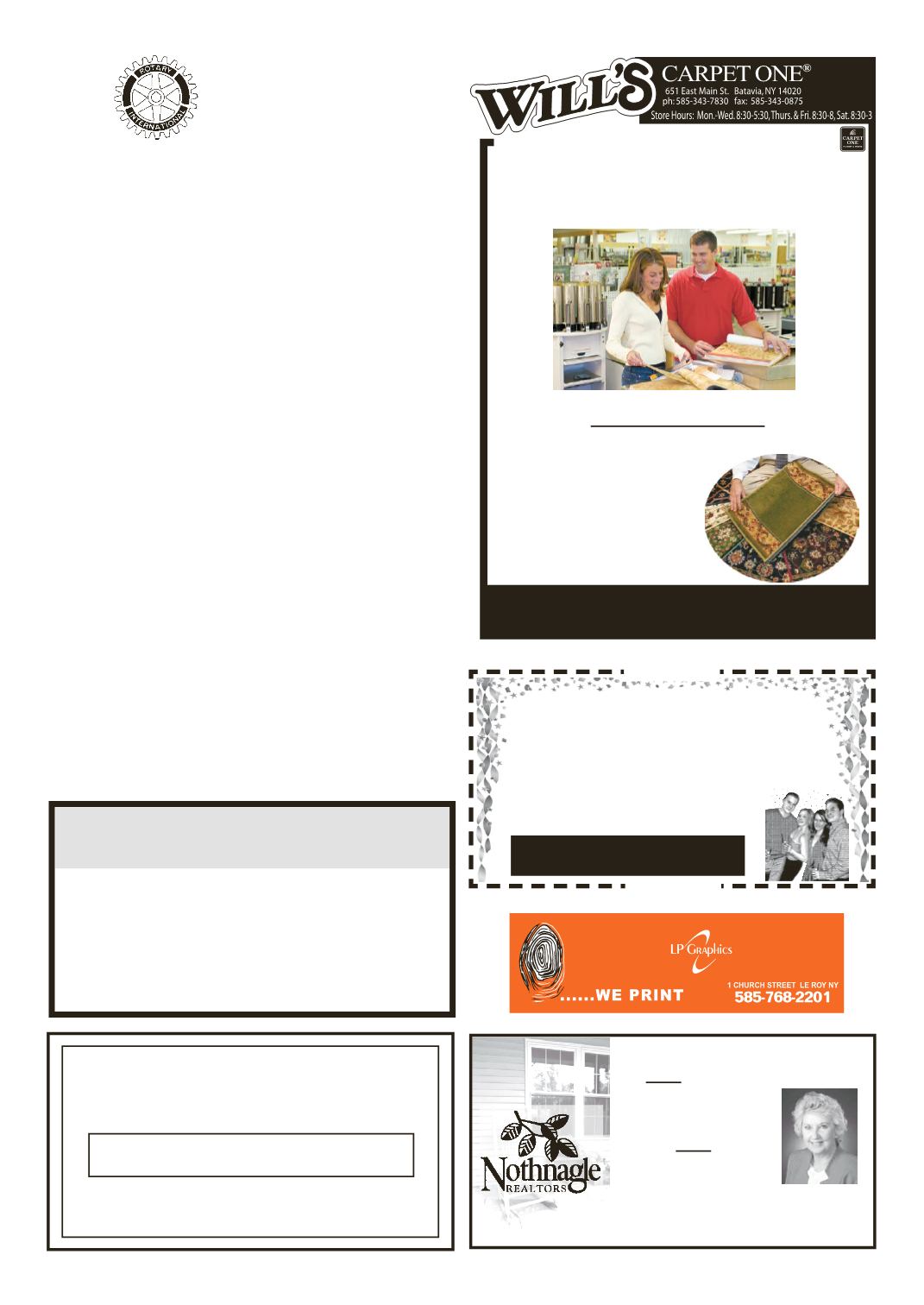 LE ROY PENNYSAVER & NEWS - MARCH 2, 2014
LeRotary
Notes
We've got way too many
CARPET
SAMPLES!
We're Giving Them Away
For FREE! (limit 6) Great For
Dog Beds, Boots or Car Mats.
Wallpaper
selection.
Just in time for Spring decorating!
Batavia
585-343-6750
NOW is the BEST time
to BUY with the interest rates
at their lowest!
Don't wait
to BUY -
call
Linda Beaumont
for all your real
estate needs.
Linda Beaumont
Home (585) 768-6315
Licensed Real Estate
Salesperson
Plumbing • Heating
Installation & Repair Service
For All Residential & Commercial Work
ALL WORKMANSHIP GUARANTEED • INSURED
297-9097 • 768-7737
• Interior Painting
• Plaster/Lath Restoration
• Drywall & Drywall Repair
• Texture Removal
• Floors Stripped
& Refinished
• Old Ceilings & Walls
Made Like New!
Mike Darby's Patch & Paint
Guests for our February 19th
meeting were visiting Rotarians
Fred Reed of the Perry Club and
Gary Churchill of the Batavia
Club. Mary Margaret Ripley and
Christine Gephart brought their
children, Douglas Irwin and Ava
Gephart to share in the Rotary ex-
perience while on winter break.
Announcements:
Pancake Breakfast is scheduled
for March 16th. The fundrais-
ers for the Honor Flight were a
huge success. Congratulations
to the Le Roy InterAct Club for
all of their hard work. The first
meeting of the Early Act Club is
set for 2/13. A Dodge Ball Tour-
nament sponsored by LCCP is
scheduled for 3/22. Our Rotary
Website has been rebuilt and Da-
vid would like everyone with in-
formation to send details to him
Missed Meetings: Erik Fix and
Tom McGinnis paid for their
misses with green cards. Larry
Boylan returned with the sun-
shine we have been missing for
Fines:
correctly answer that our Club
was founded in 1940 and al-
lowed Doulas Irwin to take his
spin on the Rotary Trivia Wheel.
Tom McGinnis gladly paid up
for his ability to "squeeze in a
half-dozen or so" snowmobile
rides on the trails in the past
week. Erik Fix and Chris Bivi-
ano were fined for not bringing
their children to Rotary as Mary
Margaret and Christine had.
Program:
ed the program on the Woodward
Memorial Library. Sue gave a
tour of the Library website and
the marvelous features avail-
able for use on smart phones,
nooks, tablets, and computers.
As a member, the website allows
you to browse the library catalog
from home, download music,
and access digital e-books and
magazines. The library offers
a special teen area, a preschool
room, internet and word pro-
cessing stations, and a reading
room with hot beverages. The
online calendar lists the many
monthly activities including sto-
ry time, adult book discussion,
and children's after-school and
Saturday programs. The library
offers many services including
tax forms, photocopies, home-
bound services and a public
meeting room. Check them out
Like us on Facebook at "Rota-
Having An UPCOMING EVENT?
American Legion
Post 576
53 West Main St., Le Roy, NY
585-768-2090
CLIP & SAVE
CLIP & SAVE
Inside - 2 Rooms Available
Outside - Large Pavilion
lpgraphics.net