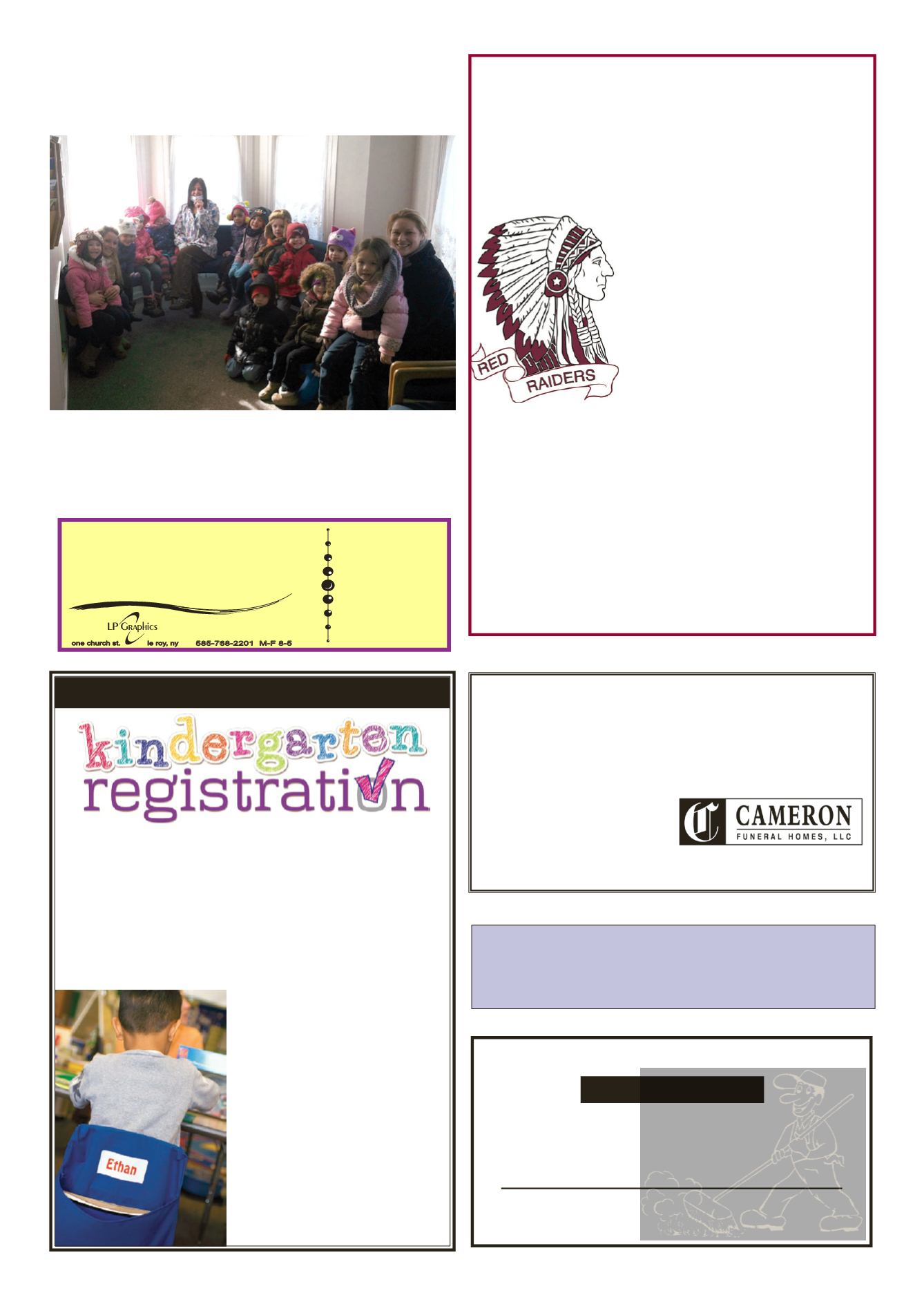 LE ROY PENNYSAVER & NEWS - MARCH 2, 2014
Helping Families Celebrate a Life Lived
"Our Family Serving Yours Since 1907"
Trusted • Honest • Proven
(585) 768-6800 • LeRoyFuneralHome.com
Cameron, Brady & Steuber
Funeral Home
111 Wolcott Street
LeRoy, NY 14482
Caledonia-Mumford Central School
Please join us for one or more of these classes!
SAT Prep Class
Prepare now for the spring SAT tests.
March 4, 11, 18, 25 - 6:15 p.m. $85 includes review book.
Five Hour Prelicense Class
March 8 - 8 a.m. must bring NYS
Defensive Driving
Insurance Reduction
Eligible for point reduction on NYS
driver's license and insurance
discount. March 8 - 8:30 a.m. $42
MS Word & Excel 201
Learn the basic functions of these powerful
Wednesdays in March-April. Call for dates and times. $60
Create an Authentic Ukranian Decorative Egg
March 11, 16 - 6:30 p.m. $20 (plus $15 for supplies)
Cooking with Maple
with Chef Mary Beth Brinkerhoff
Enjoy a full dinner menu with plenty of delicious samples.
WOLCOTT STREET SCHOOL
Kindergarten Registration
Wednesday, March 5th
, from 9:30 am-2:30 pm
and in the evening from 6:00 pm-7:30 pm
and
Thursday, March 6th
from 9:30 am-2:30 pm.
Screening will be on
Thursday, May 15th, Friday, May 16th
and Monday, May 19th.
Both Registration and Screening
Wolcott
Street School Office
Wolcott Street,
behind the Library.
An "eligible child" is a child
residing in the LeRoy District
and who will be 5 years old on
or before December 1st, 2014.
For more information,
please call the Elementary
Office at 768-7115.
Cleaning Service
•Carpet & Upholstery Cleaning
•Spot Cleaning & Odor Removal
•Tile & Wood Floor Cleaning & Waxing
•Braided & Area Rug Cleaning
•Complete Janitorial Services
9300 Warsaw Road, Le Roy, NY
The Pre-K class at Love Bugs Preschool celebrated Dental
Health Month with many fun learning activities and an adven-
ture to the LeRoy Dental Center to visit Dr. Sawhney and all his
wonderful helpers. We were shown all the important tools the
dentist uses and how fun a visit to the dentist can be.
Love Bugs Took A Trip
To The Dentist!
SUPPORT YOUR LOCAL ADVERTISERS!
They help sponsor the local news section of the Le Roy Pennysaver.
THANKS FOR YOUR SUPPORT!
one church st. le roy, ny
one church st. le roy, ny