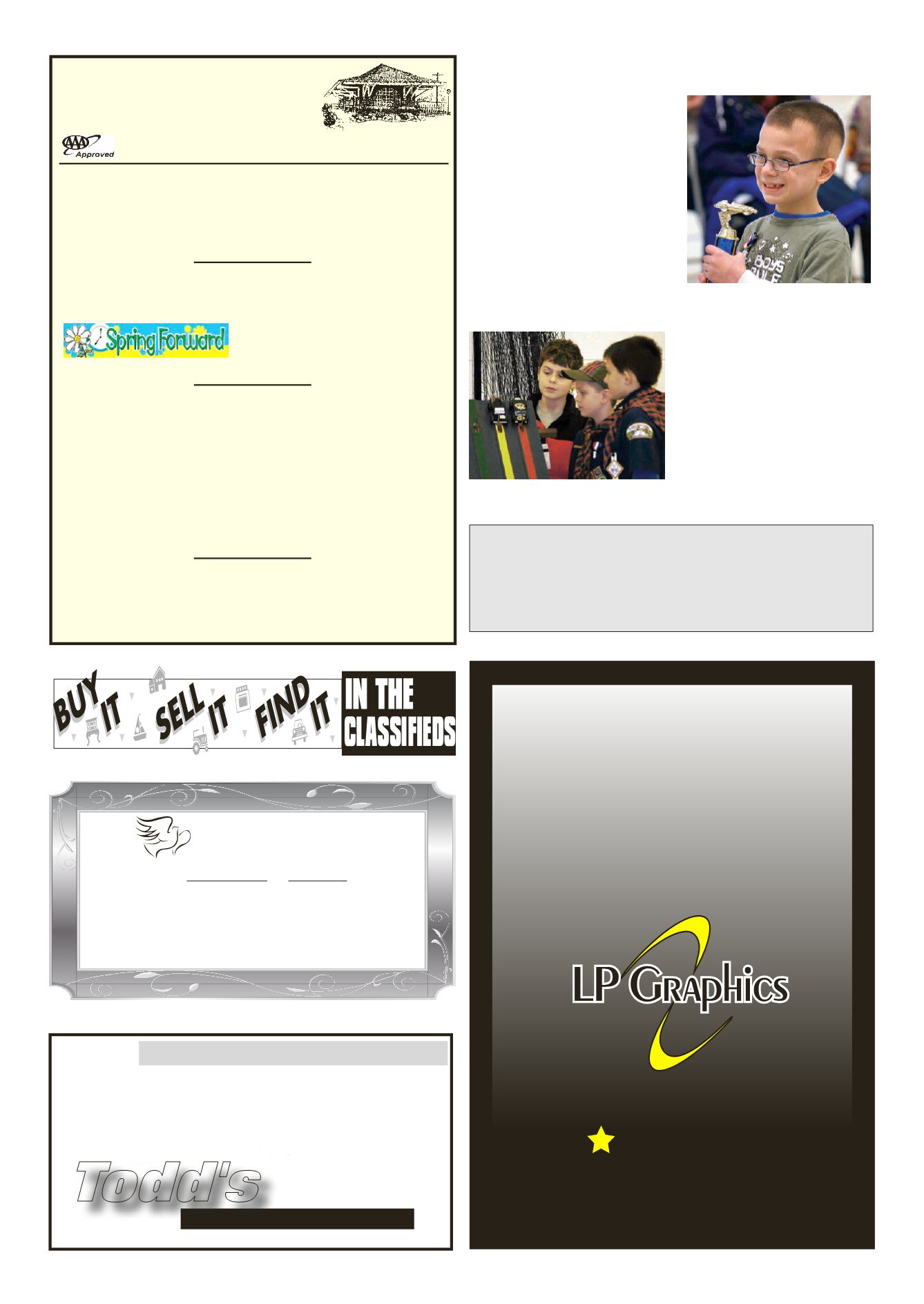 LE ROY PENNYSAVER & NEWS -MARCH 2, 2014
D & R Depot
63 Lake St. (Rt. 19), LeRoy • 768-6270
Let's Meet At The ...
Open For Breakfast, Lunch & Dinner - 7 Days A Week 7 am-9 pm
The Depot's new sister company,
Double L Rental
heaters, bars, linens, dishes & catering supplies for your special occasions!
10% DISCOUNT when you use both the
D & R Catering Services and Double L Rental for your event.
Visit doublelrental.com, or call us at (585) 344-0023
F
ALCONE
F
AMILY
Funeral & Cremation Service, Inc.
Director/Owner
Director / Owner
Funeral Director
New Homes • Additions • Garages • Pole Barns
Todd Carli • Phone 703-0964
Todd's
Decks • Windows • Doors
Kitchens • Baths
Ceramic Tile
Basement Finishing
Custom Shelves/Built-Ins
Siding • Remodeling
Roofing • Snow Plowing
FULLY INSURED
SUNDAY, MARCH 2nd DINNER SPECIAL
SHRIMP LOVERS' DELIGHT
(includes soup or salad, shrimp scampi, coconut shrimp
and deep-fried shrimp,
potato or rice, beverage, and dessert)
SUNDAY, MARCH 9th DINNER SPECIAL
BARBECUED BEEF BRISKET - $14.99
(Served with soup or salad, potato, veggie, beverage, and dessert)
Turn your clocks ahead
one hour this morning –
lose an hour's sleep, but gain an evening hour of light!!
SUNDAY MARCH 16th/MONDAY MARCH 17th
Featuring CORNED BEEF and CABBAGE DINNER
Enjoy vegetable barley soup, our famous corned beef round,
parsley potatoes, carrots and onions dinner.
Available for lunch or dinner on
Sunday, March 16 and Monday, March 17
(don't forget to save room for our famous
grasshopper pie or a Crème de menthe sundae)
SUPPORT YOUR LOCAL ADVERTISERS!
They help sponsor the local news section of the Le Roy Pennysaver.
THANKS FOR YOUR SUPPORT!
The Le Roy Cub Scout Pack
23 Pinewood Derby was held in
the Parish Center at Our Lady of
Mercy in Le Roy on February
15th. Twenty Four Cub Scouts
ages 5 through 11 competed
with wooden cars they designed,
made, and painted from kits. The
cars were raced down a wooden
ramp to the electronic finish line.
Four trophies were awarded.
First place was won by Adrian
Stephens, second place winner
was Anders Swanson, and third
Covert. In a separate category
for parents and other non-cubs,
Mrs. Jennifer Covert's car won.
More than 100 million Pinewood
Derby cars have been built and
competed nationwide since the
annual Cub Scout event began
Pack 23 Pinewood Derby
1 CHURCH ST, • LE ROY, NY • lpgraphics.net
WE HANDLE ALL ASPECTS OF PRINTING...
PROGRAMS
LETTERHEADS
BILL HEADS
FLYERS
BROCHURES
POSTERS
CARBONLESS FORMS
ENVELOPES
RAFFLE TICKETS
NEWSLETTERS
RESUMES
TYPESETTING
RUBBER STAMPS
ENGRAVED SIGNS
NAME TAGS
COPIES
LAMINATION
COMMUNITY FAX
NEWS AND PICTURES
ADVERTISING
BUSINESS CARDS
HOURS: Monday thru Friday 8:00 to 5:00