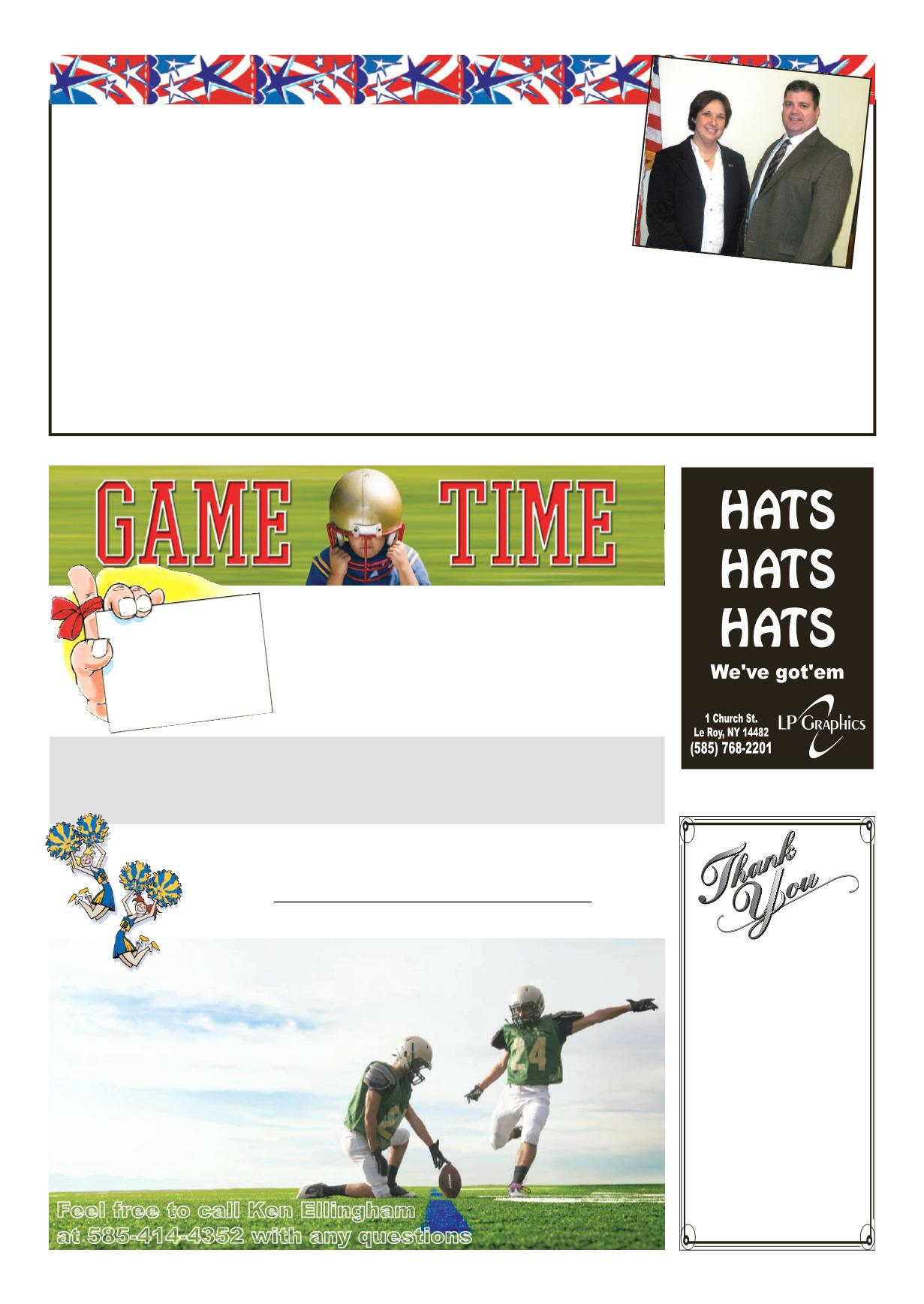 LE ROY PENNYSAVER & NEWS - MARCH 2, 2014
LeRoy
Youth Football
& Cheerleading
REGISTRATION
Registration for All players will be on
9 am to 1 pm at LeRoy Village Fitness
The Pee Wee Tackle Team will be offered for 2nd Graders and
1st Graders that have played Flag Football for one year.
(their Kindergarten year)
This is in addition to the regular Flag Football Teams.
The Elite Cheerleading Squad requires a
minimum of 8 individuals to join.
This Cheerleading Squad is for
Feel free to call Ken Ellingham
at 585-414-4352 with any questions
Re-Charge Le Roy
JENNIFER KEYS and BILL KETTLE
Re-Charge our Business District and Beyond
– Jennifer and Bill both hold leadership posi-
tions on the Le Roy Business Council and Main Street Re-Vitalization working group. Bill is
a Main Street property and business owner. Both are committed to creative ideas and thinking
Evaluate best practices and look for ideas how to "right size" or "repurpose" our Main Street in order to
maximize the services we can provide while minimizing empty storefronts.
Explore ways to preserve and promote the many architectural assets and include the Oatka Creek to attract people and busi-
Support and champion the proposed business park at the corner of West Bergen and Rte 19 by working closely with Town
and County Government to pave the way for jobs and opportunities.
Re-Charge Le Roy
for more updates and issues.
YOUR VOTE COUNTS
If you are out of the area on Election Day, are infirmed or ill, please apply for
an absentee ballot with The Village Clerk at The Village Hall, Call 768-2527
The members of the
Oatka Hose Company
would like to express their sincere
appreciation to everyone who
purchased tickets for the BBQ.
Also, to all others who helped
make our Chicken Barbecue a
SELL-OUT on Sunday, Feb. 16th.
Special THANK YOU to
The Bank of Castile,
Tim Beaumont, M-T Inc., Spirits
& Bubba's Landscaping.
Non-profit organizations,
such as ours, depend on the
support of the public to enable us
to achieve our goals.
Again, THANK YOU for helping
to keep LeRoy the community
of Good Neighbors!