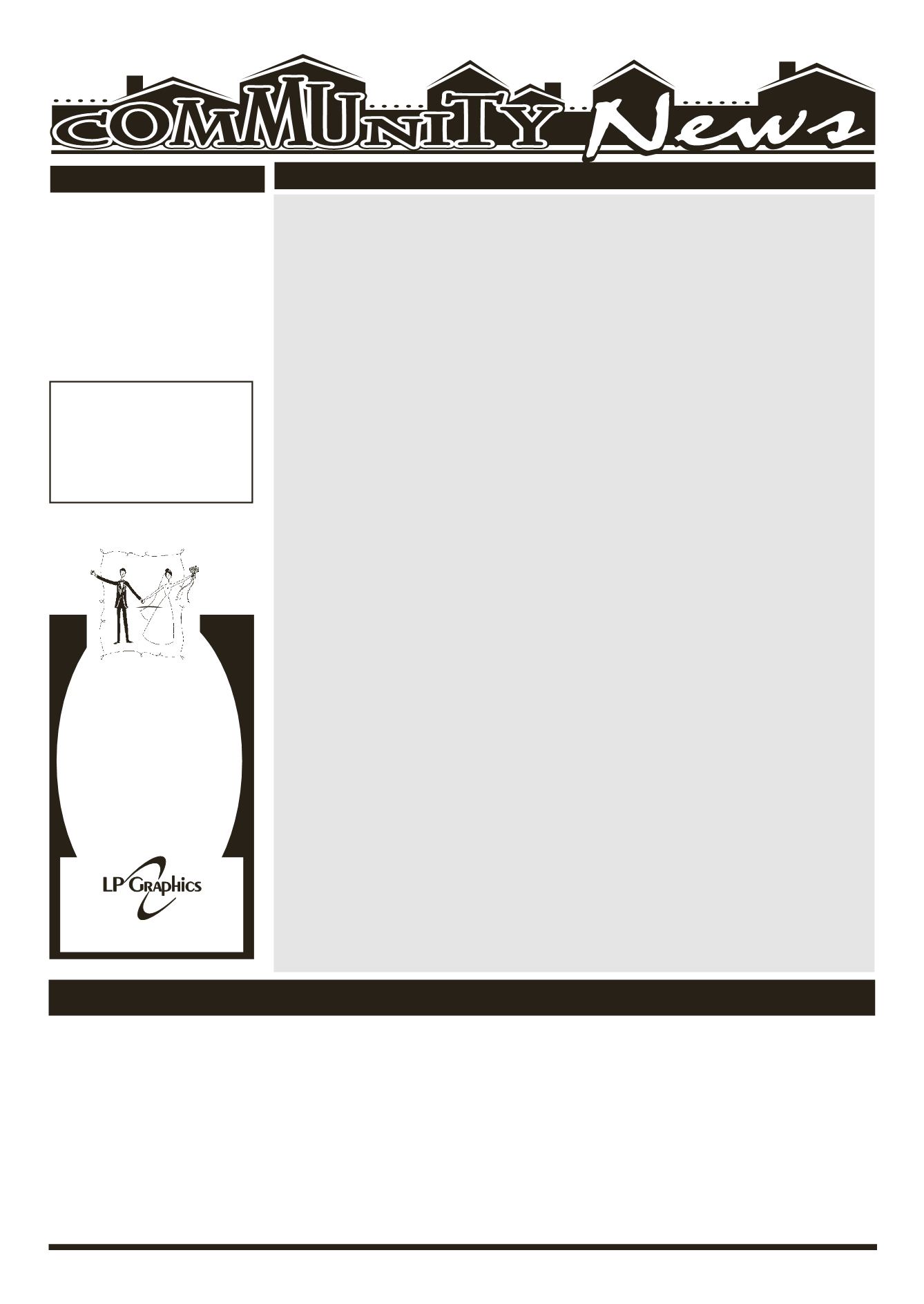 LE ROY PENNYSAVER & NEWS -MARCH 2, 2014
All Genesee County residents, 60 and older, can take part in this week's activities at the Batavia Senior Center, 2 Bank St., Batavia. For more information, call 343-1611.
SENIOR CITIZENS ACTIVITIES
WEEKLY EVENTS
OBITUARIES
Tax Preparation
is available by appointment beginning at 9:00 a.m.;
Arthritis Exercise
is scheduled to begin at 9:30 a.m.;
Bridge
is scheduled to begin at 11:30 a.m.
Cribbage
is scheduled for 1:00 pm.
Tax Preparation
is available by appointment beginning at 9:00 a.m.;
Quilters
are scheduled to meet at 9:00 am. and
Euchre
scheduled to begin at 1:00 pm;
Office for the Aging Advisory
is scheduled to meet at 1:00 p.m.
Strong Bones Class
Cribbage and Bridge
is scheduled for 1:00 p.m.;
Musical Keyboard Lessons
Art Class and Line Dancing
Tai Chi
Advertising Templates
Entire contents copyrighted by Carlson Craft ® .
All rights reserved. 12-07
Invitations, Save the Date Cards,
Wedding Accessories, Ceremony,
Reception Essentials, Bridal Party
Visit us today!
with wedding invitations and accessories
Stop in today to view our extensive collection
for every style and budget!
lpgraphics.net, Hours: Mon.-Fri. 8-5 p.m.
1 Church St., Le Roy • 768-2201
SUNDAY, MARCH 2
AWANA Program at Penuel Christian Fellowship.
days 12:15 to 1:45 pm. Ages 5-17 broken into groups. Developing friendships.
Having fun. Learning about God. Safe environment.
Konnect Youth Group at Living Waters Church,
days from 6:30 to 8:30 pm for ages 12-18. "Bring Down all theWalls! Connect
with God and Connect with others." For more information, check us out online
at: livingwatersleroy.org/konnect-youth-ministry/
MONDAY, MARCH 3
TOPS (Take Off Pounds Sensibly)
meets Monday evenings from 6:30-7:15
pm at the LeRoy Presbyterian Church, corner of Clay &Main Sts.Visitors always
welcome. Call 768-2933 for more info.
TUESDAY, MARCH 4
LCCP's GRACE'S KITCHEN:
A FREE dinner every Tuesday evening, 5-7 pm at
theLeRoyUnitedMethodistChurch,10TrigonPark.ParkingavailableonTrigon
Park & the lots to the left and back of the Church. Handicapped Entrance in the
back of the Church. Takeout & delivery are available. For more info. contact
Selby Davis at 585-738-8882 or
The Cat in the Hat Meets Curious George -
program for children in grades kindergarten through 2nd at the Woodward
Memorial Library. This program is sponsored by the Le Roy, Pavilion, and
Stafford Kiwanis. Register online at
LCCP's Graces Kitchen:
Every Tuesday, 5-7pm, basement of The United
Methodist Church of Le Roy (10 Trigon Pk.) Handicap entrance in rear. Dine-
in, take-out & Delivery options available. Contact Selby Davis for more info;
WEDNESDAY, MARCH 5
LEROY UNITED METHODIST CHURCH
located at 10 Trigon Park in LeRoy,
will offer a brief AshWednesday service at 10 am. Everyone is invited to attend.
Kids WritingWorkshop at theWoodward Memorial Library
in grades 1-3, from 3:15 to 4:15 p.m. Do you like to write and illustrate your
own stories? Why not enter the PBS Kids Writers Contest? Come to one (or
all) of the Library's three writing workshops.Write a story that will be entered
into the contest. Register online at
THURSDAY, MARCH 6
Genesee Veterans Support Network
(GVSN) supports the development
of Veterans focused AA meetings every Thursday, 6-7 pm at the First Bap-
tist Church, 306 E. Main St., Batavia. Meetings led by Mike W. & are open to
non-veterans as well. Handicap accessible. For additional information call
GRACE'S CLOSET: a Clothing Giveaway Program
United Methodist Church, 10 Trigon Park, Le Roy. 9:30 am to 11:30 am every
Thursday. We have warm clothing for all ages. Bedding, curtains, comforters,
pajamas, shoes, boots. We are in need of winter coats for all ages. We accept
donations to be dropped off at the house next to the church. Please put all
bags INSIDE on the back porch. No electronics, TV's, computers, dishes, etc.
Any questions, call the office 768-8980.
Rainbow Loom Meet Up at the Woodward Memorial Library
children in grades 1-6, from 3:15 to 4:15 p.m. Bring your Rainbow Loom and
rubber bands to the Library after school to meet up with friends and make
bracelets. Snacks will be provided. No registration required. Children must
bring their own Rainbow Loom and supplies.
Board Game Night for adults at the Woodward Memorial Library
6:30- 8 p.m. Enjoy an evening of board games at the Library. Adults are
welcome to attend this fun evening. Registration is required. Register online
FRIDAY, MARCH 7
Penuel Christian Fellowship,
One Step to Freedom addictions ministry, a
Christ Centered Addictions program, a weekly meeting every Friday at 7 pm.
Call the Church for more information at 768-6901 or 406-3863.
SATURDAY, MARCH 8
The LeRoy United Methodist Church will be hosting its "Ides of
March" Corned Beef & Cabbage Dinner
followed by a Celtic concert by
the trio Cuisle Mo Chroi. Dinner is at 4 pm. Concert is at 7 pm. Tickets will
be available at the door. Join us at 10 Trigon Park in the Village of LeRoy for
a night of good eats, fellowship, music & merriment! For more information,
please call Janice Cooper @ 356-6656.
Veterans Only Social Club -
Genesee Veterans Support Network announc-
es a new meeting location at Scooter's Family Restaurant, 3711 West Main
Street Road, Batavia, NY - for the once a month Veterans Only Social Club.
Meetings are held the second Saturday of each month from 7:00 to 8:30 PM.
Veterans of all eras are invited to attend. GVSN is located at 3837 West Main
Street Road, Batavia, NY. For more information, contact GVSN, PO Box 541,
All You Can Eat Supper -
From: 5:00 pm to 8:00 pm. Includes: Eggs,
Sausage, Hash Browns Pancakes, Fruit, Coffee, Tea, and Orange Juice. Adults:
$6.00, Children: 6-12 $3.00, Children: under 6 free. Proceeds are donated to
Charity. At the K of C Hall Behind Save A Lot ( 15West Main Street LeRoy, NY).
UPCOMING EVENTS
LCCP's Mommy & Me Playgroup: Every 2nd & 4th Friday,
Le Roy Physical Therapy (in the back gym). Any moms and their birth-kin-
dergarten children are welcome to come enjoy socialization, lunch, coffee,
structured games & free play. $5 per mom.
Community Calendar Submissions should be sent to:
BYRON — Theophil ''Ted'' Kaiser, 86,
former Byron Constable and Code
Enforcement Officer, died peacefully
Tuesday evening (Feb. 25, 2014) at
the home of his daughter. Those de-
siring may make memorial contribu-
tions to the Byron Rescue Squad or
HomeCare & Hospice 29 Liberty St.,
Don't waste precious time