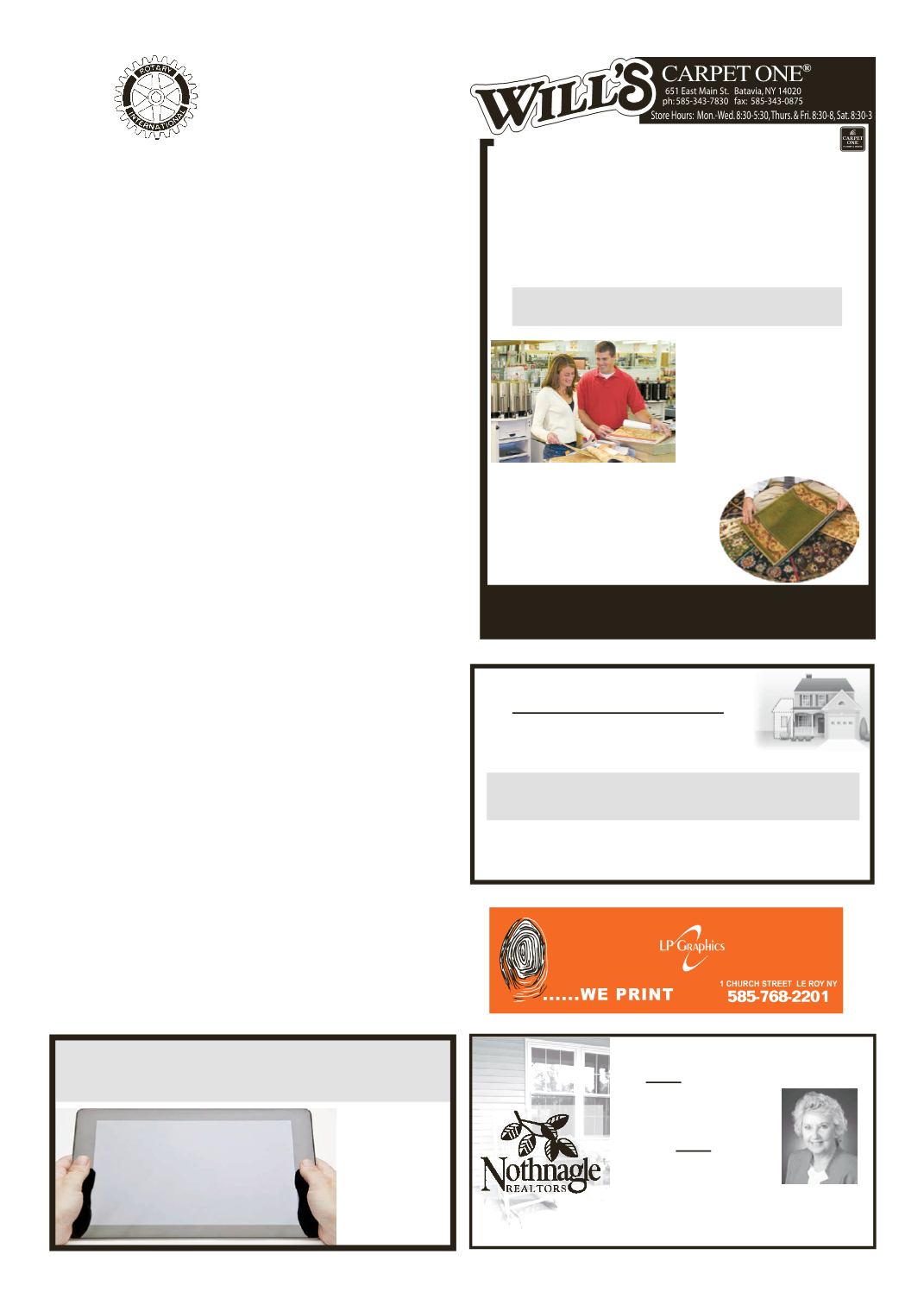 LE ROY PENNYSAVER & NEWS - FEBRUARY 23, 2014
LeRotary
Notes
We've got way too many
CARPET SAMPLES!
We're Giving Them Away
For FREE! (limit 6) Great For
Dog Beds, Boots or Car Mats.
"Complete Carpentry Service"
M
ILLER
B
ROTHERS
B
UILDERS
Custom Homes • Remodeling • Additions
Roofing • Siding
DANIEL
MICHAEL
Wallpaper
selection.
REMNANTS! REMNANTS!
REMNANTS!
We have a large selection of
Remnants in a variety of sizes.
Purchase a Remnant and get
25 feet of binding FREE!
Ends
March 1st!
Guests for our February 12th
meeting were LeRoy High School
Seniors Savannah Gill, Katie
Mellon, and Torie Wehner. Also
in attendance were Jane Moyni-
han and Cindy Hendrickson from
Birthdays: David Grayson, Steve
Zocco were both rounded up for
their birthdays. Also celebrating
this month are Kim Cox and Lynn
Announcements: The next Pan-
cake Breakfast is scheduled for
March 16th. There will not be
a change in the Route 5 pattern
that had been proposed, but re-
paving of the road is scheduled
for 2014. The last fund raiser for
the Honor Flight was held 2/12,
while the last one raised over
$500.00. The first meeting of the
Early Act Club was set for 2/13.
A Dodge Ball Tournament spon-
sored by LCCP is scheduled for
3/22. Our Rotary Website has
been rebuilt and David would
like everyone with information
to send details to him as soon as
possible. If anyone is interested
in teaching a class at the school
on their profession or activity,
Missed Meetings: First to be
called on - Martha Bailey and
Bruce Baker each having a make-
up. Lynne Belluscio missed last
week due to the snow as did
Carol Wolfe, and both submitted
green cards. Bob Carlsen made
up at the Geneseo Rotary Club.
Kim Cox was very busy cancel-
ing after school activities from
the last snow storm while Joe Gi-
anettino and Mary Margaret Rip-
ley reportedly had professional
duties to cover and each gave a
Fines: With bowling being a
sport most anyone can do, the
question is how many of us can
make a strike by crossing over
into the next lane!! Well, our very
own Chris Biviano did and it cost
him a bill or two, admitting to
it!! Kim Cox was also fined for
using a total of 3 snow days, hav-
ing only 2 left with more winter
to come. Bob Carlsen received
a fine as he usually sits at a ta-
ble with fellow Rotarians, Bob
Jones, Bob Sullivan and Ron
Pangrazio, but today he is din-
ing with three ladies. Even better
for Bob that Cindy Hendrickson
Program: Mary Margaret Rip-
ley presented today's program
on the Le Roy Farmer's Mar-
ket. With the market running
over 7 years now, they have at-
tracted vendors offering items
such as fruits, vegetables, ma-
ple syrup, organic veggies and
greens, homemade soaps, glu-
ten free products, bakery items,
sweet corn, a food stand and a
community booth for churches
and non-profits. There is music
and entertainment and cooking
demos possible from local chefs.
Approximately 200 shoppers in
attendance each Saturday as the
event runs from 9:00 am to 12:30
pm every Saturday from mid-
June to mid-October in Trigon
Park. Volunteers willing to help
Like us on Facebook at "Rota-
Batavia
585-343-6750
NOW is the BEST time
to BUY with the interest rates
at their lowest!
Don't wait
to BUY -
call
Linda Beaumont
for all your real
estate needs.
Linda Beaumont
Home (585) 768-6315
Licensed Real Estate
Salesperson
ALL WORKMANSHIP GUARANTEED • INSURED
Can Now Be Found
On The Internet
Just Type In ...
Mike Darby's Patch and Paint
Mike Darby's Patch & Paint
lpgraphics.net